Back to News
Gaige Herrera Sets New National Record and Wins Ninth Race at the Texas NHRA FallNationals
Vance & Hines/ Mission Suzuki Dominates with Another All-Hayabusa Final

BREA, CA – October 16, 2023 – Gaige Herrera extended his record-setting season by setting a new Pro Stock Motorcycle elapsed time national record and winning his ninth race of the year with a second-consecutive victory over his Vance & Hines/Mission Suzuki teammate Eddie Krawiec at the Texas NHRA FallNationals at Texas Motor Speedway in Ennis, Texas, on Sunday.
Race Highlights
Gaige Herrera set a new elapsed time national record, qualified No. 1 for a record-extending 12th time, and won his ninth race of the year.
Eddie Krawiec qualified third, posted a career-best elapsed time, and advanced to his fourth final round of the season.
In a record-setting qualifying performance at the event aptly dubbed the Stampede of Speed, Herrera topped the field for a class-record 12th time this season with a tremendous 6.627-second/204.16 mph run on Saturday that eclipsed the previous Pro Stock Motorcycle ET record of 6.665 seconds set by Karen Stouffer in 2022.

The run also set the second-fastest top speed in class history. So dominant was the performance of his Gen 3 Hayabusa throughout the weekend's four qualifying runs and four elimination rounds, that Herrera posted the six quickest elapsed times in Pro Stock Motorcycle history.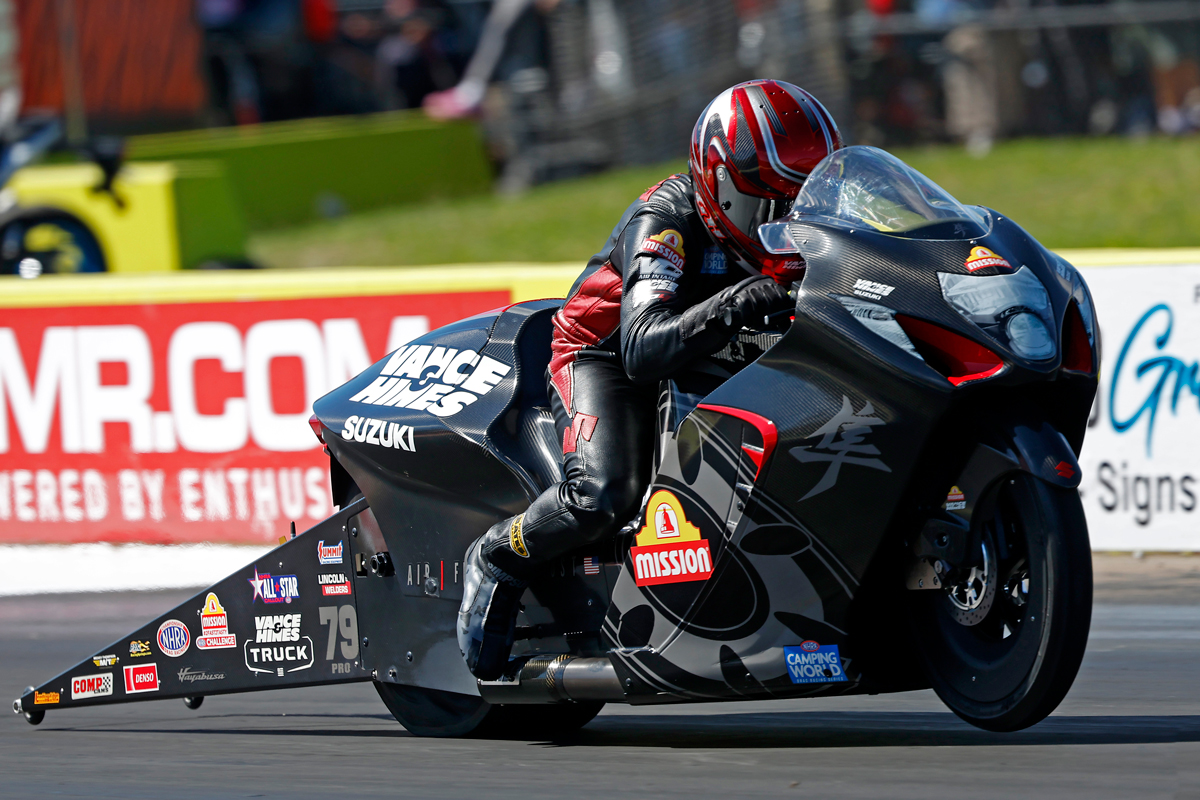 Gaige Herrera (79) sets the elapsed time national record and captures his ninth victory at the FallNationals in Dallas, TX.
Herrera began his stampede through the Pro Stock Motorcycle field with a 6.657-second/202.65 mph first-round win over Blaine Hale (7.262 seconds/186.57 mph). In round two, Herrera defeated Chris Bostick (no time) with a 6.656-second/204.01 mph run.
In the semi-finals, Herrera faced off against championship contender Hector Arana, Jr., whose 6.734-second/199.40 mph effort was no match for Herrera's 6.661-second/203.49 mph run. Herrera's win set up a rematch against his Vance & Hines/Mission Suzuki teammate Eddie Krawiec in the finals.
In the final round, Herrera posted the second-quickest pass in class history, a 6.644-seconds/203.30 mph run that denied Krawiec, who ran 6.706 seconds at 202.56 mph, his 50th career win for the third time this season. Herrera's ninth victory of the season widened his lead in the Countdown standings to 156 points over second-place Krawiec.
"Setting the national record almost feels bigger to me than the win because I know how much time, hard work, and dedication my crew chief Andrew Hines, his father Byron, and all the guys at the Vance & Hines shop put into it. We knew the weather was there to run fast but to run faster than the old record every pass on Sunday is incredible. It showcases how great our Suzuki's chassis and clutch setup is and how well the whole package is working between me as a rider and Andrew's tuning," said Herrera, who despite holding a large lead in the championship is focused only on the second-to-last race of the season in Las Vegas in two weeks. "I'm not looking at the championship big picture yet. I only look at what's next. I'm going to Las Vegas with the same attitude I had going into Gainesville to start the season. Every race is a new beginning."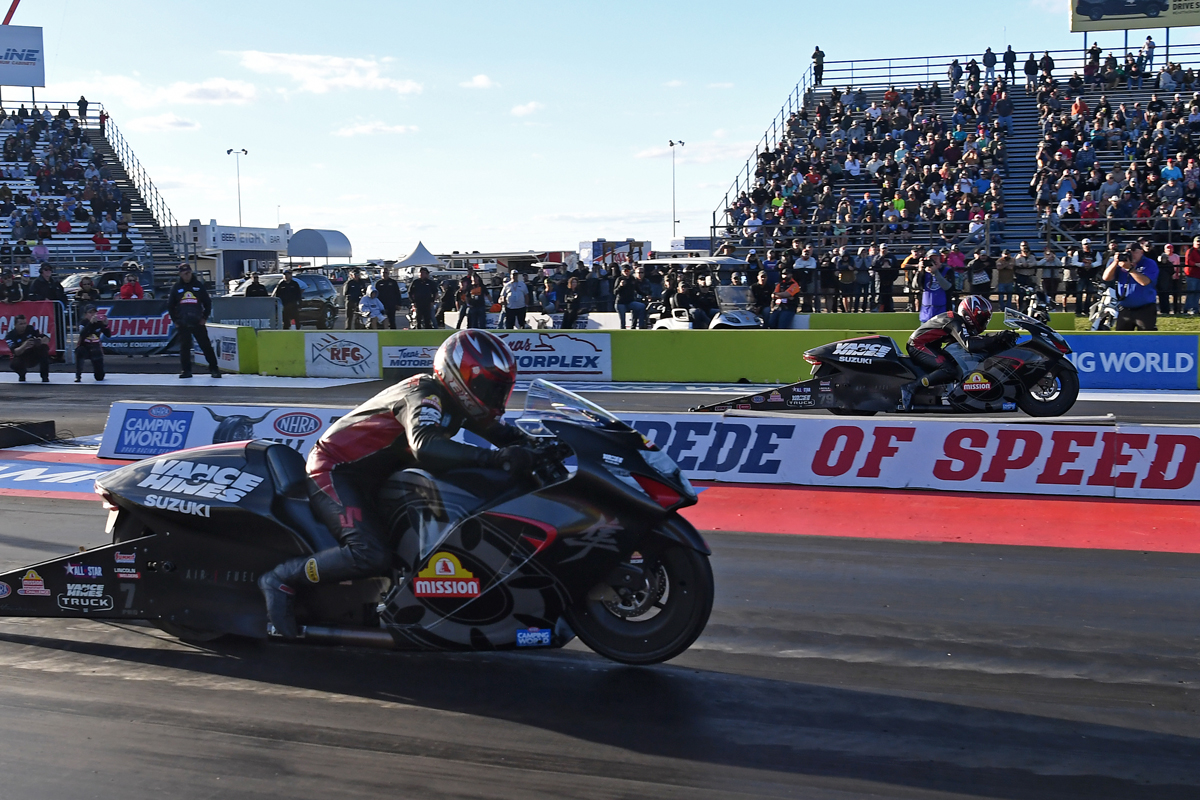 Another all-Gen3 Hayabusa Final and another runner-up finish for Eddie Krawiec (7).

Eddie Krawiec qualified third with a 6.714-second/201.99 mph run that set him up for a march through the field to a repeat of his final-round matchup against Herrera in St. Louis two weeks ago.

In round one, Krawiec eliminated Corey Reed (7.138 seconds/167.81 mph) with a 6.853-second/201.67 mph pass, setting up another rematch from St. Louis, this time in round two against Matt Smith, who entered the Texas race as Herrera's closest competitor in the Countdown to the Championship. Krawiec ran 6.731 seconds at 201.05 mph to defeat Smith (6.857 seconds/197.75 mph) in a crucial victory that advanced his championship hopes and put even more daylight between Herrera and Smith in the standings.

Krawiec advanced to his third final round appearance of the season, and the 94th of his career, with a career-best 6.692-second/203.88 mph victory over Joey Gladstone (6.814 seconds/195.10 mph) in the semi-final round.

Despite a second-consecutive loss to Herrera, Krawiec was able to take consolation from the all-Vance & Hines/Mission Suzuki final round and by his move up to second in the Countdown standings, overtaking both Smith and Arana in the process.

"One of my big goals this season was to make a run in the 6.60s, so to go 6.69 and almost 204 miles per hour against Joey in the third round was pretty cool. Winning the round against Matt put me into second place in the championship. It was a perfect opportunity to put my destiny in my own hands," Krawiec said. "If Gaige wasn't in the picture this could have been a championship season for me, but it's truly awesome to be first and second in the championship because that was our goal as a team at the beginning of the season."

Vance & Hines/Mission Suzuki crew chief Andrew Hines didn't expect to see record-setting weather conditions in Dallas this late in the season, but once they appeared, he and the team capitalized on them.

"It was a weekend for the books. The things we accomplished as a team, including making six runs under the old national record and the four quickest 60-foot times in class history, are a testament to our preparation and dedication. Everyone on this Vance & Hines/Mission Suzuki team lives and breathes racing and it shows in the performance of our Hayabusas," Hines said. "We live for moments like these, but now it's time to move on to the next race. Our goal is to lock things up in Las Vegas and work on keeping Eddie in the number two spot the rest of the way."

With two races remaining in the Countdown to the Championship, Herrera and Krawiec sit first and second in the Pro Stock Motorcycle standings with 2,560 and 2,404 points, respectively.

The Vance & Hines/Mission Suzuki team is back in action Oct. 26-29 at the NHRA Nevada Nationals at The Strip at Las Vegas Motor Speedway in Las Vegas, NV.