Back to News
SUZUKI'S PAASCH EARNS ANOTHER TOP-FIVE SUPERBIKE RESULT FOR VISION WHEEL M4 ECSTAR SUZUKI
BREA, CA, September 24, 2023 —
Suzuki Motor USA and Team Hammer closed out a successful 2023 MotoAmerica season at New Jersey Motorsports Park on Sunday. After Ty Scott won Saturday's Supersport race for Vision Wheel M4 ECSTAR Suzuki, the team hoped for a repeat performance but tough conditions from a tropical storm made racing difficult. Brandon Paasch and Richie Escalante earned fifth and sixth in a wet MotoAmerica Superbike race.
Race Highlights:
Vision Wheel M4 ECSTAR Suzuki

Supersport


Tyler Scott led early but earned eighth to cap off his great year.
Teagg Hobbs ended his strong season with 17th in a difficult race.

Superbike

Brandon Paasch earned the fifth position as he gained two spots in the second half of the race, including a strong, last-lap pass.
Richie Escalante improved his pace dramatically on Sunday and took sixth.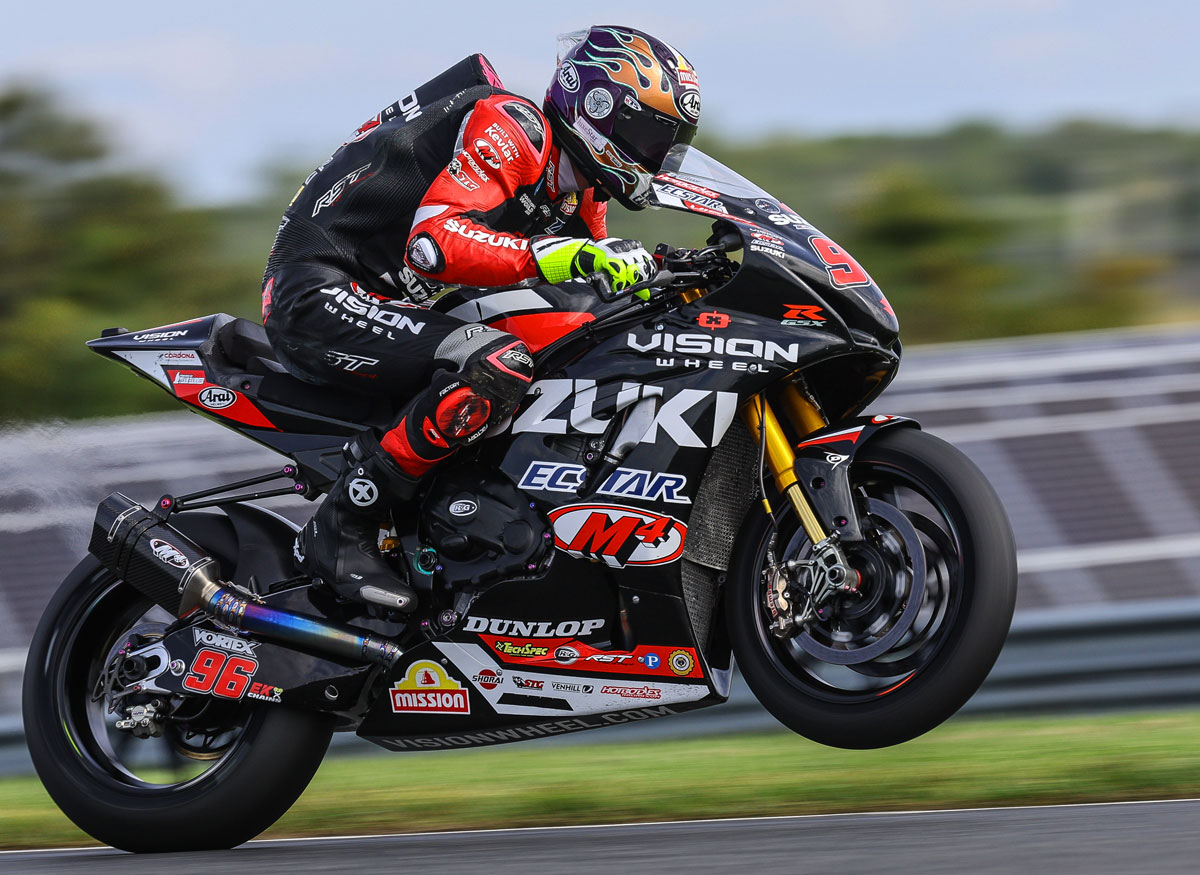 Brandon Paasch (96) came back strong on Sunday, scoring his fourth top-five Superbike class finish of 2023.
Brandon Paasch (96) ended Saturday's race on the ground, but showed remarkable tenacity and rebounded with a solid Superbike class performance on Sunday. The local rider saved his best for the end as he put his Vision Wheel M4 ECSTAR Suzuki GSX-R1000R in the top five on the last lap. Paasch chased teammate Richie Escalante for most of the race but was able to make the move to finish once again in the top five.

"I passed Richie on the last lap, so it felt good to be the top Suzuki finisher," said Paasch. "The conditions were tough today. It was dryer and the pace was faster, but there were still a lot of slick spots. I felt like I made a few mistakes, but I had some momentum at the end. We had a good year with four top-five results in the last five races. and I learned a lot about how to ride a Superbike."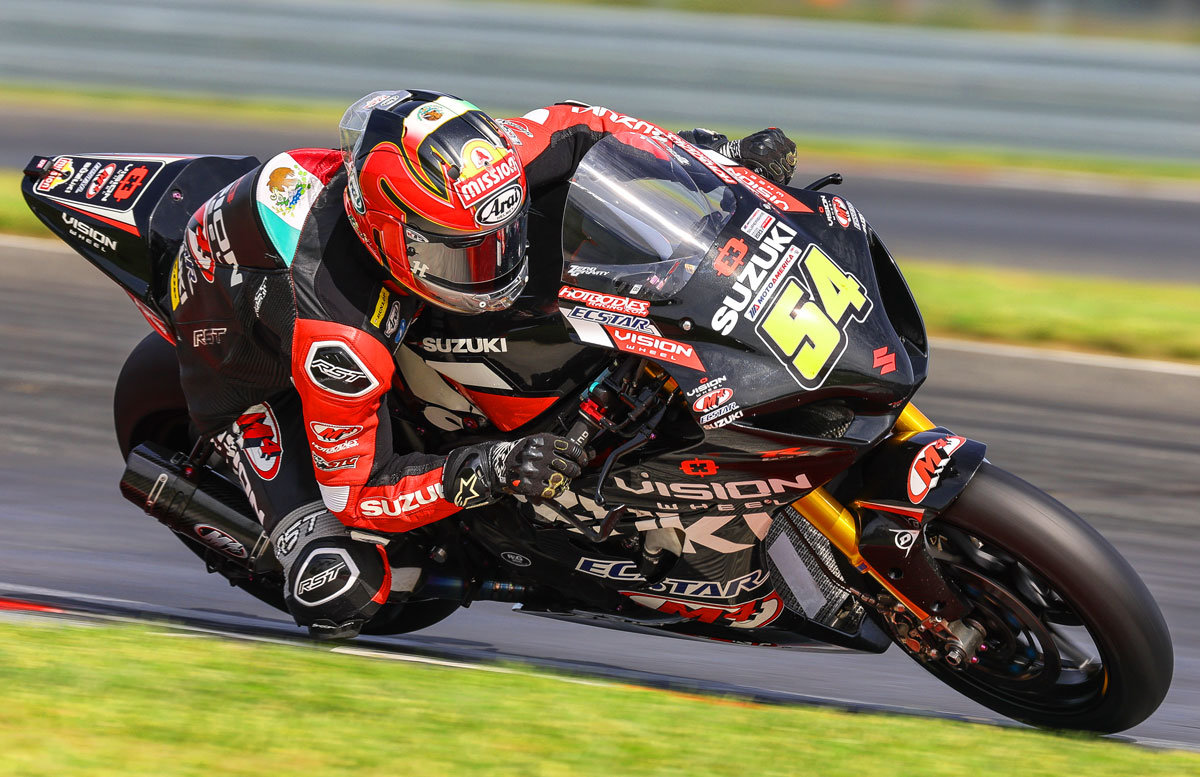 Richie Escalante (54) fought for the podium most race weekends and finished the 2023 Superbike season fifth overall.

Richie Escalante (54) made remarkable progress from Saturday as well. The Mexican racer was off the pace in the wet in Saturday's race, but much quicker on Sunday. Escalante spent most of the race in fifth position before eventually finishing just behind Paasch.

"It was much better today for me," said Escalante, after finishing fifth in the season's final standings, tied with fourth. "Racing in the wet is my weakest area but I had a good start and felt better and more confident today. Honestly, at some points, I felt great. I really wanted to get some more experience on the Superbike in the wet. My teammate passed me on the last lap and so I was sixth. We had a good year, fighting for the podium most weekends. The bike is very competitive, and the team is great, so we will be strong next year. I need to personally make a step this offseason to be even more competitive."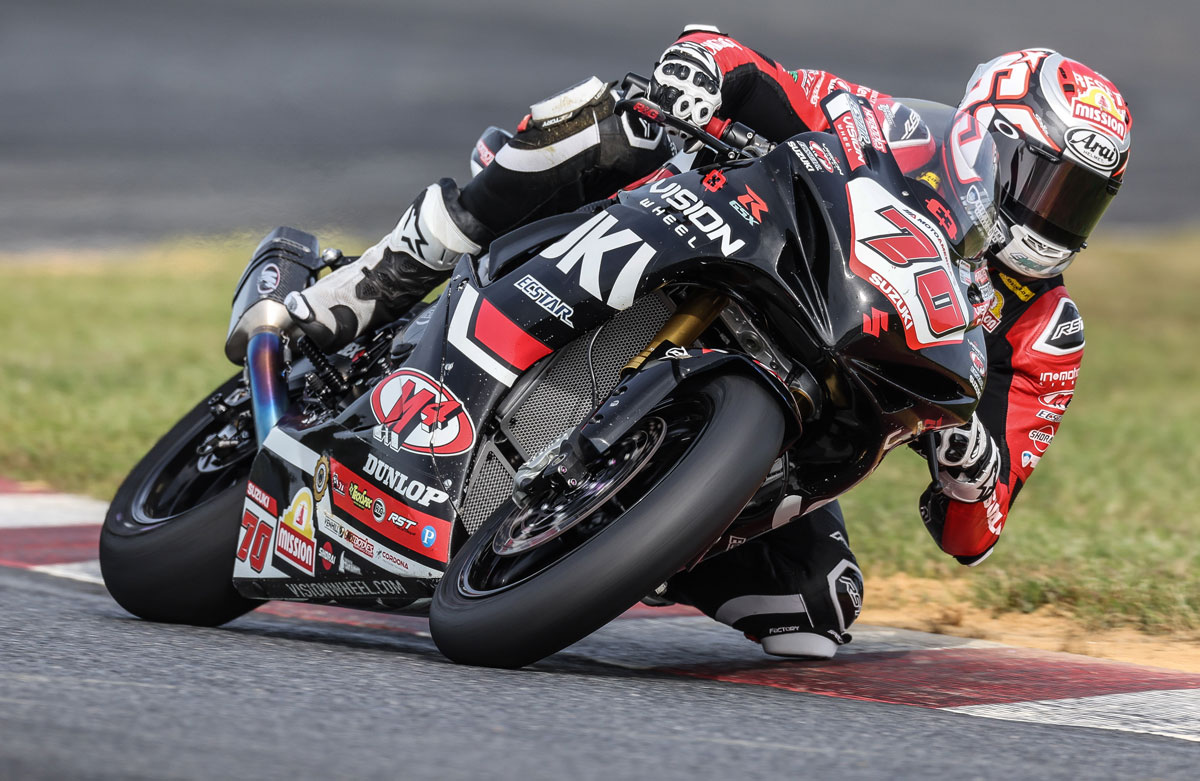 After Saturday's Supersport win, Tyler Scott (70) diced for the podium once again on Sunday and came in second overall in the season points.

In Supersport, Vision Wheel M4 ECSTAR Suzuki's Tyler Scott (70) diced for a podium position after leading the race early but encountered an issue and momentarily stopped on-course. Scott reset his electronics and was able to rise back up to eighth position at the checkered flag.
Scott, second in the final season points, earned four wins and 11 podiums in 2023 aboard the next-generation Suzuki GSX-R750. The 17-year-old finished his first full season in the class strong, and will no doubt be a contender for the championship again next year.
"We were running in the lead pack and had a small problem that fixed itself, so I was able to get going again," said Scott. "That's part of racing, and particularly racing in the rain. I went from last to eighth, so we were able to show something. It felt good out there on my Suzuki, and that will help us as we get ready for next year. I really wanted to win the championship this season, but we won some races, finished on the podium often, and had some great battles. Not only did the team do a great job, but we also had a lot of fun competing. We'll work harder to get stronger and be ready for Daytona next year."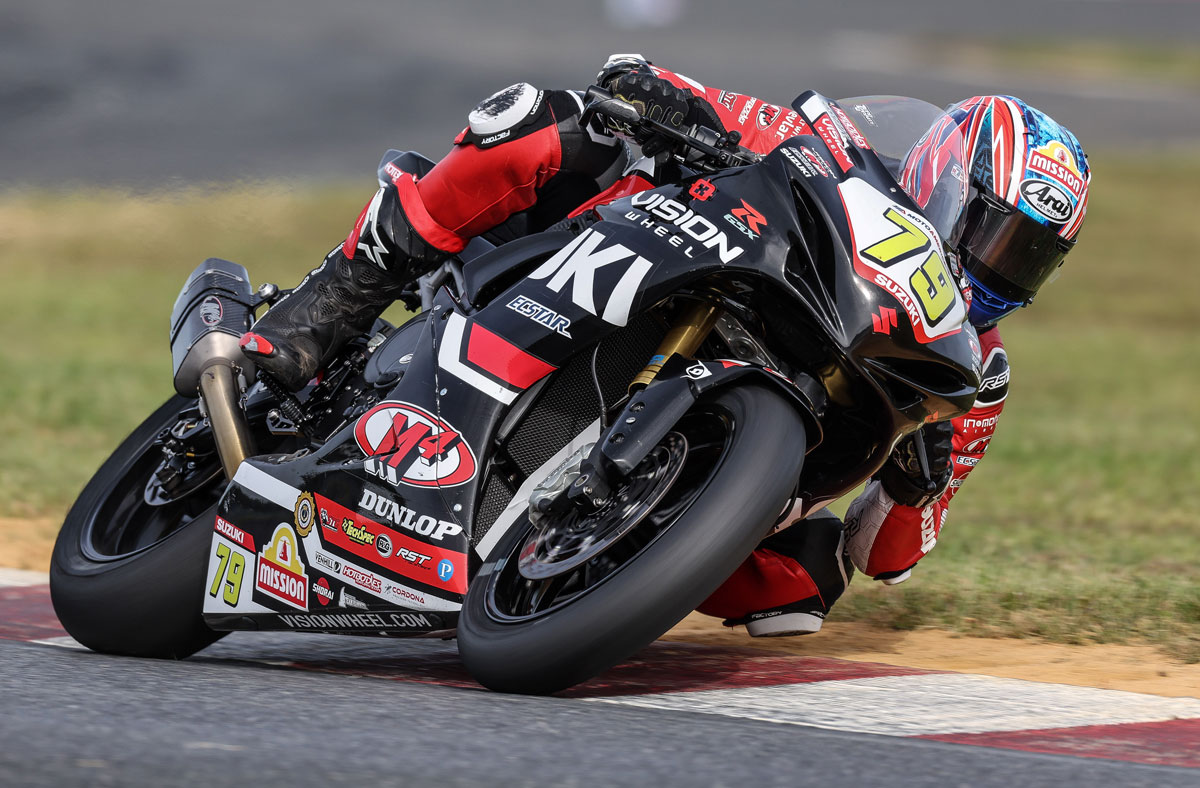 Teagg Hobbs (79) learned much in his rookie Supersport season, earning fifth place in the 2023 championship.
Teagg Hobbs (79) was 17th in the race. Despite a disappointing New Jersey round, Hobbs showed excellent form in his first year with the team, proving himself as a frontrunner in the difficult Supersport class and earning fifth in the final standings.

"Today's race was tough, really the toughest of the year for me," said Hobbs. "I just couldn't find the confidence in the wet here. We had a good first season and I wanted to close out strong. People didn't expect us to be as close to the front as we were, and it was great to be in the fight every weekend. I learned a ton, even more than I thought I would, especially about how the frontrunners in the class operate."

With all four Vision Wheel M4 ECSTAR Suzuki riders making outstanding progress in 2023, the team eagerly looks forward to an even more competitive 2024 MotoAmerica season.
Photos by Brian J. Nelson Photography