Back to News
Motocross
Racing - Motocross
Suzuki Captures Top Ten Results in 2023 Motocross Championship
Solid 2023 MX Season for Suzuki Teams

Brea, CA, August 28, 2023 – The Ironman National hosted the final event, round 11, of the 2023 AMA Pro Motocross Series. Conditions were near-perfect on the fast and wide Crawfordsville, Indiana track that's been a regular stop on the circuit since 2014

Race Highlights:
Twisted Tea Suzuki presented by Progressive Insurance

450 Class

Freddie Noren earned a top-ten moto finish as well as a top ten overall position in the championship standings, matching his career-best season result.

Toyota of Redlands BarX Suzuki

450 Class

Derek Drake wraps up a strong rookie 450-class season.

250 Class

Dilan Schwartz puts in an outstanding charge through the pack in the season's final 250 moto.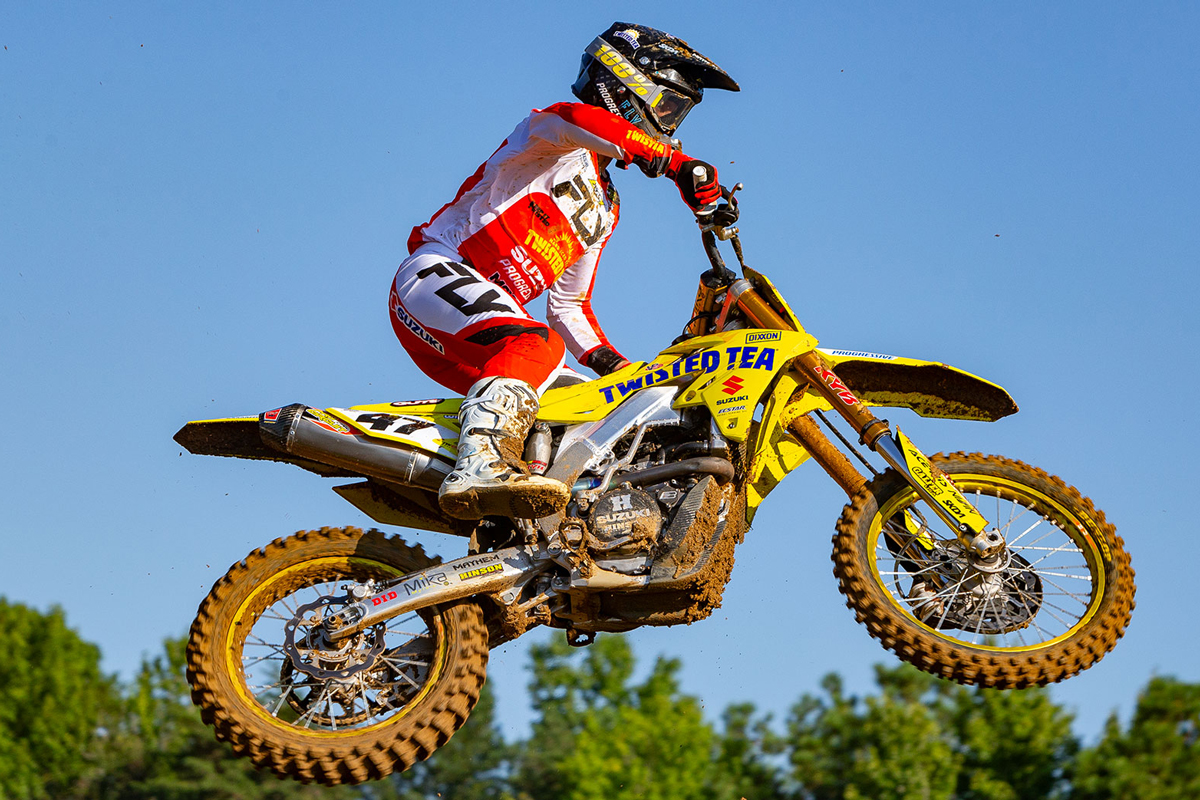 Freddie Noren (47) capped off a great season with a top-ten moto result in 2023's final motocross moto at Ironman Raceway.
"Fast Freddie" Noren earned his 13th top-ten moto finish of 2023 en route to matching his career-best season finish of eighth place. Combined with his supercross points, Noren heads into the postseason SuperMotocross World Championship with 11th-place points and a guaranteed spot on the starting line at both Playoffs and the Final.

"I had a decent start in moto one," said Noren. " But I tangled up with another rider and bent my handlebars. I did my best to get through the pack, just trying to get the best gate pick I could for moto two. In moto two I had a good start and was riding in ninth place before I made a pass into eighth. I raced in eighth place for most of the moto, but with just a few laps to go two riders got by me. I've earned the most combined motocross and supercross points I've ever earned, so looking at the big picture it is the best season of my career. I'm super pumped on the whole crew. The team's been able to provide a great platform for me, a great bike, and a great mechanic, and it's been very enjoyable going to the races every weekend. They've done a great job and I'm really excited for the playoff rounds."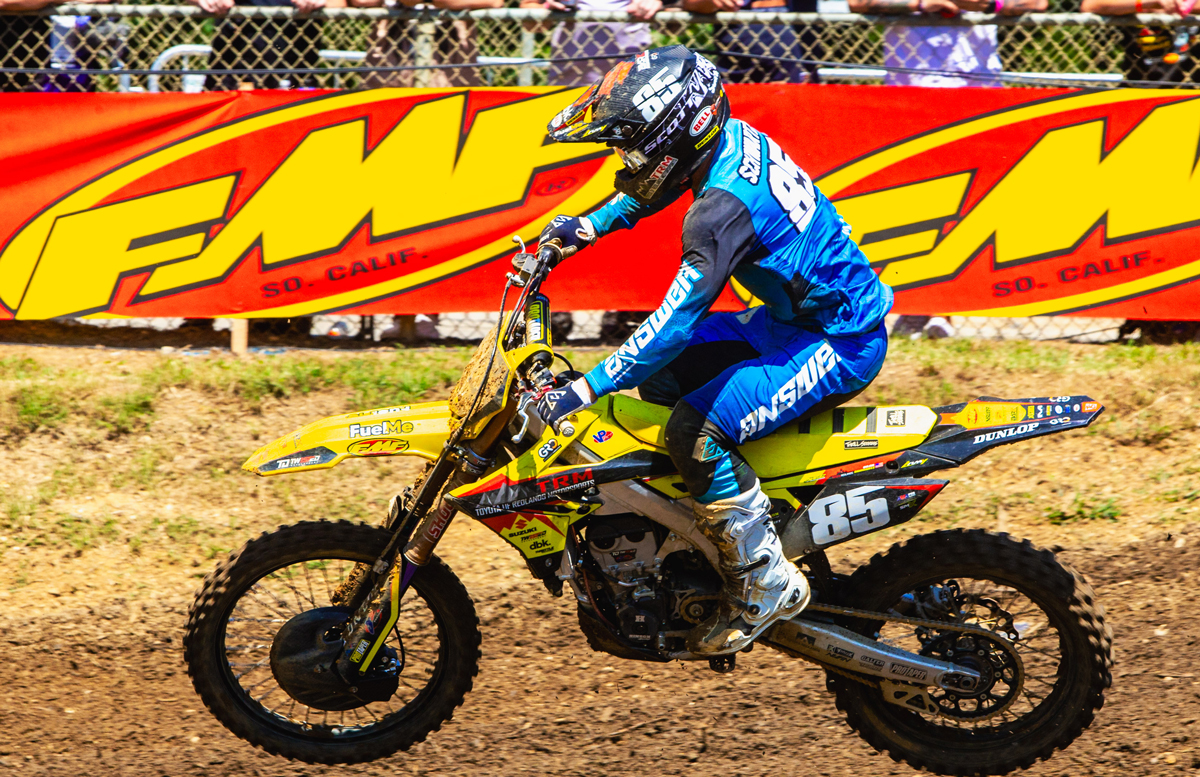 Dilan Schwartz (85) was the rider on the charge in moto two, passing ten riders to score a strong moto result.
Dilan Schwartz put in blazing fast lap times throughout moto two to better his first moto score and bring home a top-fifteen overall result. The young racer has four professional seasons under his belt and enters the SMX World Championships pre-qualified for both motos at each post-season round.

"Ironman was a decent round for me," said Schwartz. "My starts weren't ideal, but I managed to come through the pack pretty well for a 14-13 finish on the day. I finished 13th overall in points as well. That's not exactly where I wanted to be, but we improved all summer, which I'm happy with. I'm excited to see how the SMX rounds will be in a couple of weeks!"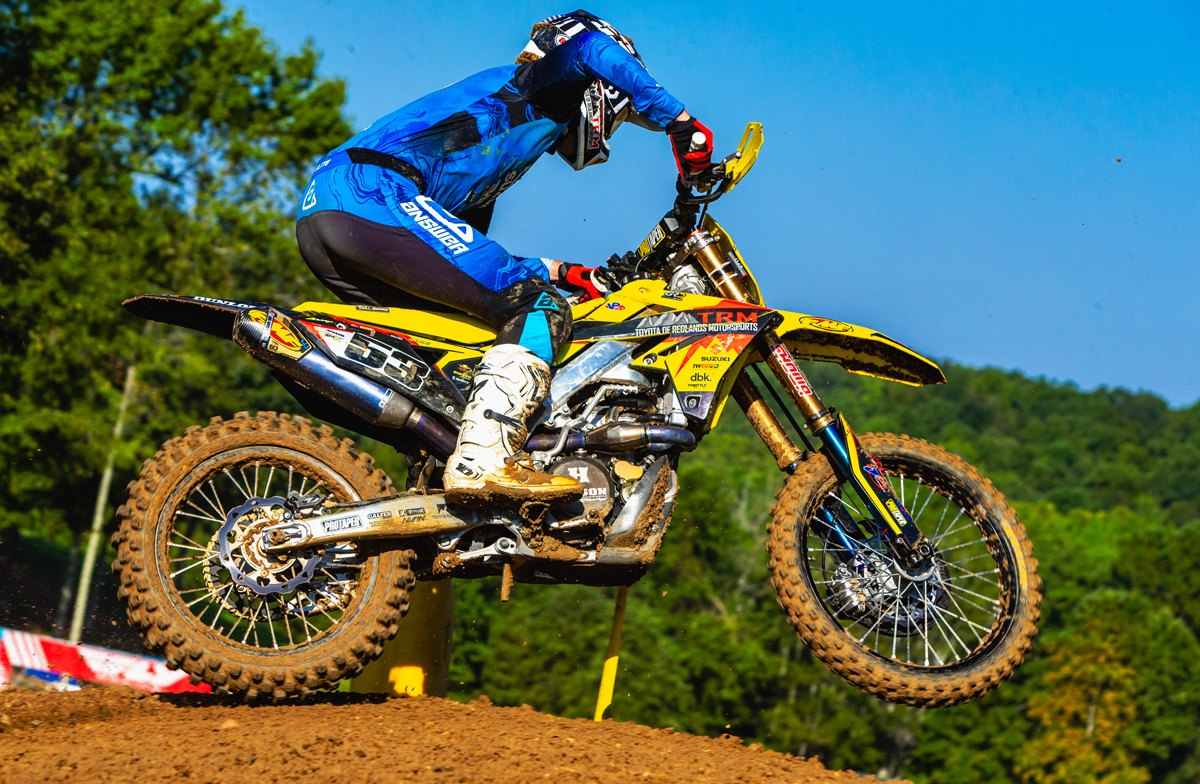 Derek Drake (53) displayed solid pace in his rookie 450 season.
Derek Drake capped off his rookie 450 season to earn a top-15 spot in the standings. His move up to the 450 class after contesting the 250 class in Supercross puts Drake at a points disadvantage going into the playoffs. Fortunately, he earned enough points in the motocross series to earn a spot on the gate of the 450 class LCQ at each of the SMX World Championship rounds.
"Ironman was a struggle mentally," reported Drake, "I couldn't really 'snap into it' all day. I just struggled from start to finish. I'm glad to end the season healthy and I'm looking forward to the SMX races."
"Our only rider this weekend was Freddie Noren," reported Twisted Tea/H.E.P. Motorsports/Suzuki presented by Progressive Insurance Team Manager Larry Brooks. "In the first moto, Freddie crashed really hard on the first lap; he bent his handlebars and twisted up his bike. He tried as hard as he could with a bent-up bike, but he was only able to finish 22nd, which is not in the points. In the second moto, Freddie came back and finished tenth, which gave him 13th overall on the day, and he finished eighth in the 450 outdoor championship. That's pretty impressive. Kyle Chisholm wasn't able to race Ironman because he was injured the weekend before, but he still finished 16th in the 450 motocross points. Our next race is in Charlotte, North Carolina, and that is going to be the first running of SuperMotocross events. We're interested to see how this new postseason goes. Our whole team is testing and getting ready, so we'll see you in a couple of weeks."
"The Toyota of Redlands Bar X Suzuki team participated in press day the Friday before the Ironman National," said Toyota of Redlands BarX Suzuki Team Manager Buddy Antunez. "That gave us some extra time on the track to help dial in our Suzuki race bikes for Saturday's race. Drake had a new engine package that Twisted Development put together for us. Drake was pumped with the new setup. Both Drake and Dilan Schwartz had a great day on Friday, so the team was fired up for Saturday. On race day Schwartz was on point in timed qualifying. In the first moto, he had a decent start then raced hard to reach the front. He made good passes and reached 14th. In the second moto, his start was outside the top 20, but he started charging and moved his Suzuki up to 13th. Dilan is qualified for SMX and looking forward to the gate dropping again in a couple of weeks. Drake had great qualifying speed at Ironman, which he has had all summer. When the gate dropped for Derek's motos he showed speed early, but he wasn't able to maintain it through the race. We will regroup and be ready for SMX. I personally want to say thanks to everyone at Suzuki, and Suzuki dealers across the country, for giving our team the best support possible."
The Suzuki teams had a strong outdoor series and are in a position to send five riders into the sport's first-ever playoff season. Ken Roczen, Freddie Noren, Kyle Chisholm, and Derek Drake will compete in the 450SMX class and Dilan Schwartz will race the 250SMX class. The inaugural SuperMotocross World Championship will hold two Playoff rounds and one Final, all in September. The races will award a total purse of $5.5 million over the three rounds.
Photos by BrownDogWilson Photography