Back to News
Motocross
Racing - Motocross
Suzuki's Ken Roczen Charges to Second at the Inaugural SuperMotocross World Championship
SMX World Championship Format Plays to Suzuki Racer's Skills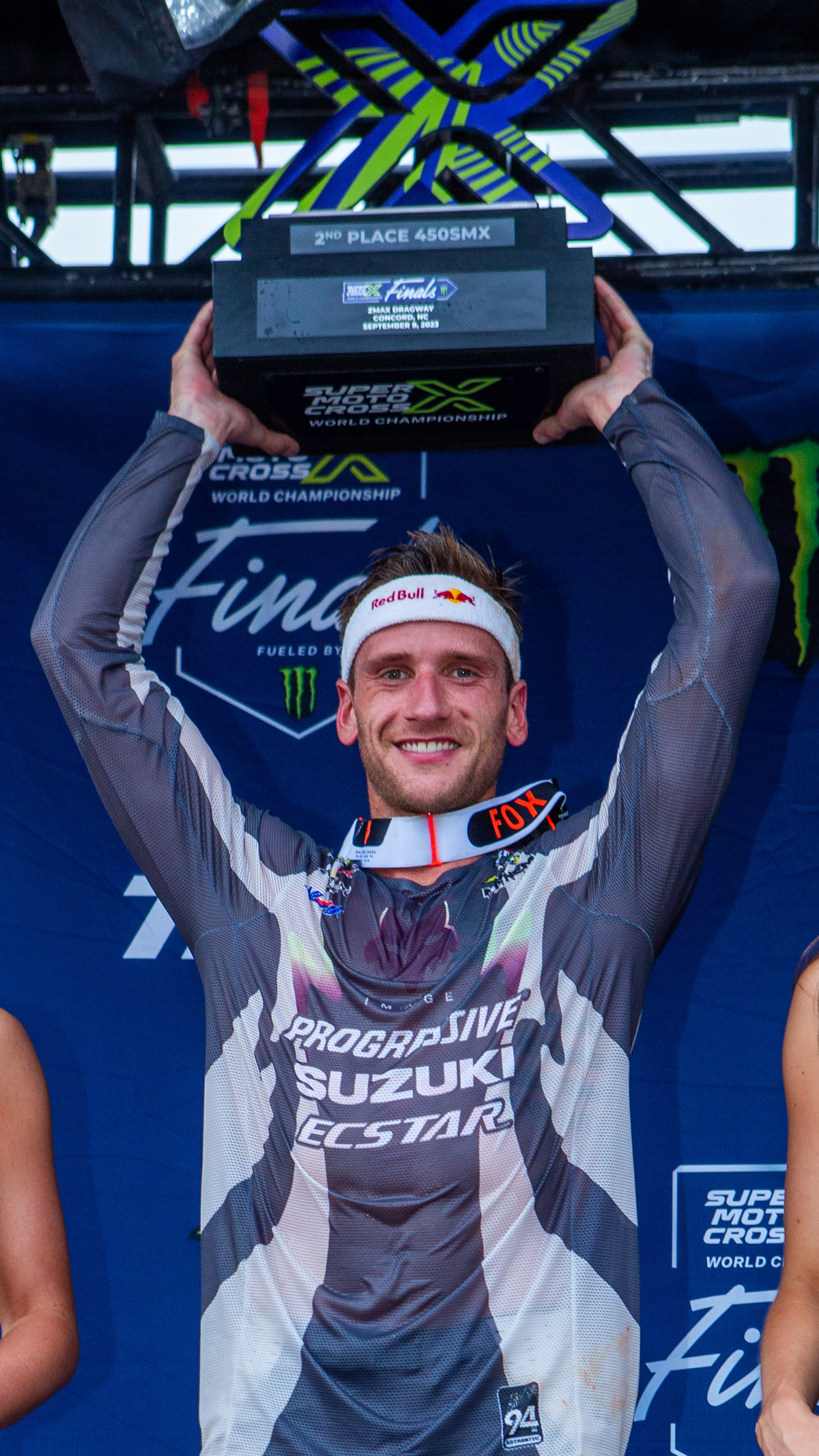 BREA, CA, September 11, 2023 — The inaugural SuperMotocross World Championship kicked off with a hybrid supercross-motocross track stretched out between the twin grandstands of zMAX Dragway at Charlotte Motor Speedway in Concord, North Carolina. The event was the first-ever post-season round for the sport. The race challenged riders, machines, and teams with a track that melded motocross and supercross elements.

Race Highlights:
Progressive Insurance ECSTAR Suzuki

450 Class

Ken Roczen earned second overall and advanced three positions in the SMX World Championship

Twisted Tea Suzuki presented by Progressive Insurance

450 Class

Freddie Noren adapted quickly to the hybrid MX/SX track after only contesting the MX series on the Suzuki team.
Kyle Chisholm strategized to position himself for a strong post-season overall result.

Toyota of Redlands BarX Suzuki


250 Class

Dilan Schwartz used speed and consistency to move up in the 250-class SMX World Championship.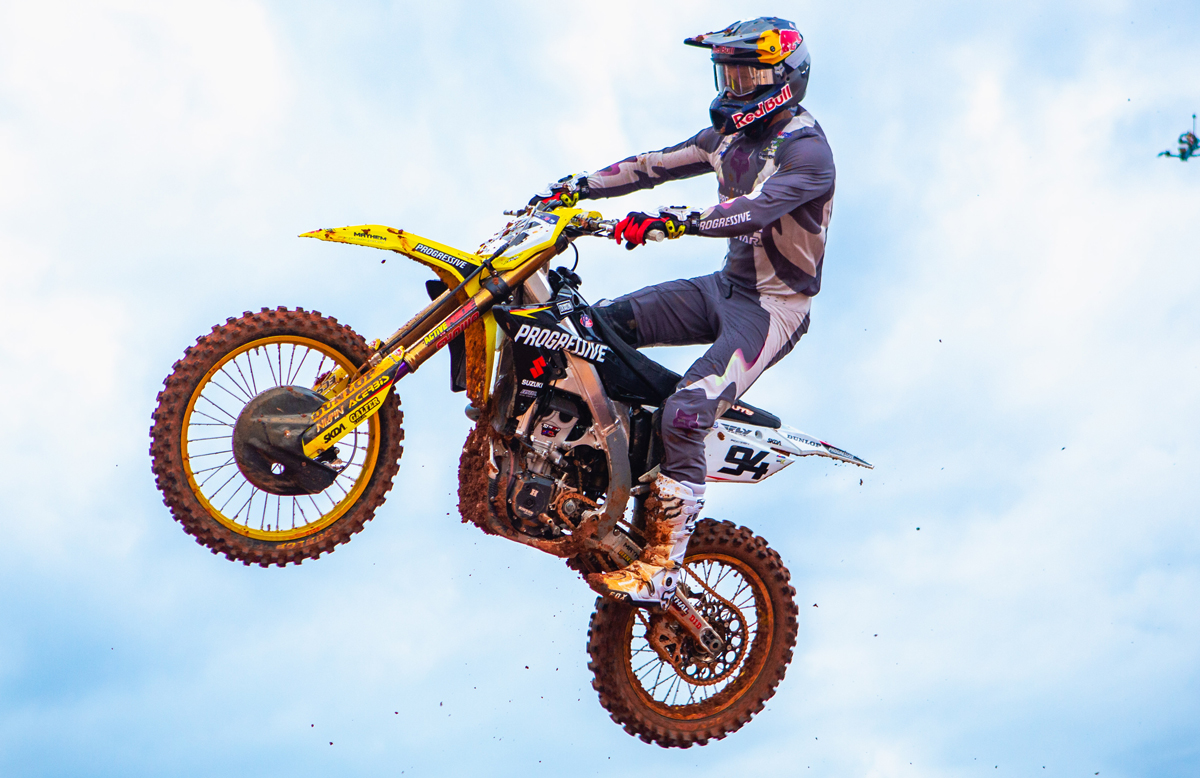 Ken Roczen (94) jumped into the lead in Moto 2 and led for ten laps on his Suzuki RM-Z450 en route to a second-place overall result at SMX World Championship Playoff 1.
Ken Roczen proved to be in top form in his return to racing in the US after focusing his summer efforts on his defense of his World Supercross Championship aboard his Suzuki RM-Z450. Roczen charged forward to a third-place result in the first moto. He led the majority of the second moto, in which he also finished third. His top-three result in each moto earned him the second-place overall spot in North Carolina. Roczen now sits in fifth place in the SMX World Championship, just two points away from second position as the points double and then triple over the next two rounds.

"I had fun from the first lap on Friday. We had two free practices and I just felt great out there," said Roczen after the Saturday race. "[In Moto 1] my start wasn't the greatest, so I had to really put my head down from the gate drop on, all the way to the checkered flag. I had to push super hard and give 110, and 120 percent to make some passes happen with the way the track was laid out. It was a really fun track to ride on, but the layout made it tough to pass. The track got tricky; it got really rough; we were still on supercross suspension so that of course made it tough. I finished the first moto in third after a strong fight. In the second moto, we ended up grabbing the lead and then led for a bunch of laps. Towards the end of the race, I had some sweat issues with my helmet and goggles and couldn't see much, which slowed me down. Two riders passed and I ended up going 3-3 for second overall. I think we had a great first race back after not racing for a couple of months. I was happy with how the team worked with me and with the little changes made to the bike. It was an unbelievable first race back for us."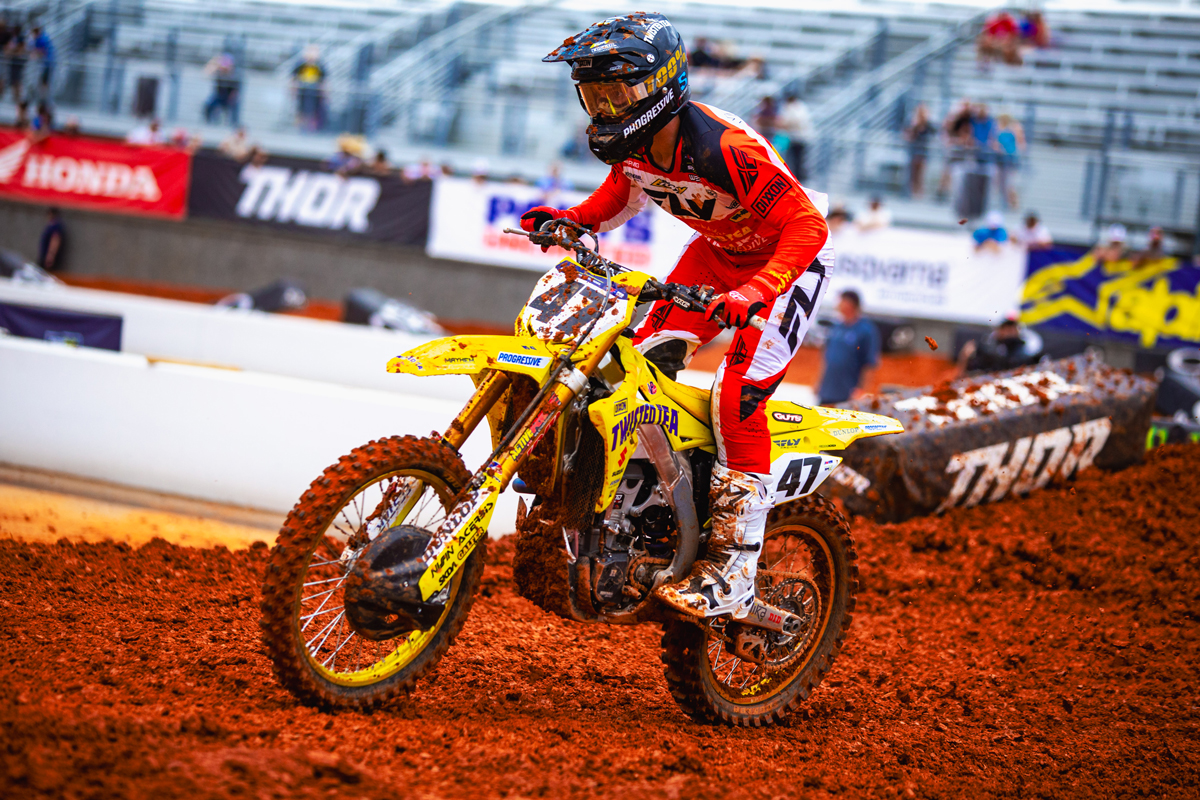 Freddie Noren (47) adapted quickly to the hybrid racing format with only four days on the team's supercross bike settings.
Freddie Noren joined the Twisted Tea Suzuki team for the 2023 outdoor season, so the supercross aspects of the bike were something he had to learn quickly. He put in two strong motos and sits just one spot, and one point, outside of the top ten in the post-season standings.

"In the first moto, I had a decent start coming off the gate but got pushed out in the first corner; with the split lanes coming together I shut off a little bit, I was a little cautious," Noren reported. "From there I rode really well, made some good passes, and charged throughout the whole moto to finish 13th. I was right behind the next four riders; they were just a few seconds ahead of me. It was a really strong race and I was really pumped with that. Then in Moto 2, I had a better start and I raced really well for the first half of the race. I was keeping a really good pace, running in the tenth spot, but I got a little more tired than maybe I should have and lost the pace a bit. Two riders passed me, but I still charged on as well as I could then passed another rider on the last lap for 11th. I finished 12th overall on the day. Overall it was a good first race, I'm happy with that, and we'll build off of it."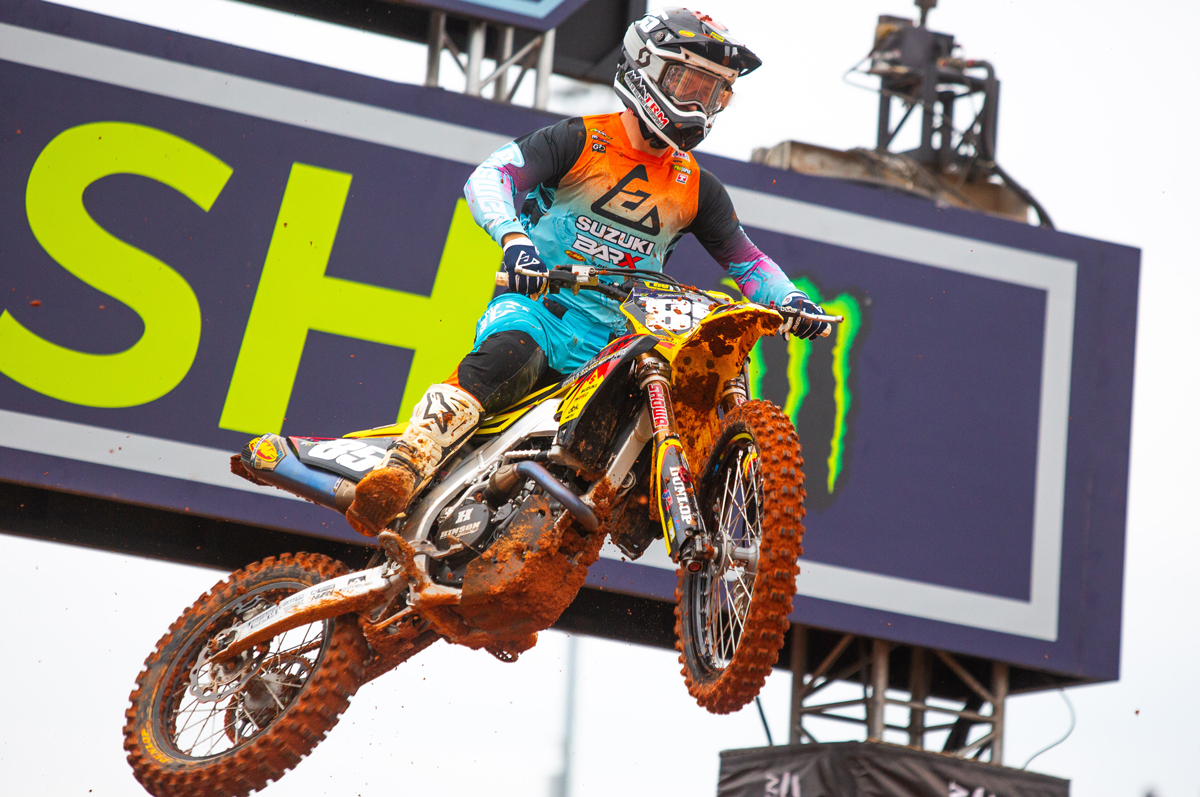 Dilan Schwartz (85) and his BarX Suzuki moved up one spot in the sport's first Playoff.
Dilan Schwartz and his Suzuki RM-Z250 earned a seeded position in the unique racing format. Schwartz used the first round to move up one place in the standings and got a feel for the unique track designs that lay ahead.

"It was a super fun race and track," said Schwartz. "A little mix of MX and SX is something new. I had a great time learning the track and the new series; the suspension is a little challenging to set up for the hybrid track but I'm looking forward to the next race in Chicago!"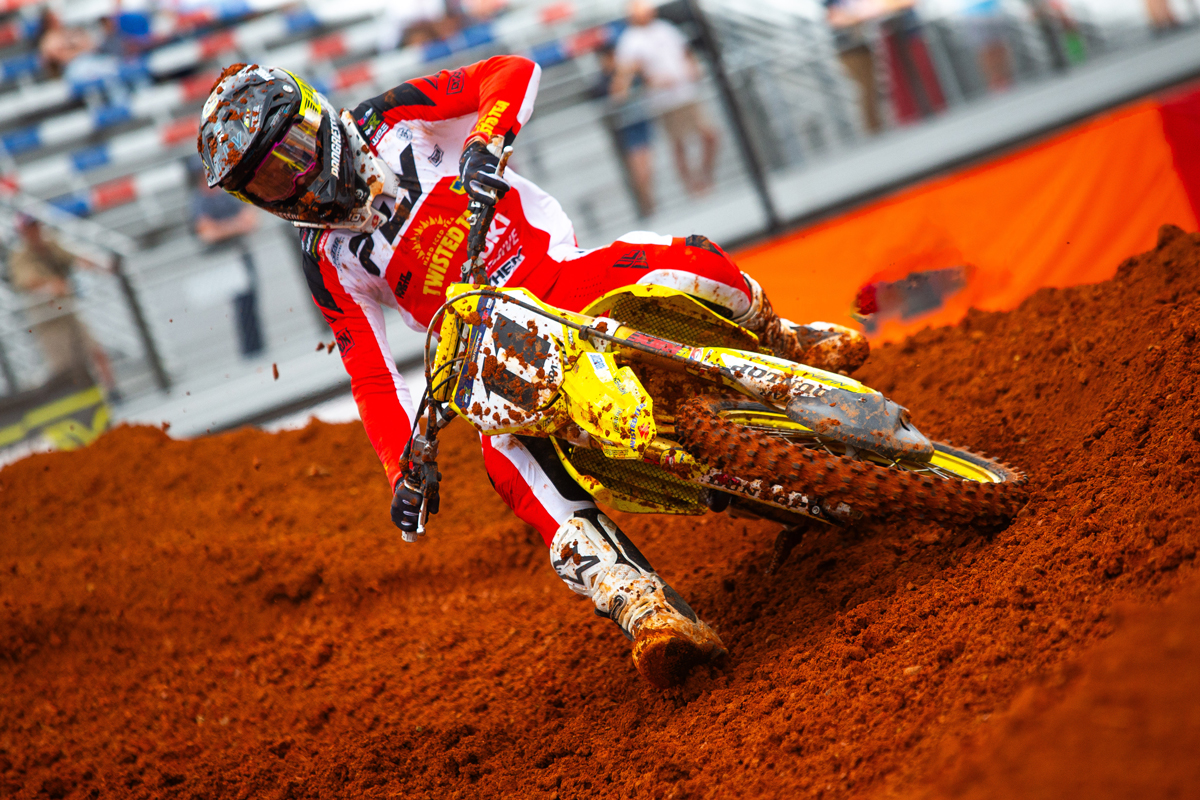 Kyle Chisholm (11) rode strong but not to his expectations in the veteran racer's first experience with a Playoff.

Kyle Chisholm and his Twisted Tea Suzuki RM-Z450 had a solid day without major setbacks, but also without the spark that makes Chisholm a top supercross and motocross racer.
"Honestly, it was a frustrating day. I just never 'had it' all day, and struggled getting comfortable," admitted Chisholm. "The track was tough. We played with bike set-up a little all day and found some good stuff, I just didn't ride well. I simply didn't ride my best and was just a little off all day and couldn't figure it out. This week I'll get some more riding in and then try to get started on a strong note next week in Chicago."
"It was a really good day. Ken Roczen was on the podium with a 3-3 score giving him second overall," reported Twisted Tea/H.E.P. Motorsports/Suzuki presented by Progressive Insurance Team Manager Larry Brooks. "The team worked hard with the SuperMotocross track challenges. It's half outdoor and half supercross, and it's pretty difficult to set up for, but we worked really hard before the event. We did a lot of testing down in Florida and we came in pretty confident. We made a few changes during the day, and I think we did pretty well. So the Suzuki earned the podium again and we're very proud of that. We have two more events to try to win this championship and we're pretty happy."
"We came into the first weekend of SMX as prepared as we could be, not knowing exactly what to expect since it was a hybrid-style track," said Toyota of Redlands BarX Suzuki Team Manager Buddy Antunez. "In qualifying we mainly focused on getting the bike more set up for the conditions and making Dilan as comfortable as possible on the track. In Moto 1 Dilan was sixth off the start. He maintained a top-ten spot for about half the race. He charged and fought the best he could and came away with 14th. In the second moto, he got a 16th-place start from the outside. The track was very one-lined which made it hard to pass. He managed to ride his own race and ended up 14th once again for a 15th overall. We will go back to work and make some changes to make him more comfortable and come out swinging next weekend in Chicago for round two!"
With the SMX World Championship Playoff 1 in the books, Playoff 2 takes place this Saturday at Chicagoland Speedway in Joliet, Illinois. The week after that, the Final caps the post-season with another unique hybrid track inside the Los Angeles Memorial Coliseum on September 23rd. The unique SMX racing structure reset the points, with each racer assigned single-race points based on their combined 2023 supercross and motocross points. SMX Playoff 2 pays double event points, and the Final pays triple event points. As part of the $10 million 2023 total race purse, the 450 Class champion will earn a cool $1,000,000 championship bonus.
The Suzuki riders and team members are excited to pursue this new world championship, and Ken Roczen stands in a position to bring another major title to the Suzuki brand to go alongside his 450 Class AMA Pro Motocross Championship that he earned for Suzuki earlier in his career, and his reigning World Supercross Championship he's defending this year aboard his Suzuki RM-Z450 while chasing the sport's first SMX World Championship.
Photos by BrownDogWilson Photography