Back to News
Motocross
Racing - Motocross
Suzuki Racers Kick Off Motocross Series with Top Ten Results
Updated Squads Show Promise and Speed

BREA, CA, May 30, 2023 — The 11-round AMA Pro Motocross Series kicked off on Memorial Day weekend under perfect weather at Fox Raceway in Pala, California. The Suzuki racers posted fast lap times and brought home strong results from round one of the outdoor motocross season, which also pays points toward the inaugural 31-round SuperMotocross World Championship.

Race Highlights:
Twisted Tea Suzuki presented by Progressive Insurance

450 Class

Freddie Noren re-joined the Suzuki squad and earned a top ten overall with a ninth-place finish in Moto 2. Earning tenth place in the championship standings.

K

yle Chisholm was strong, steady, and fast, making a smooth transition from the supercross season to the motocross season.
Marshal Weltin advanced to the 450 class and qualified inside the top ten in both morning qualifying sessions.


BarX Suzuki

450 Class

Derek Drake ran in the top ten in moto one and delivered a top ten result in Moto 2.

250 Class

Dilan Schwartz was strong amid a stacked 250 field.
Robbie Wageman demonstrated top speed on the fast, California track.
Chase Yentzer showed strong riding in his rookie season with the BarX team.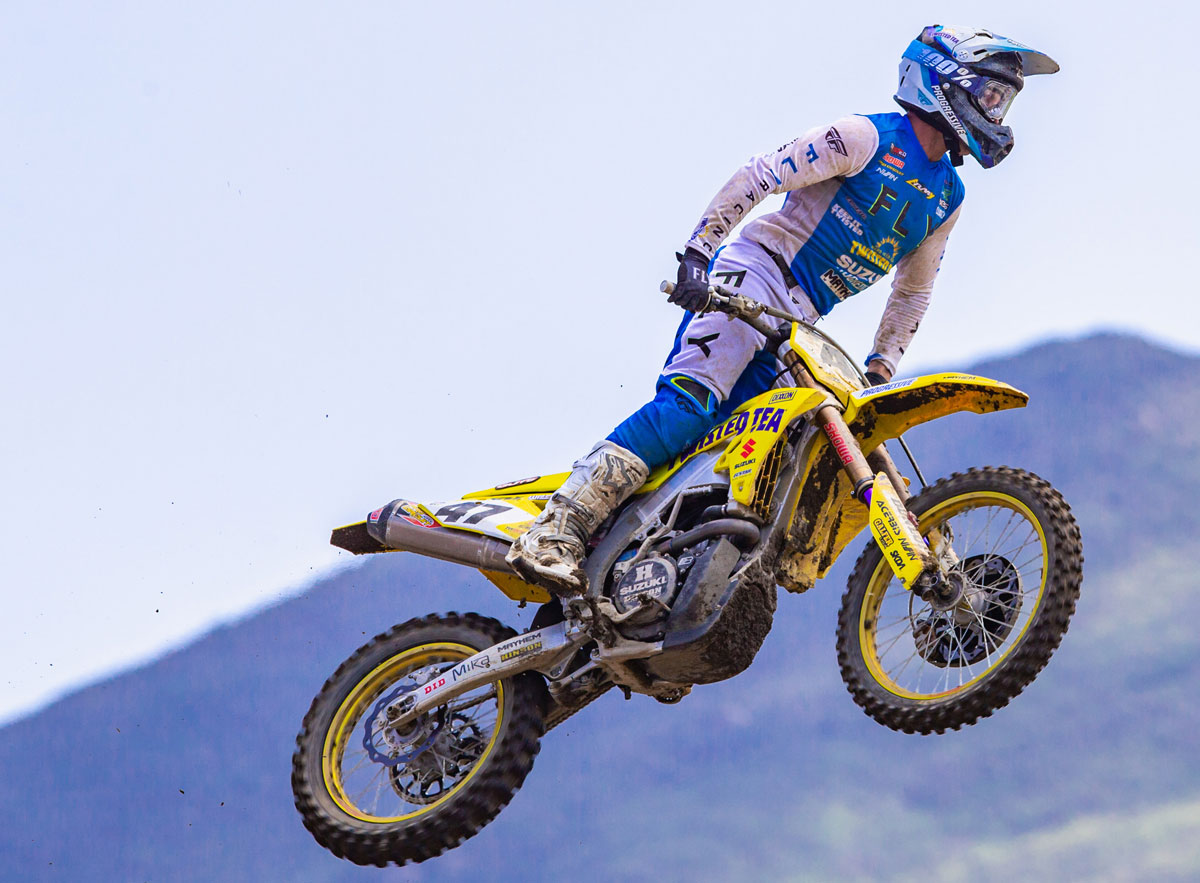 Freddie Noren (47) re-joined the Suzuki team and delivered top ten results at Fox Raceway.

After qualifying eighth and ninth in the morning sessions, Freddie Noren put his Twisted Tea Suzuki RM-Z450 into the front group in both motos. He started his summer race effort with a top ten overall finish.

"I wanted more like I always do, but considering this was my sixth day on the bike it was a good day," said Noren. "In the first moto, I had some close calls in the first few laps due to a bad start. I also went down twice. So considering that, 13th in the first moto was good. In the second moto, with a much better start, I put myself in sixth place. Then on lap three I made a rider error and stalled the bike. I went down to about 13th but put on a good charge and came back up to ninth. That gave me 10th overall for the day, so I'm happy about that. The team's doing really well. The more time we have together, and the more we test, the results will improve from here. We have ten more races to go, so it should be good."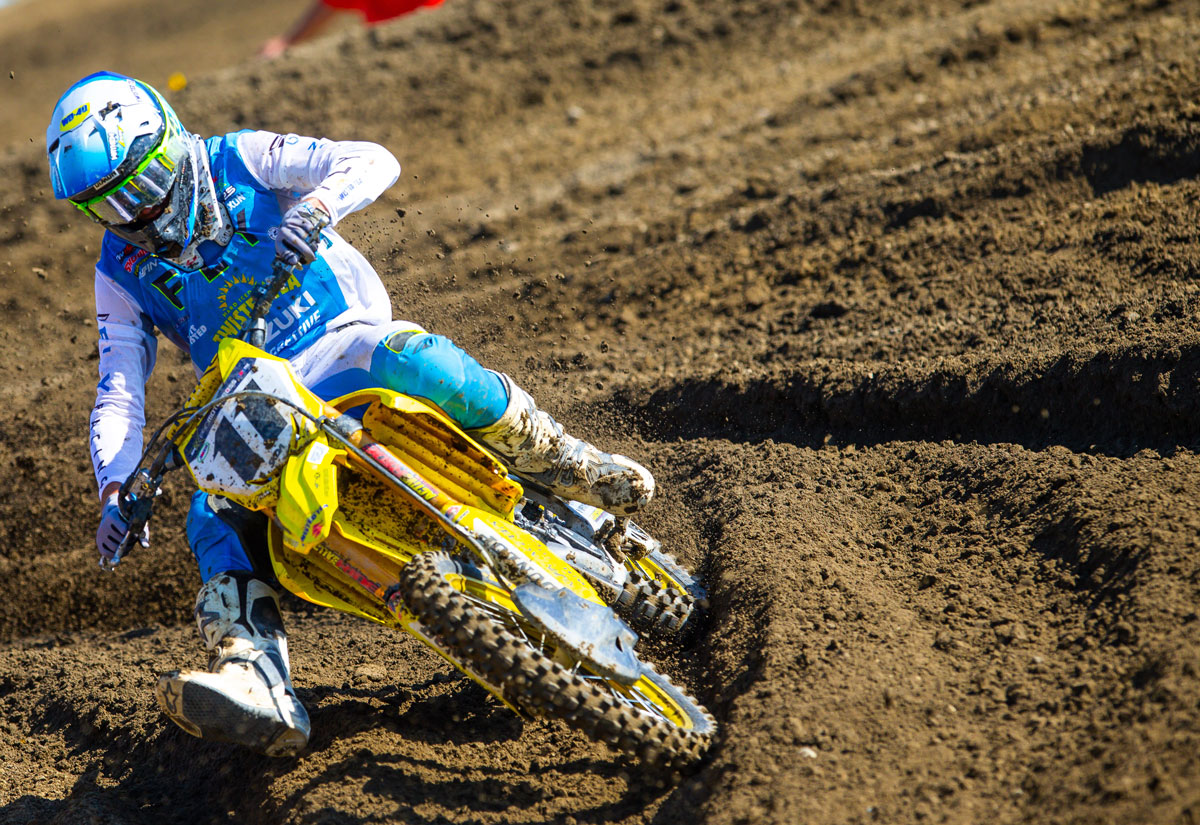 Kyle Chisholm (11) will compete in select motocross events and delivered a strong performance at round one.
Kyle Chisholm is racing a partial outdoor season. He didn't miss a beat and rode strongly with his Twisted Tea Suzuki RM-Z450 on the high-speed Southern California track.

"I ended up 12th. Which wasn't bad, "Chisholm summed up. "We adjusted the bike all day and we made some great progress, so we'll try to apply it for next week. My starts were fairly good in both motos. I need a little more intensity at the beginning of the motos to be better positioned to go with the front group. We'll try to improve on that this week. I typically enjoy Hangtown, so I'm looking forward to this week and we'll aim for the top ten."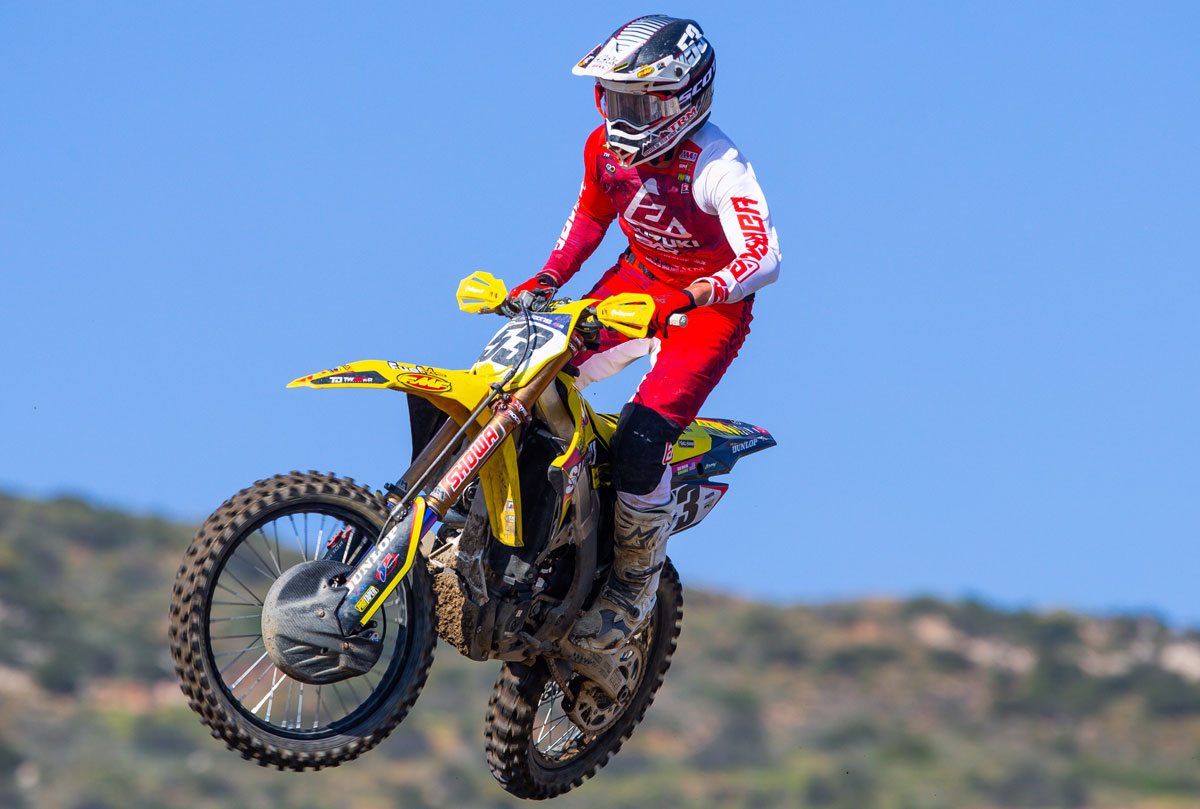 Drake (53) moved up to the 450 class and ran inside the top ten in both motos.
Derek Drake put his BarX Suzuki RM-Z450 well into the top ten in the motos, showing he has the speed to make a big impact in the 450 class in 2023.

"Qualifying went well, I was P-6 in both sessions," said Drake. "In the first moto, I had a bad start and worked my way up to 7th before I DNF'd. In the second moto, I worked my way up to 6th before I ended up 10th. I'm looking forward to next weekend!"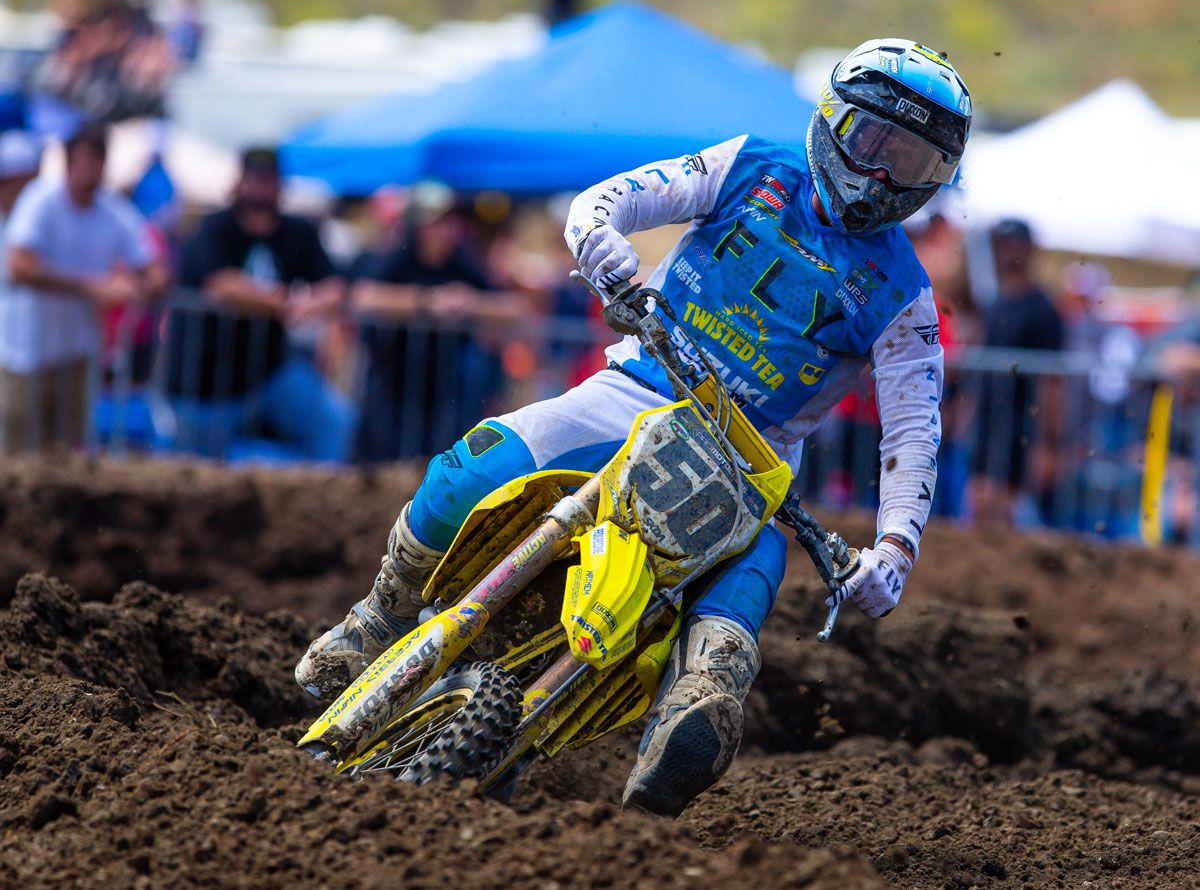 Marshal Weltin (50) demonstrated the speed for a strong summer series after returning to the 450 class for outdoor motocross.
Marshal Weltin earned a top ten result in each of the qualifying sessions. Unfortunately, small mistakes kept him from putting that top speed into realizing the results he's aiming for this summer.

"I didn't quite deliver what I was expecting today. I just couldn't stay off the ground," Weltin told. "In moto one I fell over, bent the clutch lever, and I couldn't get back going; I got tangled up in a banner. I still finished the moto and ended up 31st. In the second moto, I feel I was riding okay, but I had some crashes. I just couldn't stay off the ground; and fell four times. But the bike feels really good right now. I'm happy with everything and had a solid prep coming into the year, so I was expecting more today. The team's been great, but I just need to execute."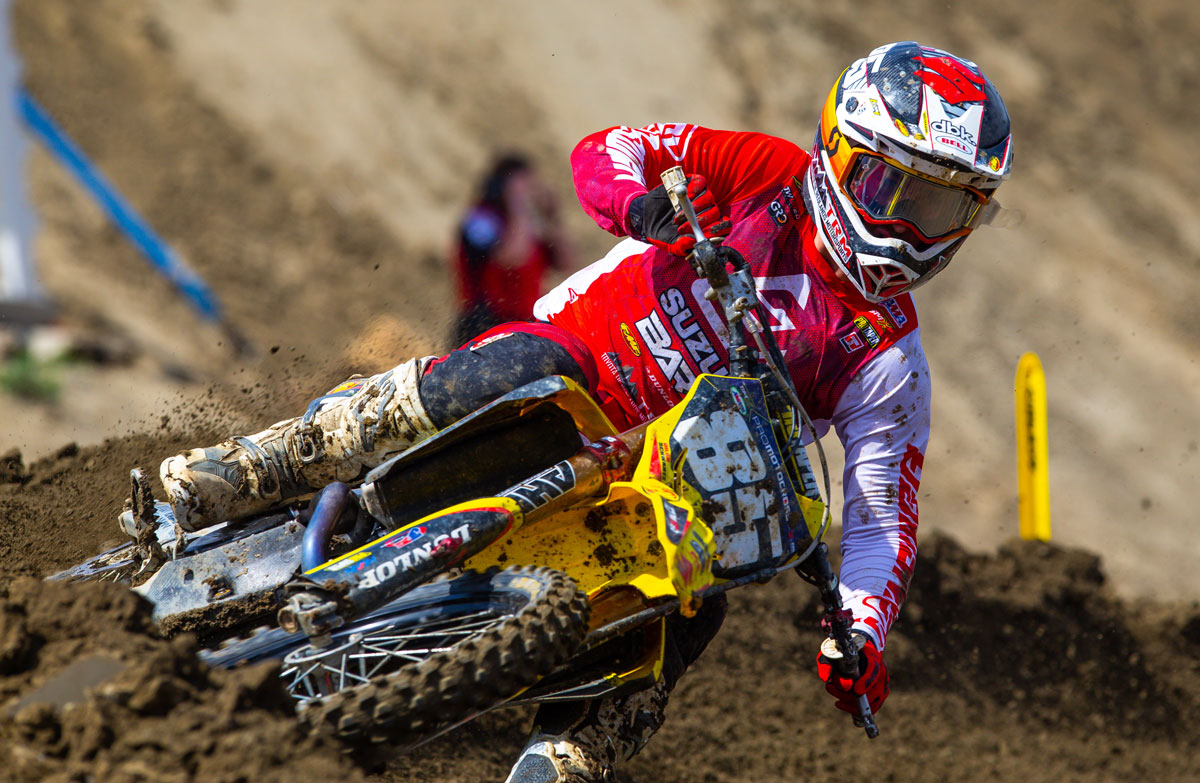 Dilan Schwartz (85) got reacclimated to the high speeds and deep ruts of outdoor motocross on his new BarX Suzuki ride.

Early setbacks hampered Dilan Schwartz's results at his hometown race, but he showed a strong ability to move forward through the pack in an incredibly competitive field.

"It was a tough day at Pala," Schwartz summarized, then added, "I crashed on the opening laps of both motos and had to come from last each time. That's not how you want to start the series, but I'm confident we will figure it out."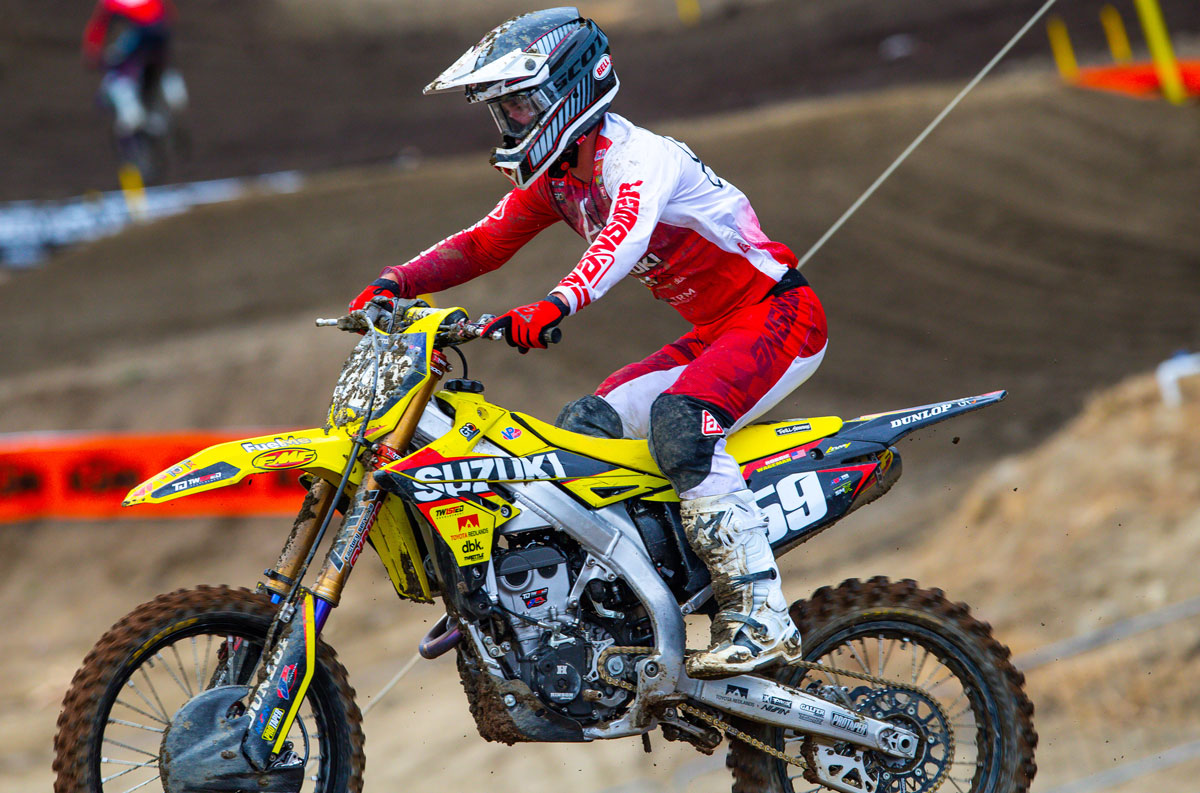 Robbie Wageman (59) proved his promise in the ultra-competitive 250 class.
With great qualifying speed, Robbie Wageman was headed for a strong race day. Unfortunately, a first moto error prevented him from turning his speed into strong points at the start of the season.

"It was great to get the first round out of the way," said Wageman. "Unfortunately, a little costly mistake in the first moto took me out of the race. It was a bummer because I was feeling really good. I'm excited to race for the rest of the summer!"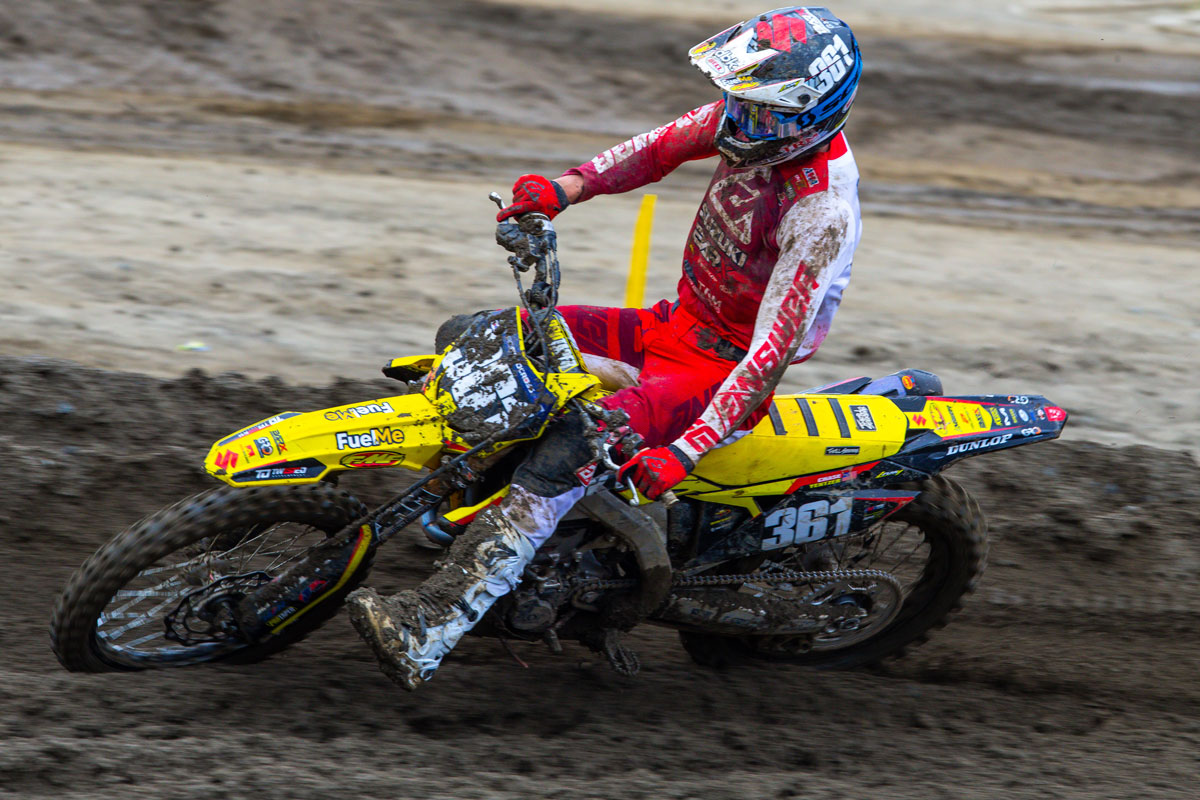 Chase Yentzer (361) started his rookie outdoor season with the BarX team with this third-ever outdoor event.
Chase Yentzer delivered top three results in both of his qualifying sessions to earn a direct transfer into the motos. Yentzer's passes early in the first moto showed great promise for the rookie's season.

"I had a great start to my rookie season," said Yentzer. "I was put in the B group for qualifying and the track was super soft and muddy. I managed to qualify second out of the group and 31st overall. In the first moto, I was pushed off the track on the first lap. I got back on and climbed as far up as 25th, but I just couldn't stay on two wheels. In the second moto, I had a mid-pack start then fell on the first lap. That took me back to last and I tried to catch up the whole moto. Overall I had a great day of racing and learning! I couldn't have done it without the BarX Suzuki equipment and team!"

"The riders did pretty well, but not as strong as we want from them," said Twisted Tea/H.E.P. Motorsports/Suzuki presented by Progressive Insurance Team Manager Larry Brooks. "We finished tenth with Freddie Noren finishing 13th in the first moto, and ninth in the second moto. Kyle Chisholm finished 12th overall, and Marshal Weltin fared the worst of the team finishing 31st in the first moto and 15th in the second moto. Our riders are capable of much better than that, so we'll be expecting more at Hangtown next weekend."

"It was a day of mistakes from Robbie, Dilan, and our rookie Chase Yentzer," reported BarX Suzuki Team Manager Buddy Antunez. "Small crashes were the culprit. Derek Drake, making his debut on his BarX Suzuki 450, was fast and impressive all day. He earned a tenth-place finish in the second moto."

The series next lines up the racers at the storied Hangtown track in Prairie City, California on Saturday, June 2nd. The Suzuki racers and team members are ready to keep their strong momentum moving forward and look ahead to a successful 11-round season.
Photos by BrownDogWilson Photography