Ken Roczen Delivers the Most Exciting Supercross Win of 2023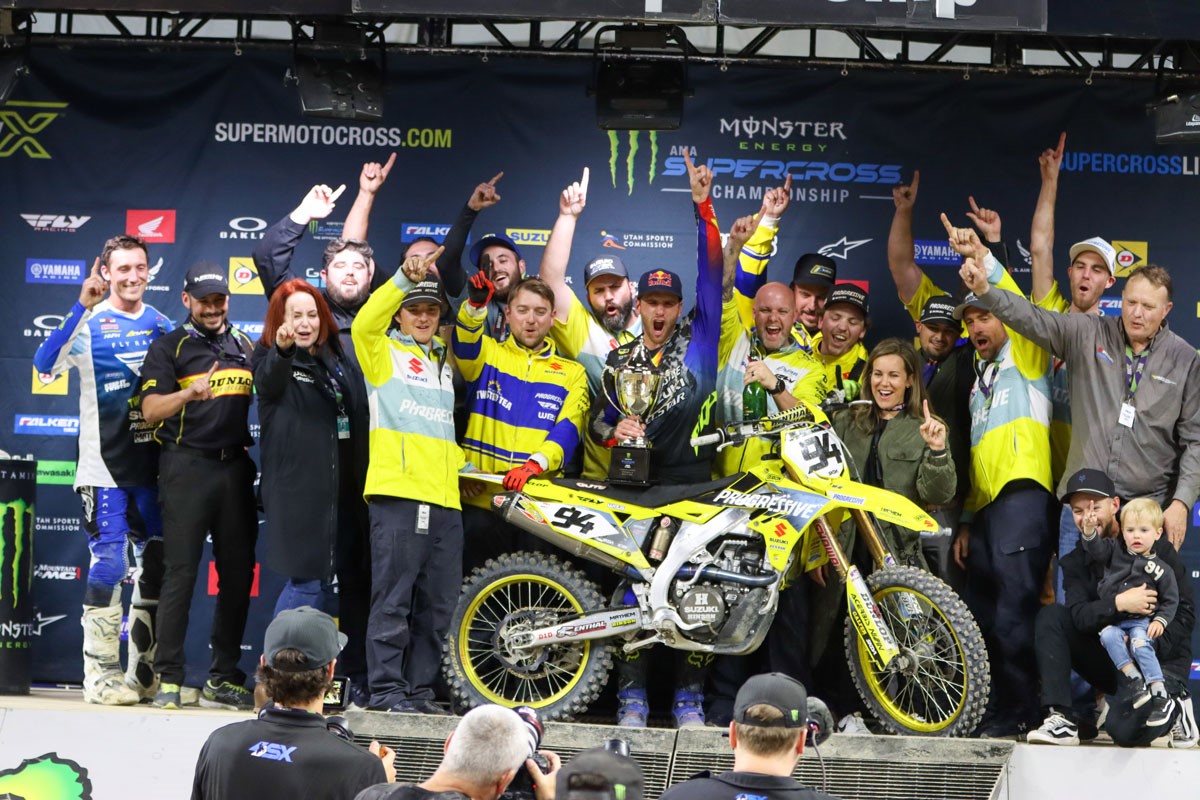 BREA, CA, March 13, 2023 — Progressive Insurance ECSTAR Suzuki's Ken Roczen led from the drop of the gate to the checkered flag to take a dramatic victory aboard his Suzuki RM-Z450 at round nine of the 2023 Monster Energy AMA Supercross season. The crowd of 62,728 fans inside Lucas Oil Stadium in Indianapolis, Indiana was on its feet for the thrilling final laps.

Roczen held strong and took the win in a dramatic, nail-biter of a race that will be re-watched for years. Twisted Tea Suzuki presented by Progressive Insurance's Shane McElrath matched his best result on the season and moved his Suzuki RM-Z450 up in the point standings. Kyle Chisholm took his Twisted Tea Suzuki RM-Z450 to his best heat race result and matched his best main event performance of the year. And in the 250 class, Marshal Weltin matched his best heat race result and nearly holeshot the main event with his Progressive Insurance ECSTAR Suzuki RM-Z250.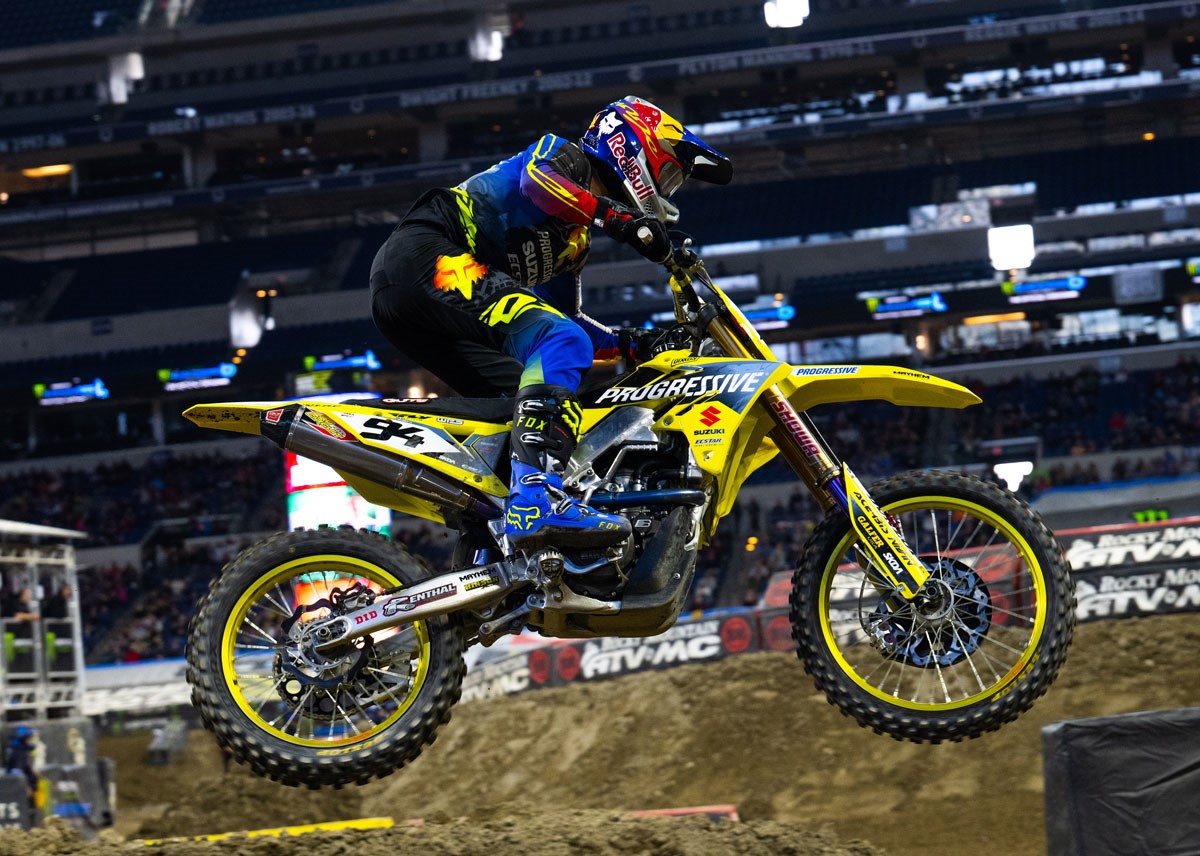 Ken Roczen (94) had the night athletes dream of with a dramatic victory to the cheers of 62,728 Indianapolis fans who were out of their seats and up on their feet.

Ken Roczen grabbed the holeshot and controlled the main event from the moment the starting gate dropped. The soft Indianapolis soil was extraordinarily rutty, and the track broke down more rapidly than normal, making the race one of the most technically difficult of the year. Roczen put his Progressive Insurance ECSTAR Suzuki RM-Z450's nimble handling to good use to fend off some aggressive late-race pressure and hold the lead spot to the checkered flag.

"Indy for us was absolutely next level," said Roczen. "We knew all day the track was going to be pretty much an 'enduro' track by the end of the main. We couldn't have executed the main any better. Another rider flinched at me at the start. Once the gate dropped, though, I executed it perfectly and was leading all the way to the finish line. The track got beat down more and more, and it was just tough overall. I feel like it got close when passing a bunch of the lappers; it was just something to take into consideration with me being the leader and being the first one to reach them. I felt the pressure from another rider at the end. We had about four laps to go and I didn't care what was going to happen, if I was going to pass out or whatever, I was going for it. We ended up pulling off the win. That was an experience that I'll never forget, probably on the top of my all-time greatest accomplishments. We're going to definitely celebrate tonight and enjoy it tomorrow, but the work doesn't stop. But what a historical night it was for me, the team, and Suzuki overall. It's really hard to describe in words how good it was."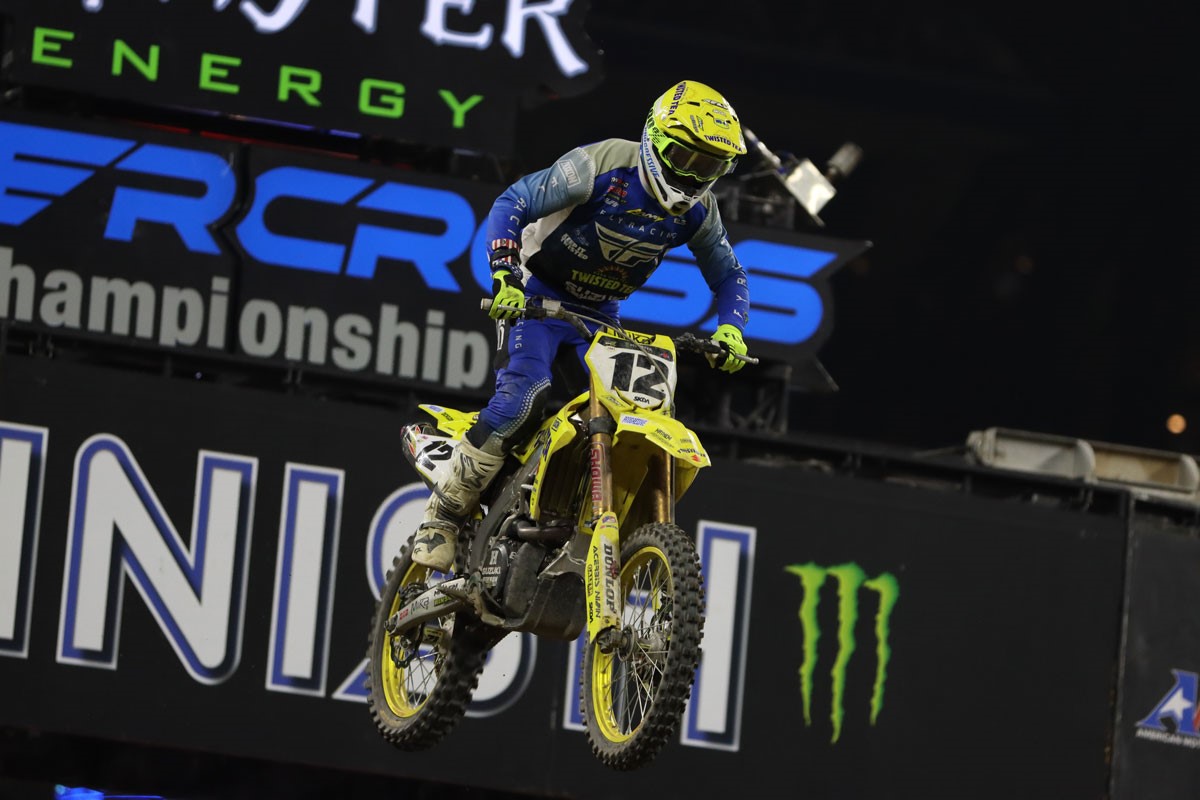 Shane McElrath (12) moved his Suzuki RM-Z450 one spot up in the championship points with his ride in Indy.

Shane McElrath and his Twisted Tea Suzuki RM-Z450 also had a great night inside Lucas Oil stadium. McElrath matched his best heat race performance of the year then matched his best 2023 main event result on a track that required intense concentration for its entire 20-minute plus one-lap duration.

"It was a great night for the team all around," declared McElrath. "Everyone rode the best that we have all season and at one of the toughest races. I ended up thirteenth tonight and it was a tough fight. I was a lot closer to the guys in front of me. I'm excited about where we're at; we're starting to make fewer and fewer changes because we're getting to be in such a good spot with the bike. I'm excited for Detroit next weekend."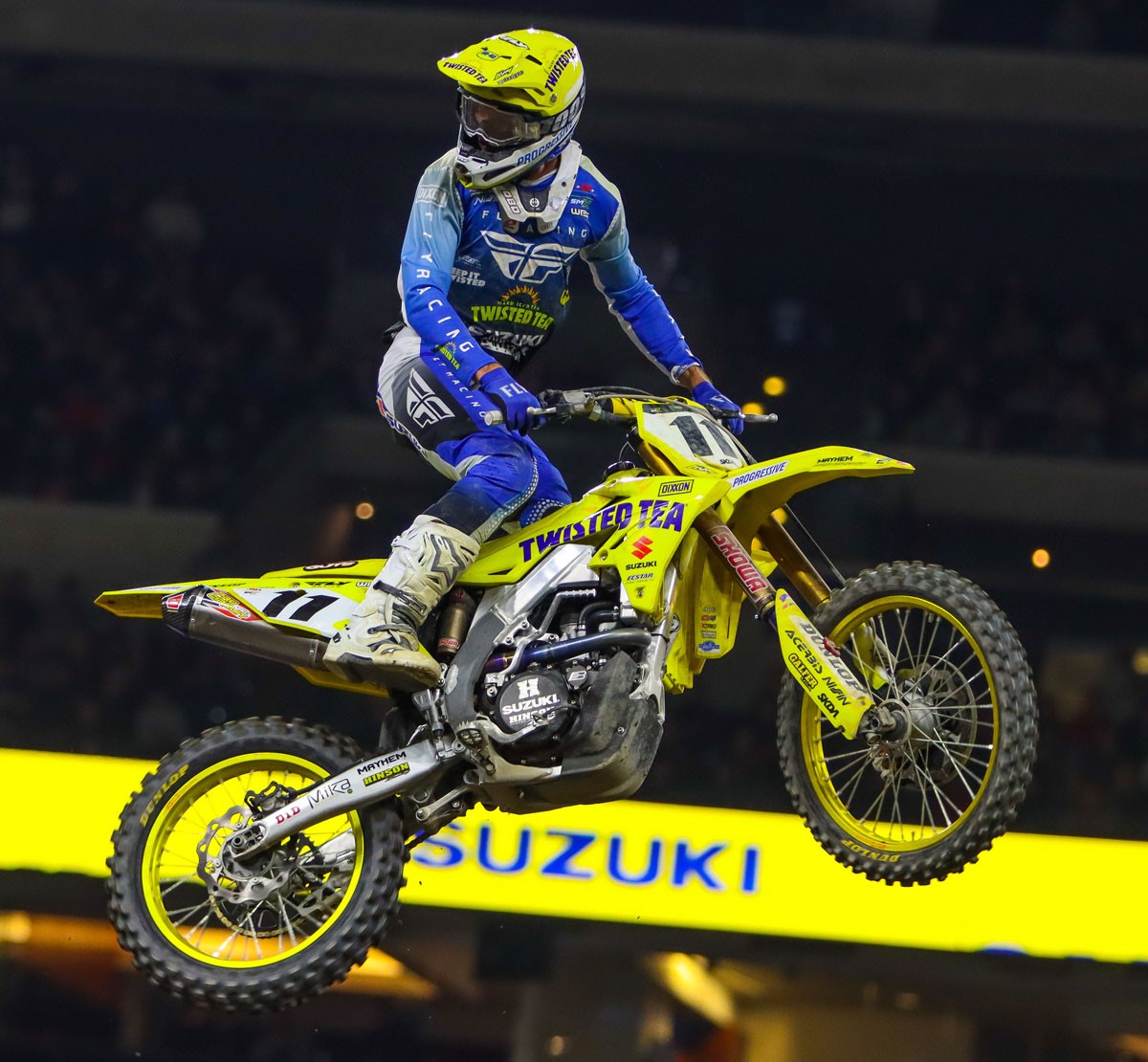 Kyle Chisholm (11) was back in action and netted his best heat race and main event result of the season.

Kyle Chisholm returned after one race away; he was immediately back up to pace aboard his Suzuki RM-Z450. Chisholm used a season-best result to earn enough points to catch and tie the rider ahead of him in the standings.

"The track was gnarly. It's always soft here in Indy, some years more than others, and this was one of the really soft conditions," explained Chisholm. "I felt good for ten, maybe 15 minutes of the main. Then I sort of lost my rhythm, and I think that's a little bit of a result of not having enough time on the bike the last couple of weeks. Top 15 was good but we'll try to get a little closer to that top ten and be up in the battle more."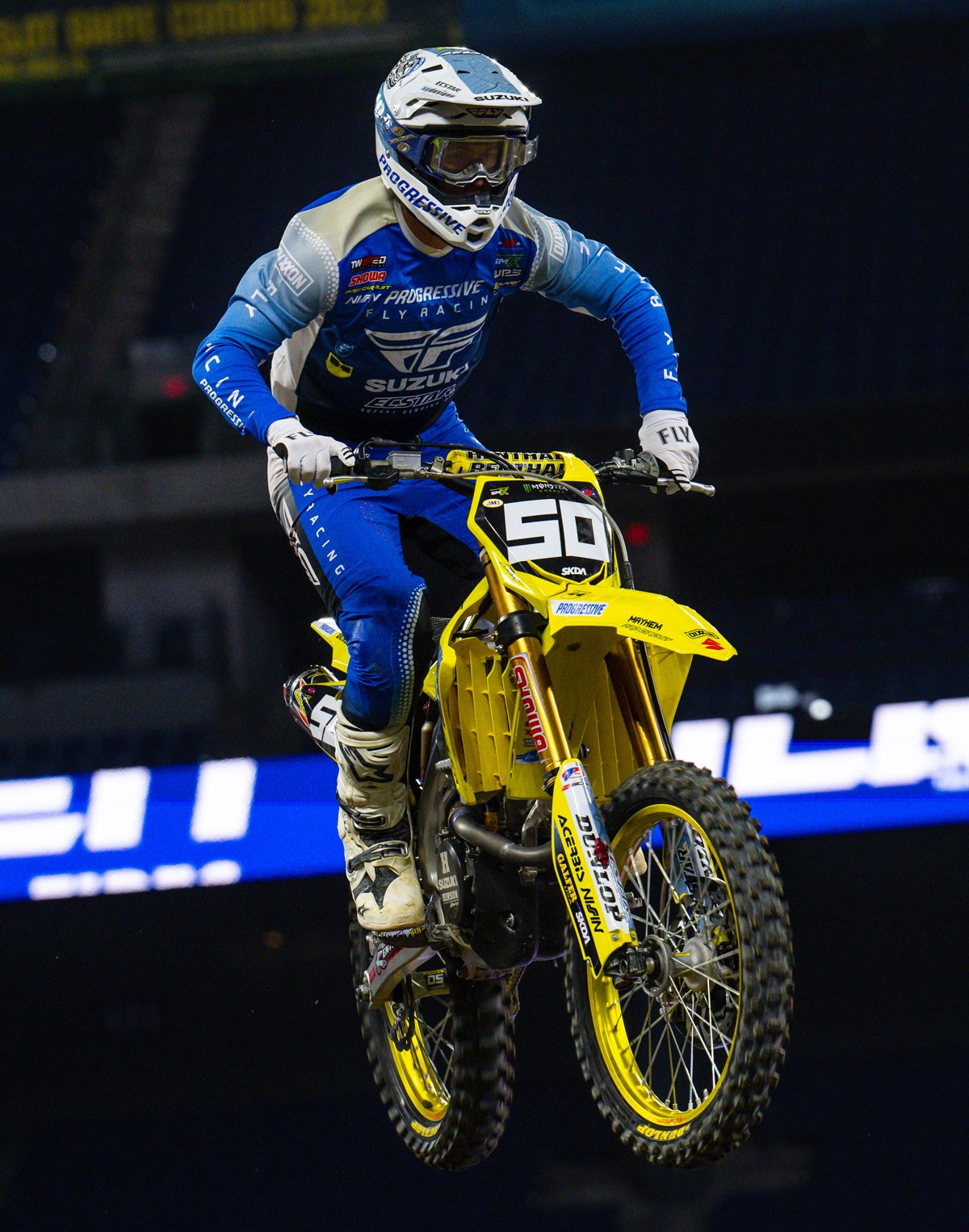 Marshal Weltin (50) nearly grabbed the 250-class main event holeshot on his way to a strong overall ride.

Marshal Weltin matched his season-best result in his heat race for a decent gate pick in the main event. When the gate dropped, he put his Progressive Insurance ECSTAR Suzuki RM-Z250's power to the ground and nearly grabbed the race lead. He put in a strong, steady ride as the track conditions deteriorated throughout the race.

"In the main, I nearly pulled the holeshot," said Weltin. "I was super stoked about that, but then rode pretty tight overall. I'm just not comfortable in the ruts like I should be. I'm ready to get to work this week and come into my home race in Detroit strong."

"Indianapolis was a huge milestone," said Twisted Tea/H.E.P. Motorsports/Suzuki presented by Progressive Insurance Team Manager Larry Brooks. "It was the team's first win. Ken Roczen won the main event; he got the holeshot and led every lap. We had Shane McElrath in thirteenth and Kyle Chisholm in fourteenth, so we had all three riders in the main event, which is an accomplishment in itself. In the 250 class, we had Weltin finish fourteenth in the main event. The 450-class win was a milestone for the team and I'm so happy for the whole team. The team owners, the suspension tech, the motor builders, to everyone that works their butt off. We've definitely put some time in over these last few months, and it paid off tonight."

After Roczen's main event win, the popular racer was congratulated by many of his competitors. This is a rare sight among the ultra-competitive supercross field, and meaningful as Roczen has bounced back from two previous arm injuries that might have ended most racer's careers. Roczen returned to Suzuki in 2023, the brand that he's had the most professional success with, and the Indy victory was an emotional return to the top step of the podium.

The Suzuki team is feeling an extra boost of excitement as they head to Detroit for round ten of the 17-round Monster Energy AMA Supercross series. The rounds also pay points toward the inaugural SuperMotocross World Championship. Ken Roczen and the rest of the Suzuki team will try to carry their momentum forward and deliver more great results at Ford Field on Saturday night.

For more team news, and the latest from the Supercross season and SMX World Championship series, please visit SuzukiCycles.com/Racing/Motocross and HEPMotorsports.com.

Photos by BrownDogWilson Photography