Back to News
Suzuki's Ken Roczen Grabs Top Five Overall and Second Place Race Result at Arlington Supercross

The Suzuki Racer Cemented Fifth Place in the Championship Standings

BREA, CA, February 27, 2023 — Progressive Insurance ECSTAR Suzuki's Ken Roczen took Race 1 to the wire, but settled for second place in the unique three-race Triple Crown-format at Arlington Supercross inside AT&T Stadium. Roczen's fifth place overall on the night solidified him and his Suzuki RM-Z450 in fifth place in the championship standings after seven rounds of the 17-round Monster Energy Supercross season.

Twisted Tea Suzuki presented by Progressive Insurance's Shane McElrath matched his best result of the season with his RM-Z450 race bike. Kyle Chisholm topped his season-best after winning the LCQ aboard his Twisted Tea Suzuki RM-Z450 in the Triple Crown format's daytime qualifying program. And Twisted Tea Suzuki's Marshal Weltin delivered consistent rides with his Suzuki RM-Z250 in the three 250-class races to take home championship points from the Texas race.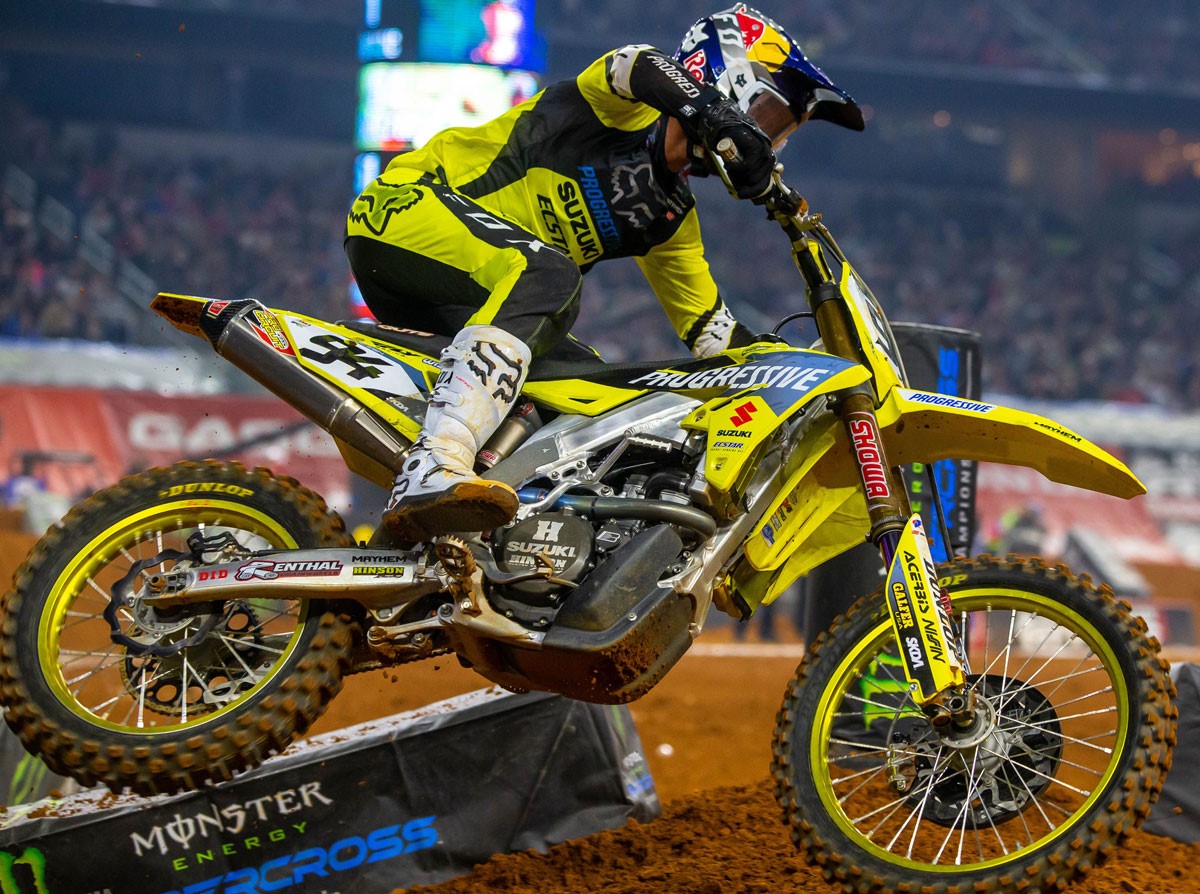 Ken Roczen (94) was back battling for race wins at Arlington.

Ken Roczen was flowing with his Progressive Insurance ECSTAR Suzuki RM-Z450 from the start of the Arlington round. After qualifying second-fastest in qualifying, the German racer hounded the leader throughout the first 12-minute plus one lap Race 1. Roczen rode smart and steady on the slick, red dirt Texas track to deliver a fifth-place overall result. This breaks the tie to now lock Roczen in fifth place in championship points.

"I was able to put it on the board pretty much in every practice session, which is something that I haven't been able to do this year, so that was great," said Roczen of his fourth and second position in his two-timed qualifying sessions. "In the races, I had two really good starts. In the first race, I found myself in second, battling for the lead the whole time; I was able to bring it home in second. For the second race, I went a little bit deep into the first turn, but came out in third. On the opening lap, another rider made a mistake before the whoops, and we got together, and we both almost crashed. I lost a position there. We were riding well, but these guys are all fast, and it was tough to pass. Going into the third race we were feeling fairly good, but I messed up the start and wasn't far upfront. I made some passes and a couple of riders crashed, and I was able to come home in fourth place in the final race. Unfortunately, if I could have passed one more rider I would have finished on the overall podium. We were riding a lot better today. The team has been doing a really good job and putting in a lot of work, so I'm really appreciative and can't wait for next weekend."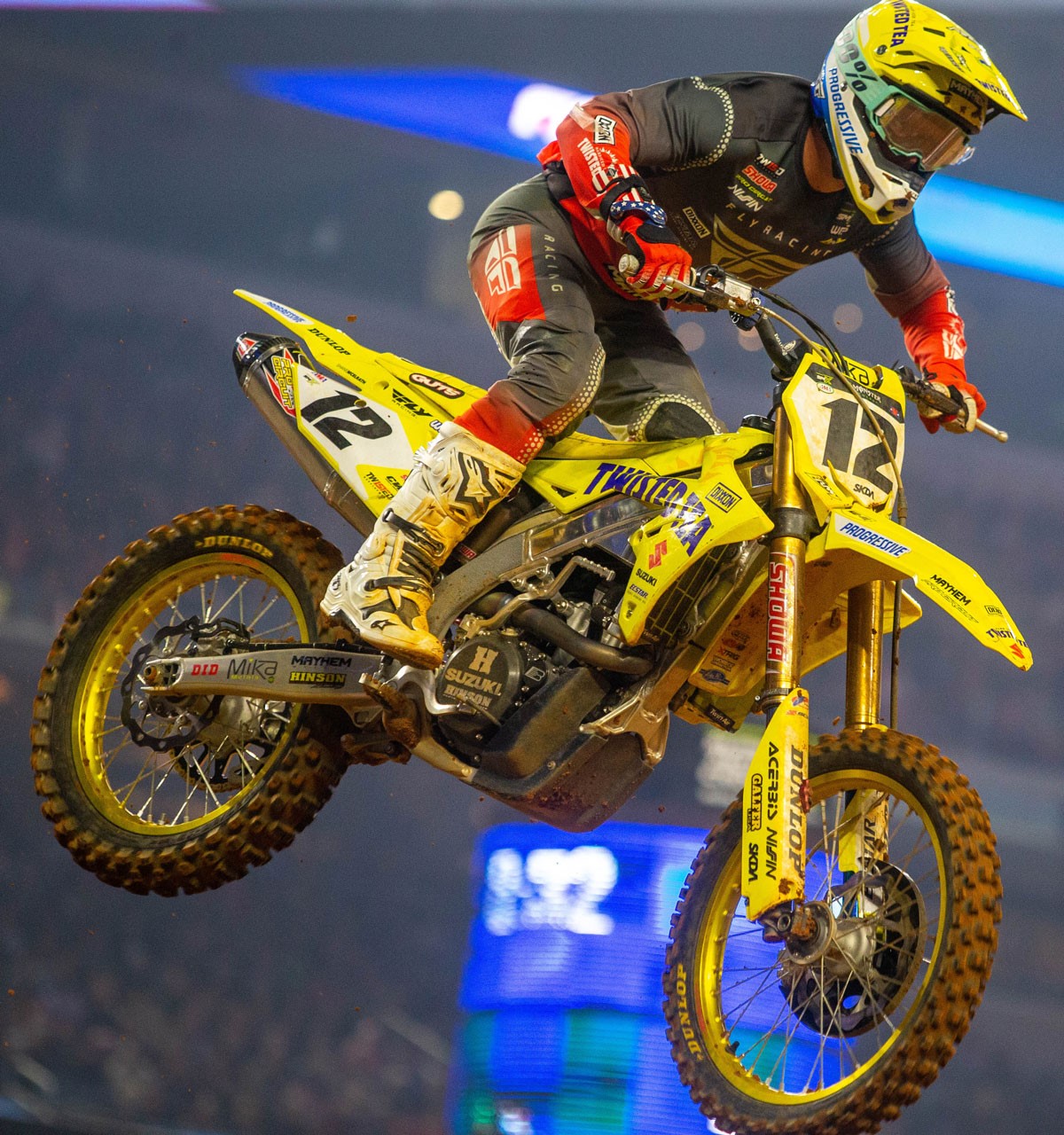 Shane McElrath (12) had his season-best result in the Triple Crown format that rewards consistency.

Shane McElrath and his Twisted Tea Suzuki RM-Z450 seemed to build speed as the three-race event played out. McElrath ultimately earned his best result of the season at Arlington and is looking ahead to stronger finishes in the upcoming standard-format Supercross races.

"The track was tough," reported McElrath. "It felt good to really race every single race. I mean, I fell off a little at the end of each one, but we're making big strides overall, and I'm excited about the progress and learning we're making. We're just working together as a team and that's what I'm really excited about."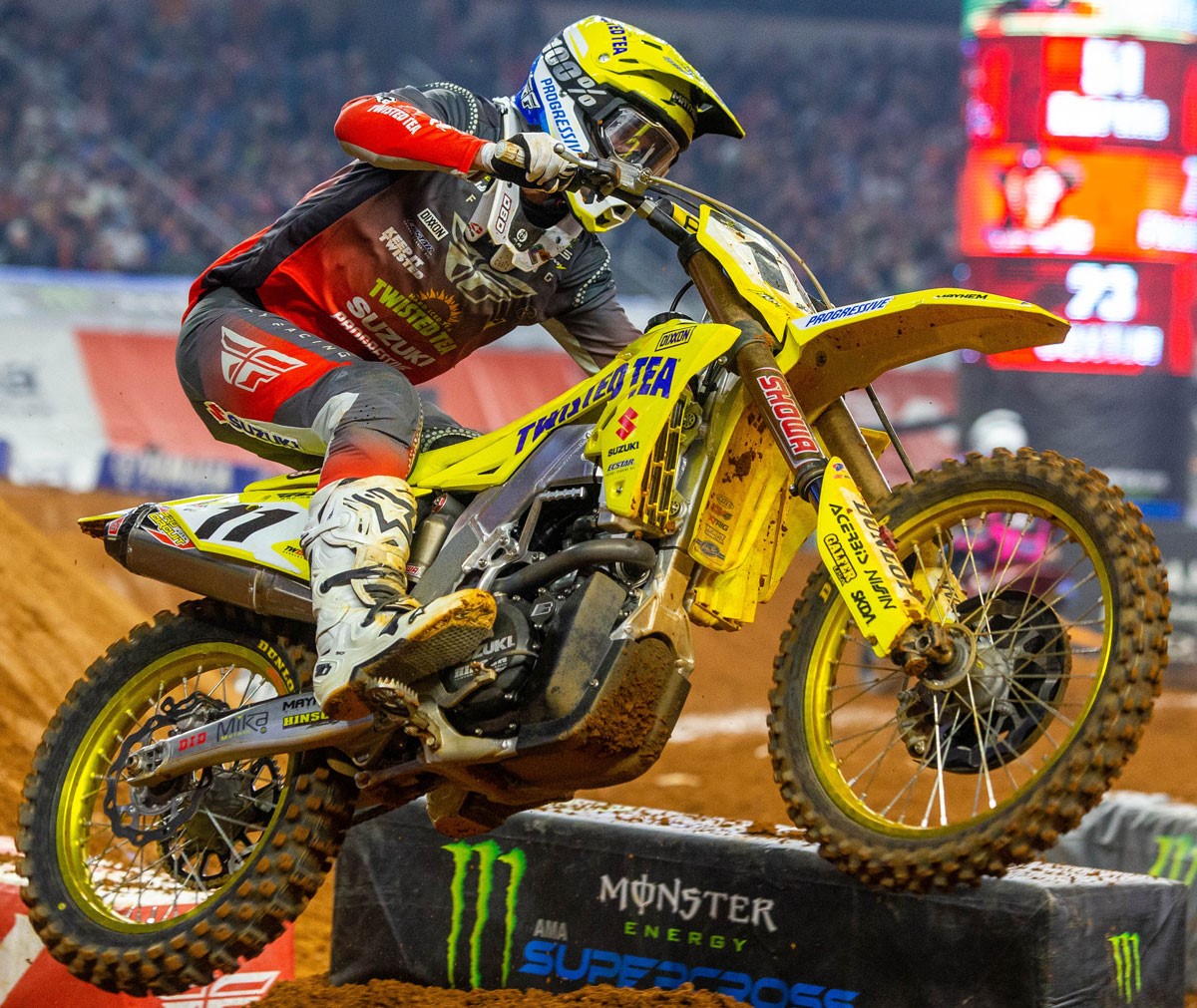 Kyle Chisholm (11) delivered one of the first victories of the event with a win in the daytime LCQ.

Kyle Chisholm grabbed a top-four start in the LCQ, which takes place just after daytime qualifying to seed the 22-rider Triple Crown field. Chisholm put his Twisted Tea Suzuki RM-Z450 into second place on the opening lap, then took over the lead with one minute left on the race clock.

"Got through Arlington. I had a little crash there at the end so I'm sore, but overall I had some good moments," said Chisholm. "I just missed advancing by a couple of tenths of a second and I had to go to the LCQ. But we made the most of that. It's never fun to be in the LCQ, but if you're going to be in it, might as well get the win, right? So that was good. At night in the third race I was working my way up, and with just a few laps to go I got a little squirrely in the whoops, hit some Tuff Blox, and went down pretty hard. I'm sore, not really hurt, more just mad at myself. I just want to be a little closer to the front. I'm looking forward to Daytona. I like that race."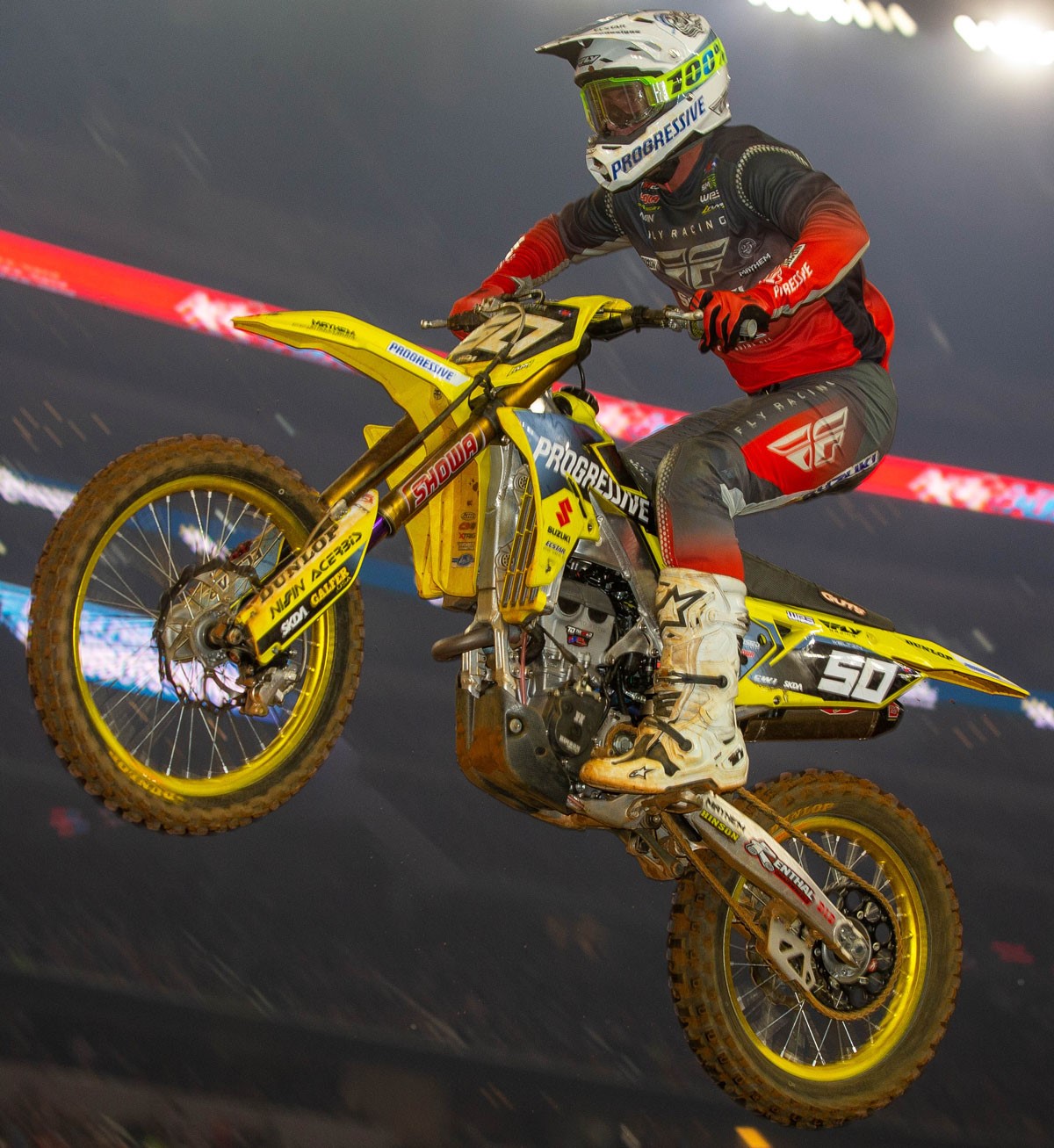 Marshal Weltin (50) had a strong race night and showed more top speed in qualifying.

Marshal Weltin once again was flying in qualifying on his Twisted Tea Suzuki RM-Z250, finishing first then second in his two qualifying sessions. His overall qualifying time was good for a direct transfer to the show where he posted his best result in the third 250-class race.

"I had some better qualifying results, got into the show, and ended up healthy," reported Weltin. "I checked off some boxes, but I want more. Working with the team's been great, everyone's very responsive so I'm stoked to be able to make progress this week.

"The Triple Crown in Arlington, Texas was okay," said Larry Brooks, Team Manager of the Twisted Tea/H.E.P. Motorsports/Suzuki presented by Progressive Insurance team. "It was a decent weekend. Both classes are stacked very deep. So, I think it's just baby steps for the team, and we just keep improving and every weekend we get a little bit better. That's been happening so we're happy."

Next up for the Suzuki riders and team members is the storied Daytona Supercross and the unique supercross track built on the Daytona International Speedway tri-oval infield. All the Suzuki racers created good momentum in Arlington and are ready to put their RM-Z horsepower to good use as the supercross season approaches the midpoint.

For more team news, and the latest from the Supercross season and SMX World Championship series, please visit SuzukiCycles.com/Racing/Motocross and HEPMotorsports.com.

Photos by BrownDogWilson Photography