Suzuki Racers Hit Season Highs and Move Up in Points

BREA, CA, February 20, 2023 — Ken Roczen seized his first win of 2023 when he led his Oakland Supercross heat race from start to finish aboard his Progressive Insurance ECSTAR Suzuki RM-Z450. Robbie Wageman put his BarX Suzuki RM-Z250 into the lead of his heat race then backed that up with a season-best finish in his main event.

Shane McElrath was blazing fast on his Twisted Tea Suzuki presented by Progressive Insurance Suzuki RM-Z450 on the soft and rutted Oakland track. Twisted Tea Suzuki's Kyle Chisholm was up to the task as the track inside RingCentral Coliseum broke down throughout the main.

Dilan Schwartz also brought home his best finish of 2023 with his Twisted Tea Suzuki RM-Z250. Derek Drake used his BarX Suzuki RM-Z250 to move up in the championship standings at the round that was rescheduled from earlier in the year. Matt Moss and his RM-Z250 brought home a podium result in his first heat race with the BarX Suzuki team. And Brandon Scharer showed more flashes of speed on his BarX Suzuki RM-Z250 at what was officially round two, but was the sixth race to be held in 2023.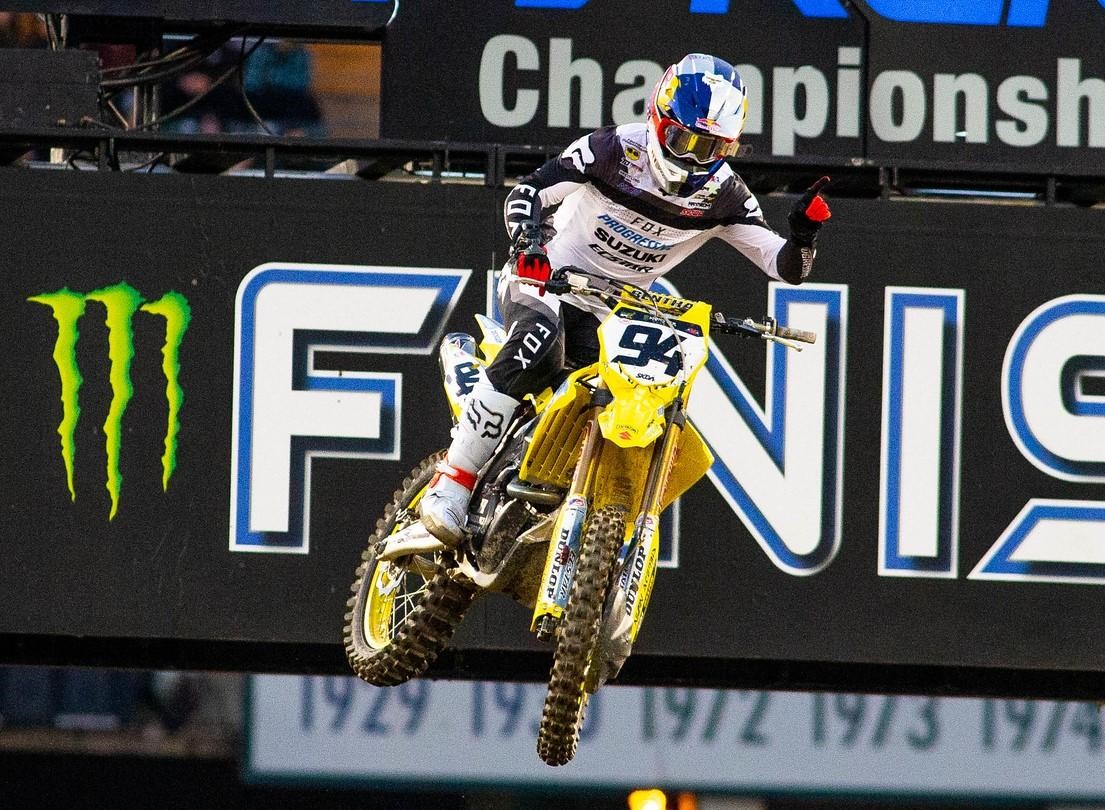 Ken Roczen (94) proved his speed with an impressive Oakland Supercross heat race win.

Ken Roczen had the Oakland crowd on their feet as he fought off all challenges and led his heat race from the first turn to the checkered flag. In the main, a strong start helped Roczen maintain his top five (tie) position in the championship. Although he was happy with the heat race result, Roczen wanted more from the main event.

"Not the weekend we were wanting," Roczen said. "But we will work on improving this week to have a successful Dallas."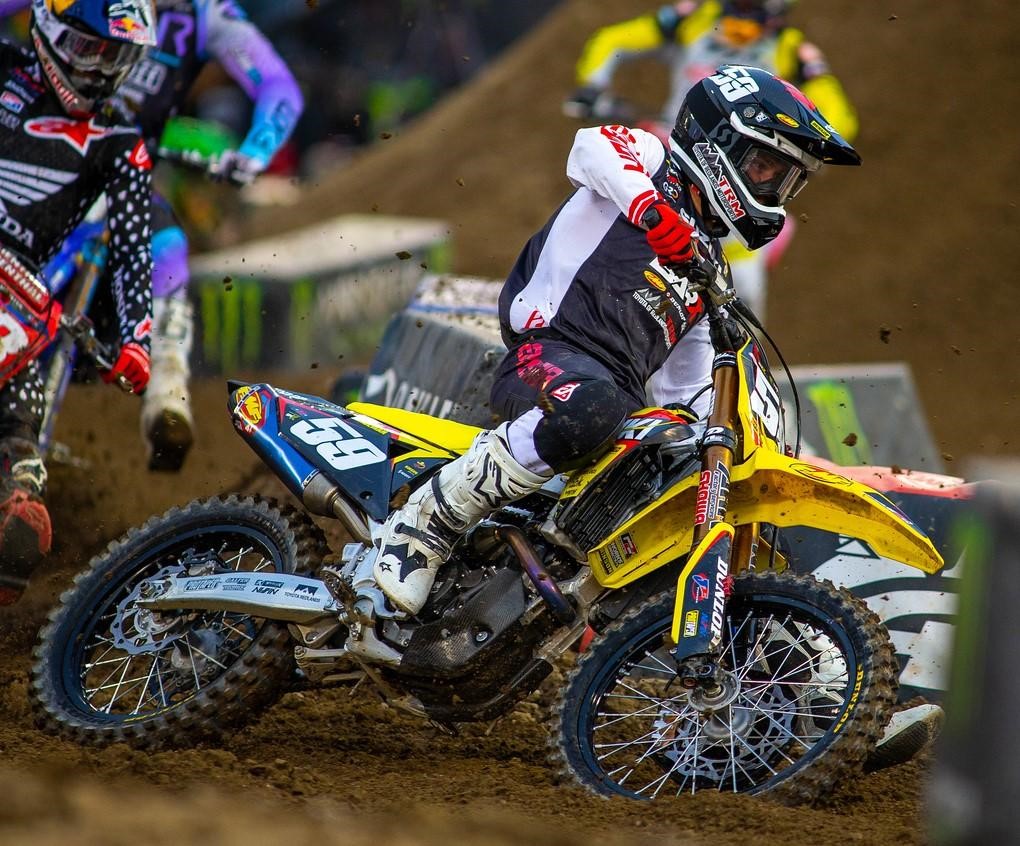 Robbie Wageman (59) put his BarX Suzuki RM-Z250 out front in his heat race in Oakland.

Robbie Wageman was flying with his BarX Suzuki RM-Z250. Wageman jumped into the lead in his heat race and put in steady laps. In the main event he brought home his best finish thus far of the 2023 season.

"The day was awesome. My BarX Suzuki was working great all day long," reported Wageman. "It was exciting to get the holeshot and lead almost a full lap in the heat race! I ended up P-12 in the main after a bad start, but overall it was a great day of racing, and we will keep chipping away every race!"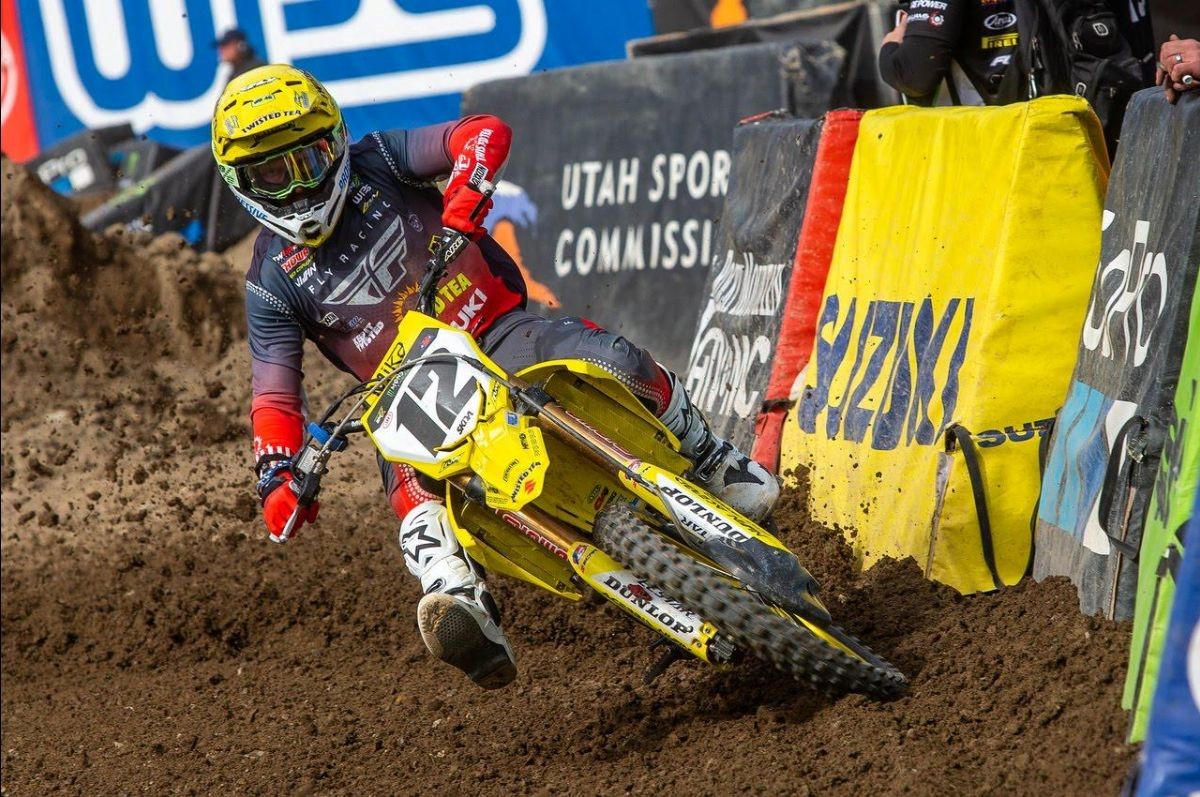 Shane McElrath (12) navigated the Oakland track as the soft dirt deteriorated through the night.

Shane McElrath used a direct transfer in his heat race to get into the main event battle. McElrath and his Twisted Tea Suzuki RM-Z450 held their ground as the track beneath them became rougher and more rutted through the night.

"We had a strong race day all around," McElrath summarized, then added, "Today was really the first time I felt like I showed up to race. In the main I got a decent start and tried to settle in and ride around all those fast guys and learn the pace. Every single day seems to be getting better so I'm just excited about the team and the progress we're making."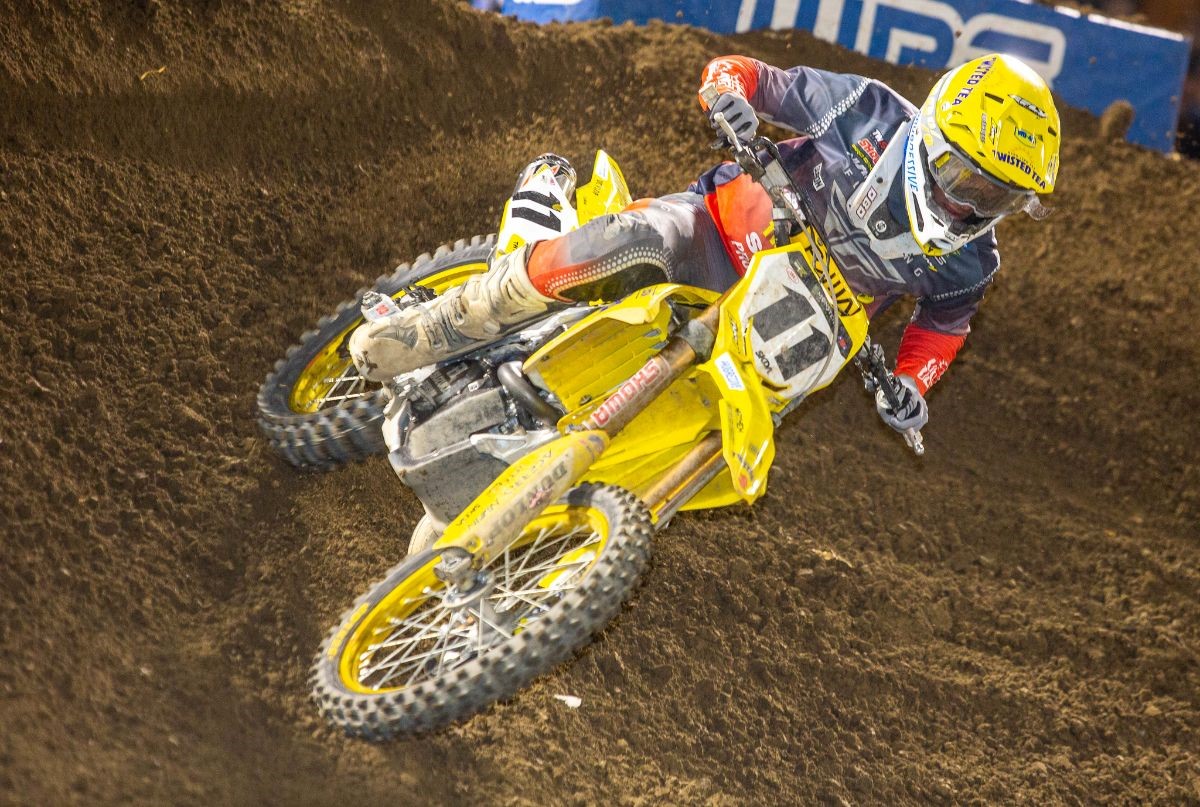 Kyle Chisholm (11) was on point on the track and ended the night tied with the rider previously ahead of him in the standings.

Kyle Chisholm ran in a qualifying position in his heat race until the very end. In the LCQ he sliced his way forward to a second-place finish. Despite being hampered by a mid-week knee injury, he rode strong through the main event.

"The dirt breaks down a lot in Oakland, which always makes it tougher, and having my knee bugging me adds even more on top of that," said Chisholm. "I was honestly a little scared to put my leg down and aggravate my knee problem. But I got in the main, got through the race healthy, so I'm okay with the result. I'll get my knee feeling better and then be ready for next weekend."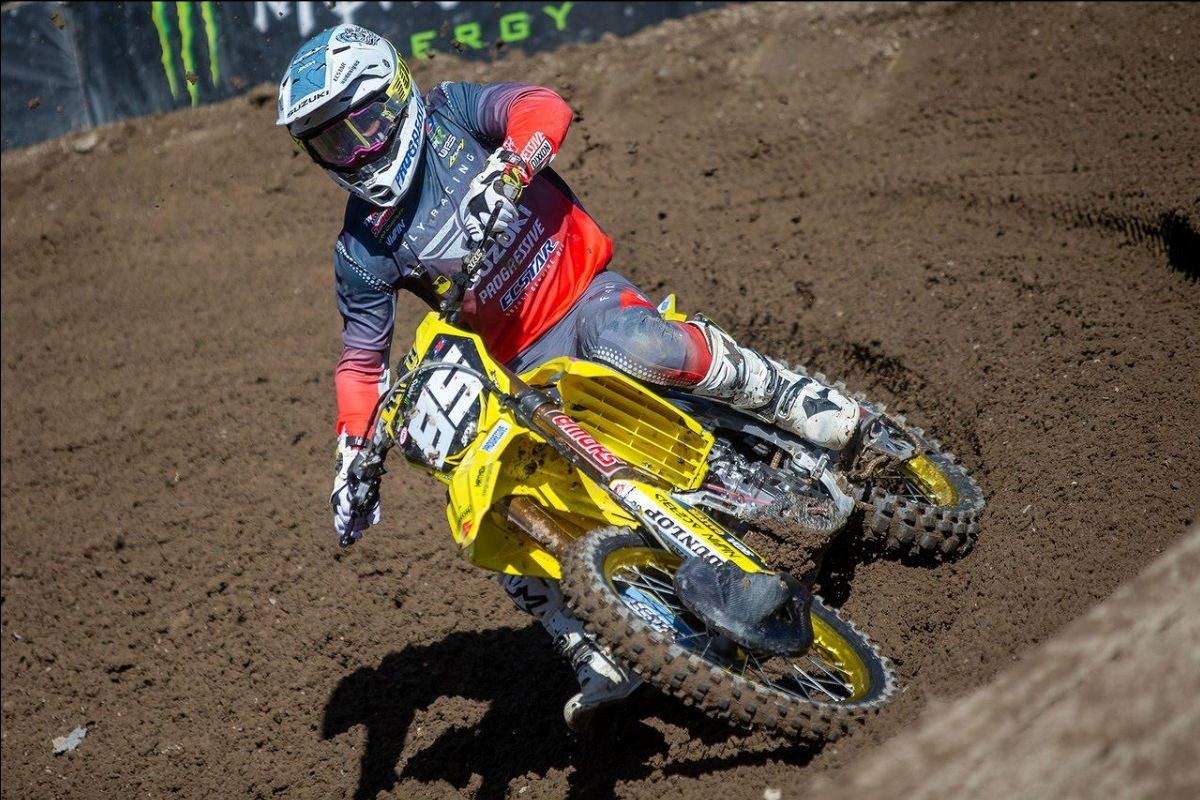 Dilan Schwartz (85) used a season-best finish to move his Suzuki RM-Z250 up two positions in the championship.

Dilan Schwartz qualified directly out of his heat race. In the main event a challenging start made things tough, but Schwartz and his Suzuki RM-Z250 were up to the task. They charged forward and picked up four positions as the track became more difficult.

"It was a much better race day. I felt better all day, rode better, and we made good improvements on the bike," said Schwartz. "I feel like I'm starting to finally ride like myself. I was up towards the front in the heat race, made a small mistake, but still made it in. In the main I rode well for a few laps and then just got tight. Still, I was able to improve on my finish from last time and we're just going to continue to improve each weekend."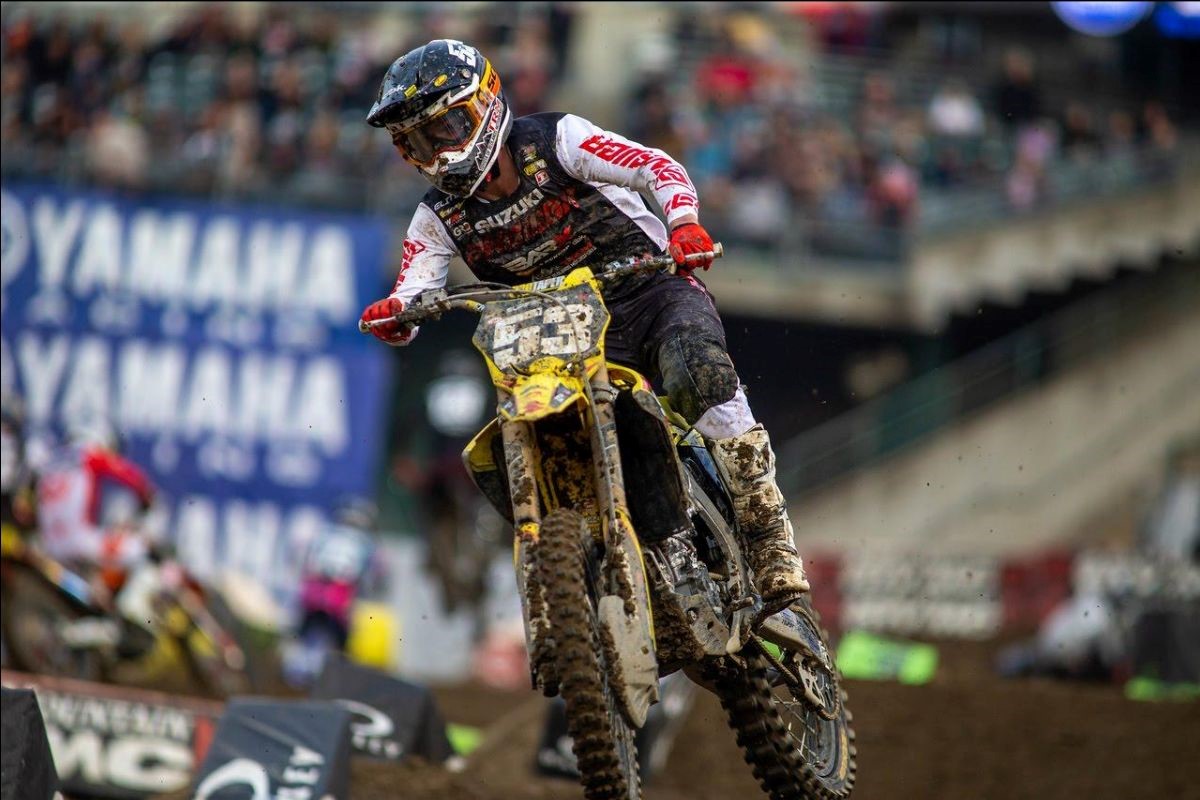 Derek Drake (53) left Oakland one spot higher in the championship points.

Derek Drake pushed forward through the pack to a direct transfer position in his heat race then brought home championship points in the main event aboard his BarX Suzuki RM-Z250.

"Practice was going well with being inside the top 10 the first 2," said Drake. "I qualified straight into the main. The main event was a struggle with only a couple days on the bike.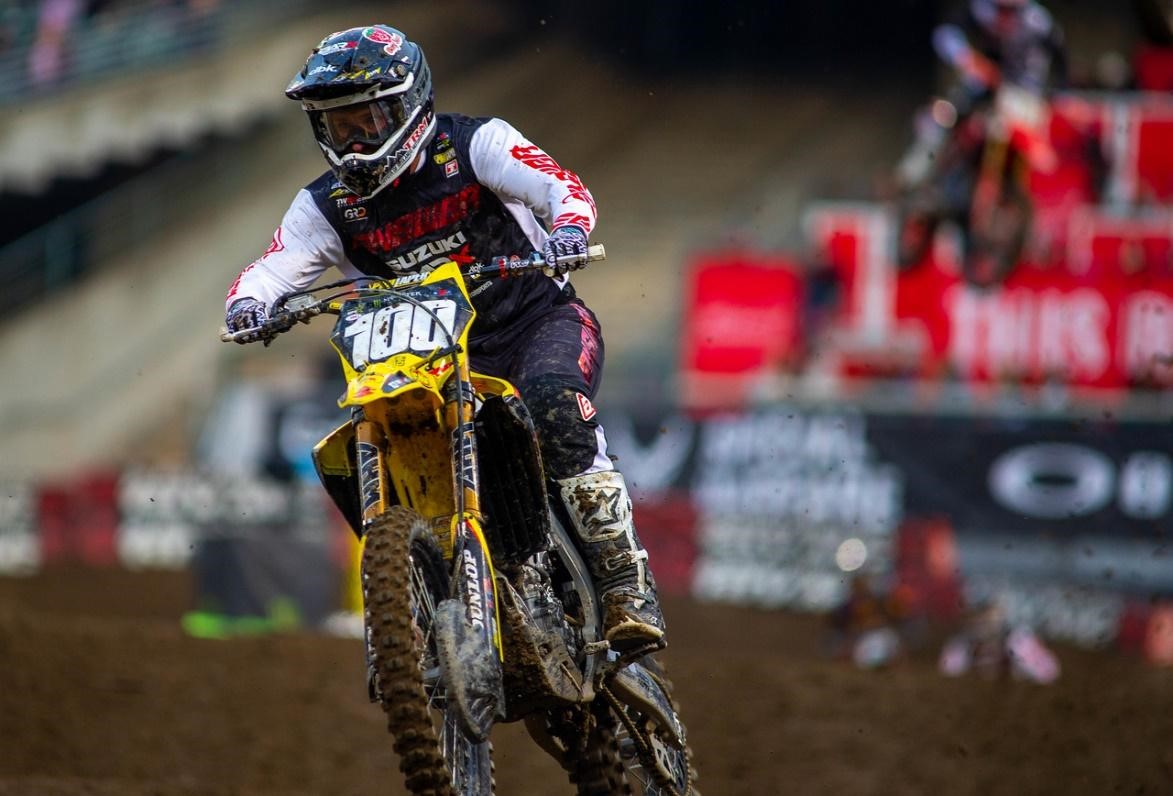 Matt Moss (100) joined the BarX Suzuki team and instantly earned a heat race podium finish.

On his first race with the BarX Suzuki team, Matt Moss dominated both of his qualifying sessions. In his heat race, the nine-time Australian National Champion was the rider on the move, pulling from a mid-pack start to a third-place heat race finish.

"Qualifying went really well with sixth overall," reported Moss. "Then I got third in the heat after being tenth in the first corner. I felt really good on the RM-Z250 and went into the main event with high hopes. I got a good start but jarred my thumb on the first lap so I couldn't hold on. I had to pull off, but I'm really looking forward to the next round and should be ready to go!"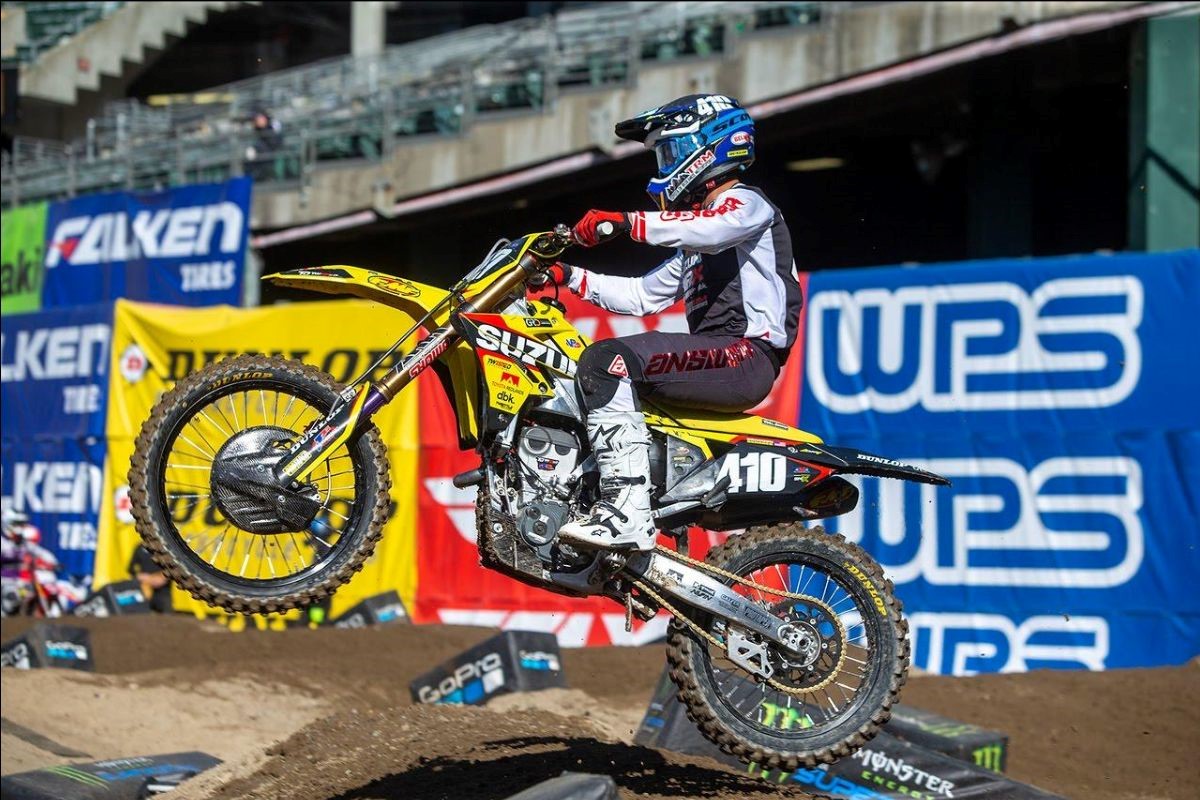 Brandon Scharer (410) showed great speed on the technical Oakland track.

Brandon Scharer gained four positions in just one lap in his heat race. Although Scharer wasn't able to put his race bike in the main event, he continues to adapt well after joining the team mid-season.

"Oakland was definitely a tough round for me," said Scharer. "The track was technical with both the layout and the race conditions. The team worked hard to help me improve each session. It would be easy to let myself get mentally defeated after this weekend, but all it has done is made me more than ready to come back swinging for Seattle."

"Ken Roczen won his first heat race of the year which was great," said Twisted Tea/H.E.P. Motorsports/Suzuki presented by Progressive Insurance Team Manager Larry Brooks. "But the main event definitely didn't go like we wanted. Roczen got a decent start, ran fourth for a while, but then dropped back. We just didn't have the bike set up perfectly. McElrath got a decent start in the main and ran in a strong position for most of it. Chisholm has a hurt knee right now, so he was kind of struggling through the night. Dilan Schwartz in the 250 class finished a little bit better this round, but I know he can still compete better than that. The HEP team is going back and we're going to get to work and try to improve."

"It was a big weekend for the team. Toyota of Redlands signed with the team. Then our riders went out and made some noise with fast qualifying times and great heat races," reported Buddy Antunez, Team Manager for BarX Suzuki. "Matt Moss is on the team for the rest of the Supercross season. We're happy to have a rider with so much experience. Robbie pulled a sweet holeshot in the heat. It made us so happy to see yellow up front!"

The supercross series travels to Arlington, Texas, where round seven takes place inside AT&T stadium. The Texas race will be the second Triple Crown-format event of the year and brings back the 250 East division racers. The Suzuki riders and teams are ready for the new challenges as the 17-round series nears its midpoint.

For more team news, and the latest from the Supercross season and SMX World Championship series, please visit SuzukiCycles.com/Racing/Motocross and HEPMotorsports.com.

Photos by BrownDogWilson Photography