Strong Starts and Consistent Pace Land Roczen on Podium in Unique Three-Race Format

BREA, CA, January 30, 2023 — Ken Roczen put his Progressive Insurance ECSTAR Suzuki RM-Z450 on the podium at round four of the 2023 Monster Energy AMA Supercross series inside Angel Stadium of Anaheim. The event was the first of three Triple Crown-format races that throw racers into three main events determining the event's overall results.

Squad mates Shane McElrath and Kyle Chisholm earned points throughout the night on their Twisted Tea Suzuki presented by Progressive Insurance RM-Z450s; with Dilan Schwartz using the event to move up in the championship points on his Twisted Tea Suzuki presented by Progressive Insurance RM-Z250.

Brandon Sharer joined the BarX Suzuki team and delivered strong points on his first ride aboard his RM-Z250. Robbie Wageman put in fast laps throughout the night on his BarX Suzuki RM-Z250.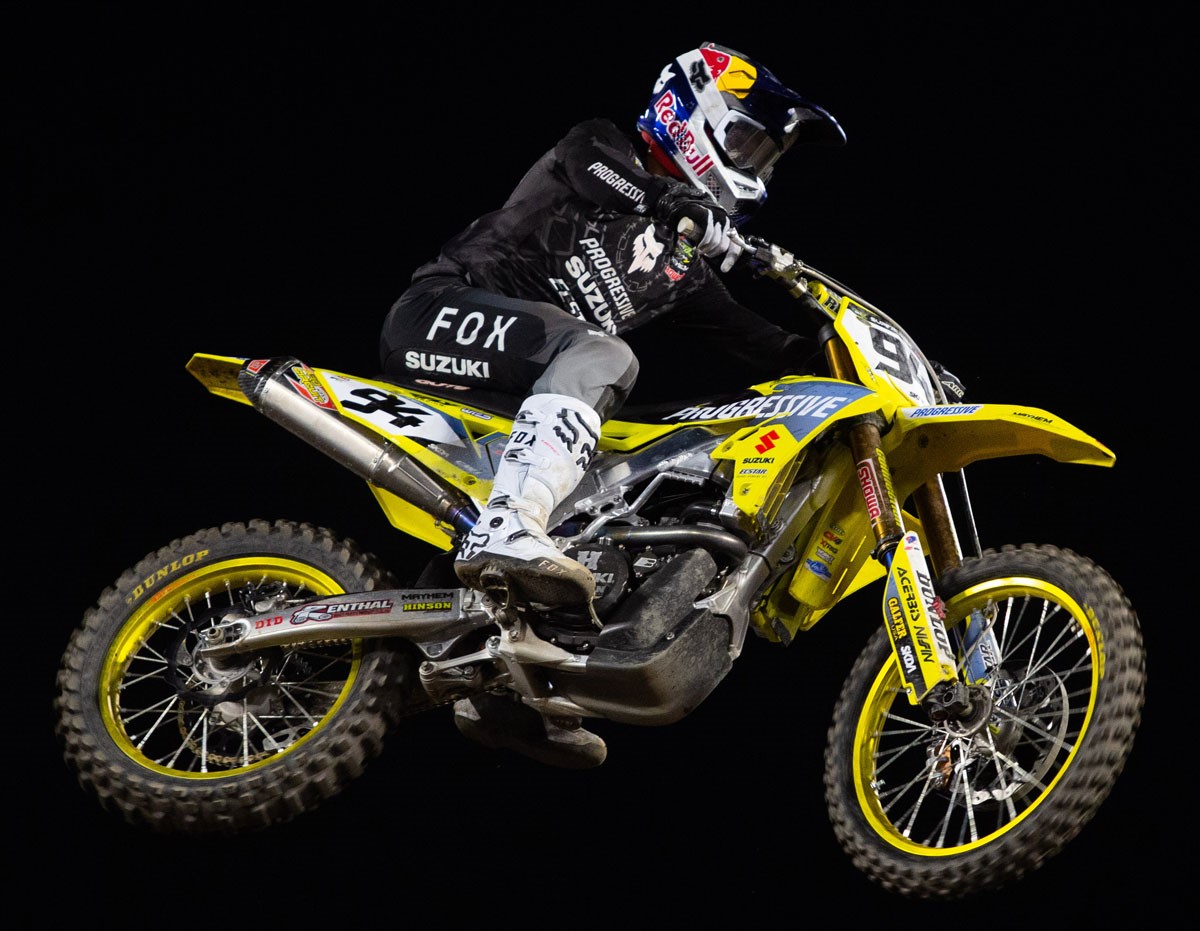 Ken Roczen (94) has improved his result in each race this season with the Progressive Insurance ECSTAR Suzuki team.

Ken Roczen earned a third-place finish at Anaheim 2 with impressive rides in each of the three 12-minute plus one-lap main events. Roczen battled up front and is in top form and comfortable on the Suzuki RM-Z450.

"Going into the first main event I think I had third gate pick, so that made for a really good start position," said Roczen. "I almost grabbed a holeshot, but I was right there in second place. I had a good battle for the lead the whole way. I had a big gap to third so I kind of settled in for a second. Going into the second main event, I locked elbows with somebody at the start, but I was able to sneak around the inside for another solid start. I was riding well in second and was battling, but then I made a mistake before the finish and slid out. Luckily, I didn't crash. I ended up third."

"Heading into the last main event, we had a one-point separation for first between four riders. I botched the start in the last main, and I had to work my way up. After that, I pretty much was battling for fourth the whole time. I made that pass happen on the last lap. I thought I needed to make that pass to earn the podium, but I really didn't. Still, I ended up making it happen and I finished that main in fourth and ended up on the podium overall. It's the first podium for me in 2023 as well as the team's first podium this season. That just shows you that hard work really pays off. It was great to see all the improvements that we've made and are making steps in the right direction, going 5-4-3 [so far in the 2023 races]. I'm really curious and excited to see what the future holds for us."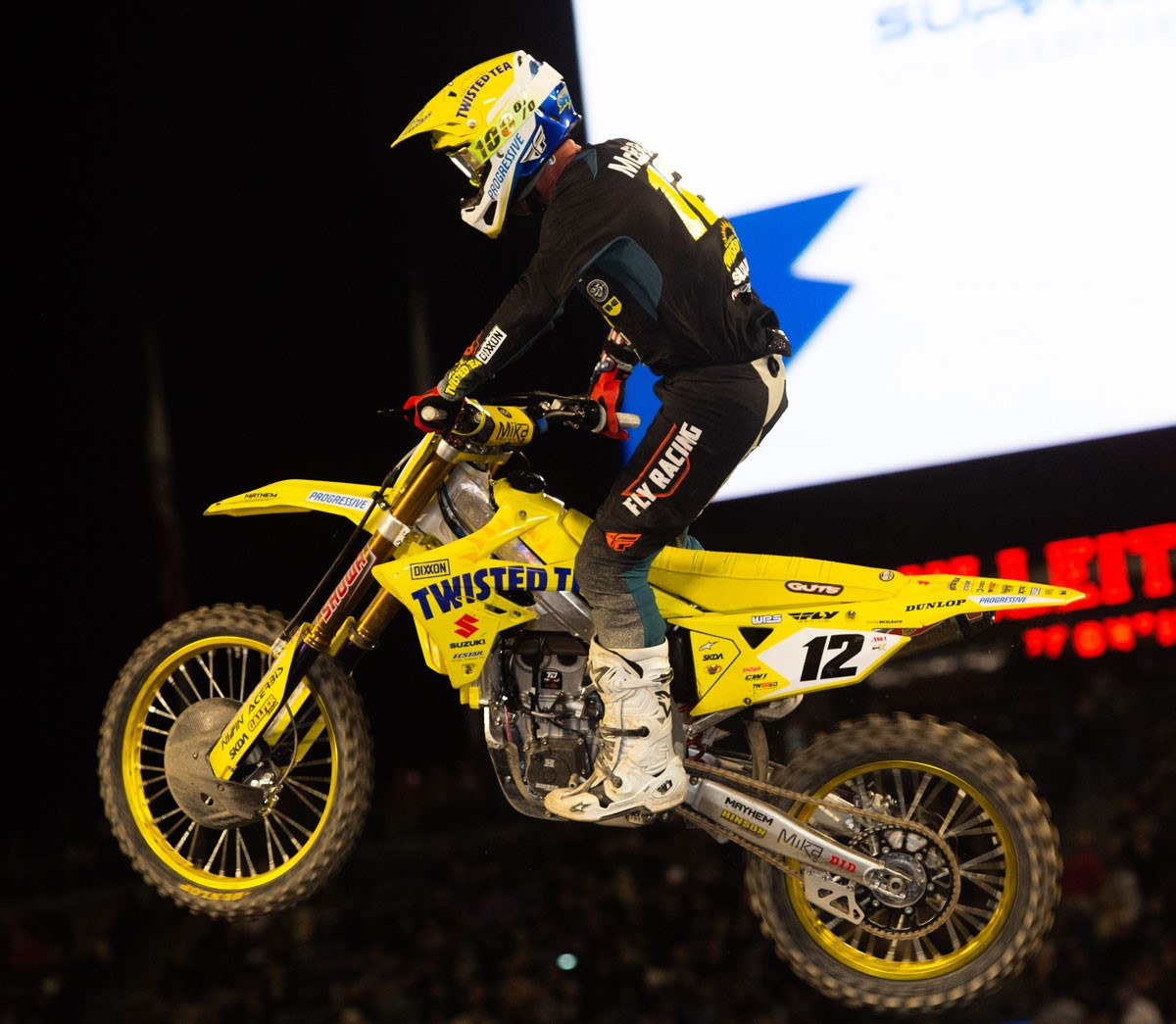 Shane McElrath (12) delivered three solid rides on his Twisted Tea Suzuki RM-Z450 at the first Triple Crown supercross event of 2023.

Twisted Tea Suzuki's Shane McElrath used consistency to bring home good points at the Anaheim 2 supercross aboard his Suzuki RM-Z450 race bike.

"The track was pretty tough tonight. Half of it was super-fast, half of it was really technical and rutted," reported McElrath. "I'm getting better at riding different conditions. I'm getting more comfortable in race conditions. We have a lot to look forward to and we're ready for a good week of progress; we've got some big things lined up and we're moving forward."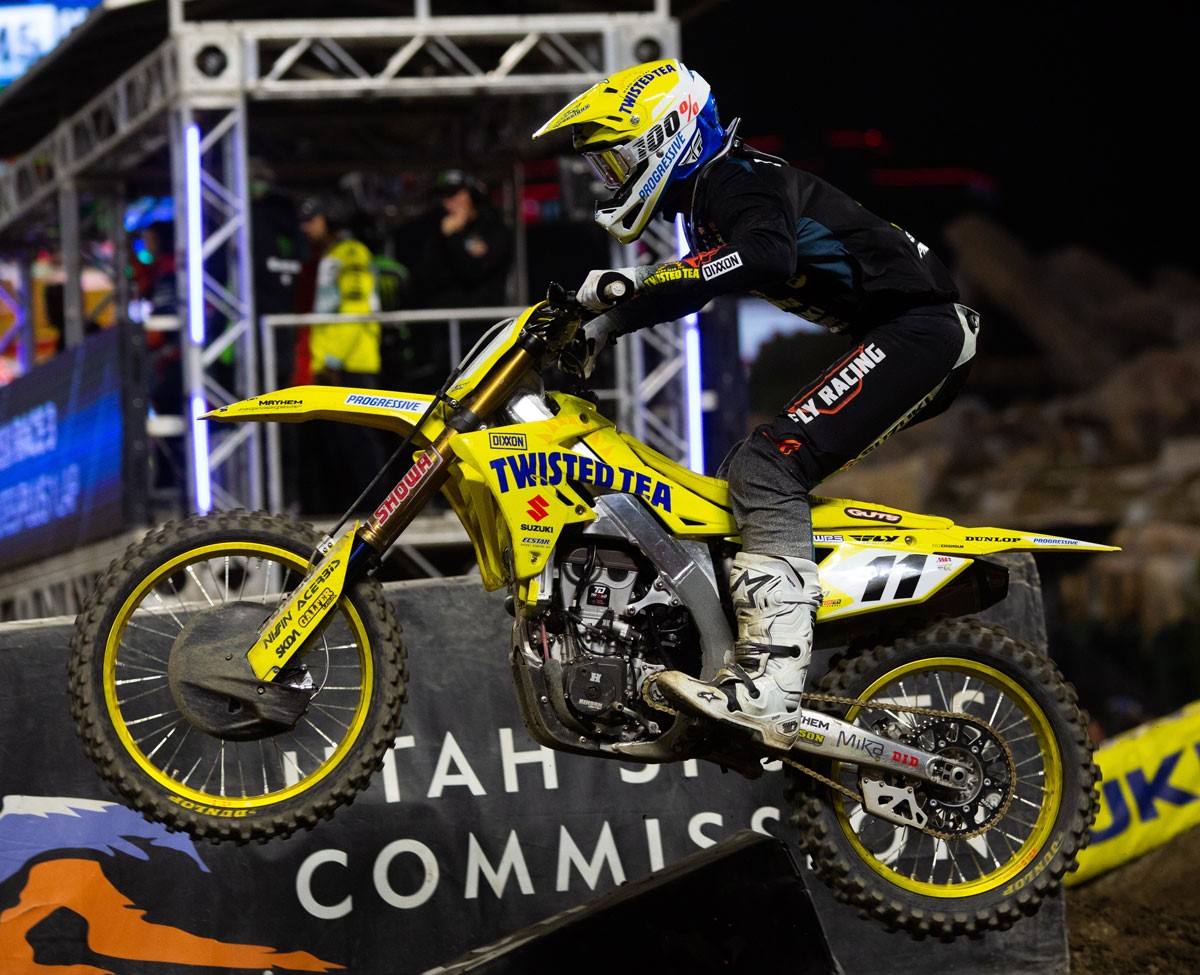 Kyle Chisholm (11) moved up two positions in the season's overall standings with his performance at Anaheim 2.

Kyle Chisholm put his Twisted Tea Suzuki RM-Z450 into the top fifteen in the final main event of the night.

"The first main was terrible for me," reported Chisholm. "In the third turn, a rider went down in front of me, and our bikes got stuck together. I was so far back by the time I got going, it was kind of a bummer. In the second main I didn't ride that well, but it was better though. Then we made a few bike changes with the suspension and in the last main, I was even better. I got a little better each main, improving every time."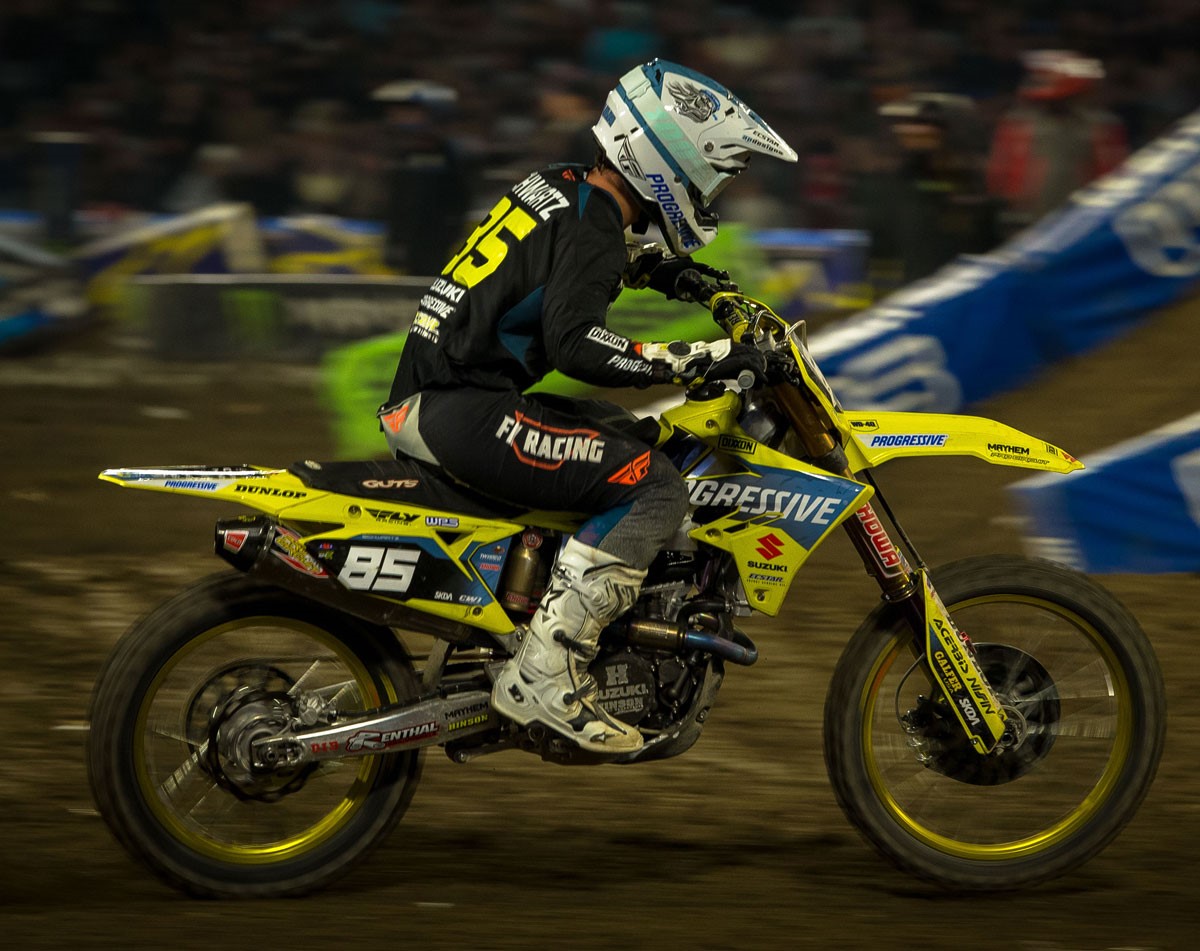 Dilan Schwartz (85) also moved up two spots in the season point standings in the 250 West division.

Dilan Schwartz fought to two top-fifteen finishes in the competitive 250 West class. The 250 West division takes two weekends off until the series returns on February 18th for the postponed Oakland, CA supercross.

"This first Triple Crown didn't go the way we wanted," said Schwartz. "I did not feel that well, so I did my best. We're learning a lot and figuring out what we need to improve, and I'm happy with that. We're going to keep moving forward and building each weekend."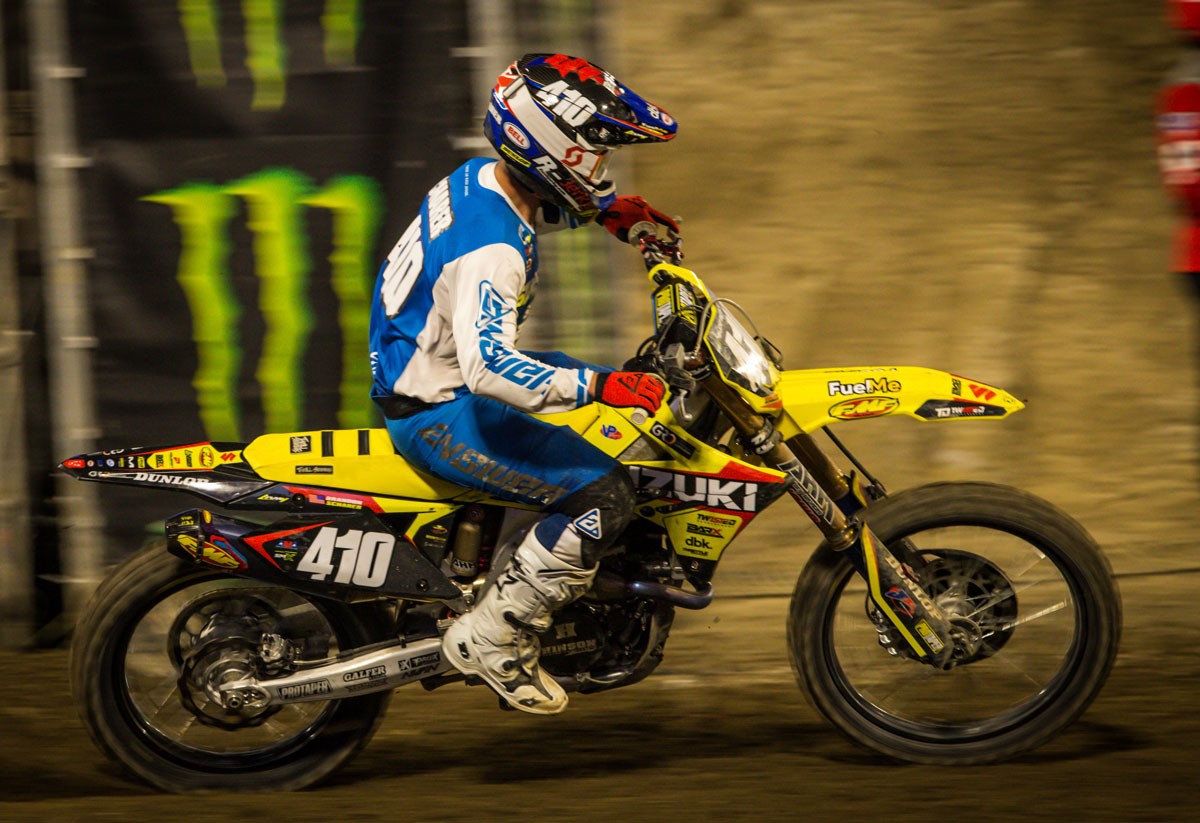 Brandon Scharer (410) adapted well to the BarX Suzuki and the 250 class after getting the call to join the team for round four.

Fill-in rider, Brandon Scharer was comfortable on the BarX Suzuki RM-Z250 despite moving over from the 450 class and having limited time on the team bike.

"I got the call Thursday and things went into motion from there," Scharer reported. "I was able to ride the bike for a short time on Friday and was ready to go for the weekend. Getting back on the Suzuki felt like home, and my results showed that. I learned a lot in my first Triple Crown of my career, and I'm excited to improve as the season moves forward."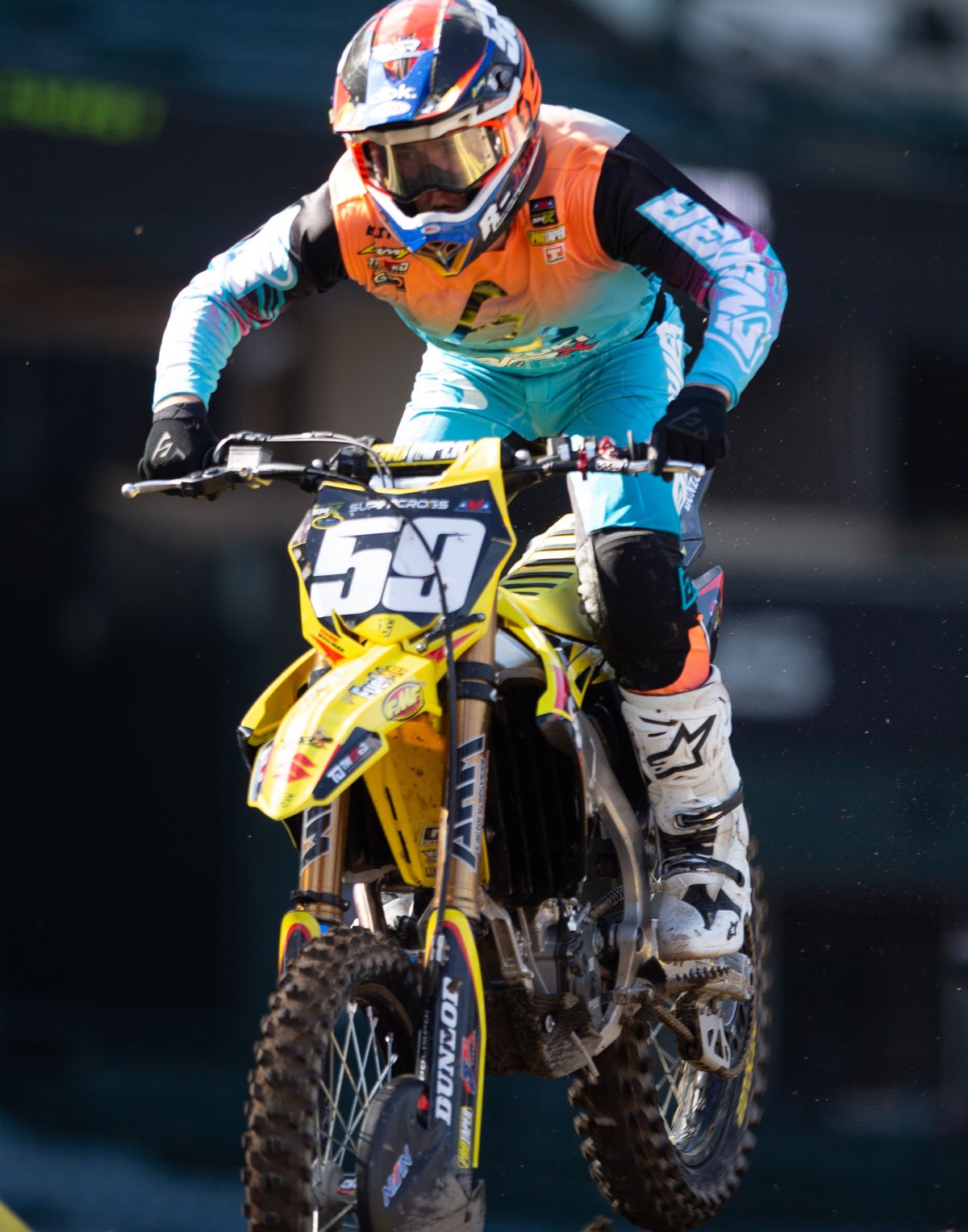 Robbie Wageman (59) didn't fare well in the Triple Crown qualification format, despite strong qualifying times.

Robbie Wageman showed good speed on the track, but unfortunately fell in the whoops in the LCQ with a transfer position in sight.

"The weekend went really well. Ken Roczen put his bike on the podium," said Larry Brooks, Team Manager for the Twisted Tea/H.E.P. Motorsports/Suzuki presented by Progressive Insurance team. "He finished third overall, very close to finishing second. Dilan Schwartz riding the 250 struggled with some minor health issues, so I think it'll get better for him. Shane McElrath and Kyle Chisholm finished sixteenth and seventeenth in the 450 class. It was a good night. We need to continue to make improvements and keep working."

"I'm so pumped about the whole BarX Suzuki team," said BarX Suzuki Team Manager Buddy Antunez. "Everyone put in the work to get Brandon comfortable so he could put his Suzuki in the main event. Robbie was giving his all and unfortunately had a crash in his qualifying race."

The Monster Energy AMA Supercross season heads east for round five at NRG Stadium in Houston, Texas. The event kicks off the 250 East class and marks Marshal Weltin's first supercross aboard the Twisted Tea Suzuki RM-Z250.

For more team news, and the latest from the Supercross season and SMX World Championship series, please visit SuzukiCycles.com/Racing/Motocross and HEPMotorsports.com.

Photos by BrownDogWilson Photography