Back to News
Toni Elias and Teagg Hobbs Join Vision Wheel M4 ECSTAR Suzuki in MotoAmerica Competition
BREA, CA – January 25, 2023 – Team Hammer is proud to announce the signings of former World and MotoAmerica champion Toni Elias and the fast-rising Teagg Hobbs to Vision Wheel M4 ECSTAR Suzuki for the 2023 MotoAmerica AMA/FIM North American Road Racing Championship season.

Elias will race Superbike and Hobbs will contest Supersport for Vision Wheel M4 ECSTAR Suzuki. They will join previously announced returning riders Richie Escalante and Tyler Scott.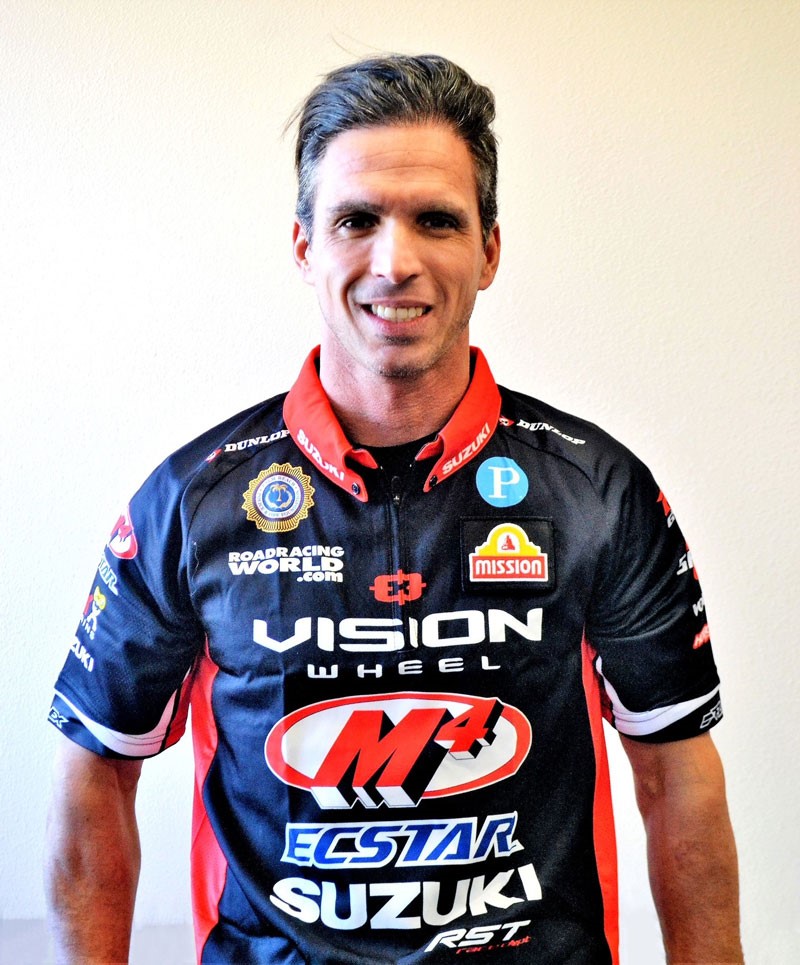 Toni Elias is no stranger to Suzuki, and he is ready to put the GSX-R1000R on the top step of the podium.

Superbike ace Elias is one of the most successful and exciting racers in MotoAmerica history. The Spaniard originally took the series by storm in 2016, scoring three consecutive wins aboard the GSX-R1000R in what was originally slated to be a temporary ride as a substitute for an injured rider.

The remarkable start laid the groundwork for the historic multi-year run that followed. Elias won the 2017 MotoAmerica Superbike title in dominant fashion with ten wins and 18 podiums, and collected an astonishing 32 race wins and 60 podium finishes from 2016-2020.

He returned for substitute duty in 2021 after stepping away and demonstrated that he still had the pace to run up front, collecting a pair of podiums in limited action.

Of course, Elias was already a known quantity prior to his Stateside heroics. Before he first turned a wheel in MotoAmerica, he was already a global road racing star, winning the 2010 Moto2 World Championship, along with race wins in the MotoGP, Moto2, 250cc, and 125cc World Championships.

Elias returns to active duty following a 2022 spent focused on helping other riders unlock their potential via his Toni Elias Performance riding school.

"I'm happy to have the opportunity to go back to racing and it is special to do it with Suzuki and a team I know in Vision Wheel M4 ECSTAR Suzuki," said Elias. "It's great they gave me this opportunity and I am excited and motivated. I am ready to start working hard. It won't be easy but let's do it! I know the bike well and know the good things about it. We'll work hard to improve it even more and I can't wait to get started."

"We all know that Toni Elias is a MotoAmerica champion, and we have seen what he is capable of achieving," said Chris Ulrich, Team Hammer Vice President of Operations. "He is a great talent, and our task is to give him the machinery and environment he needs to get to the front again. There is no doubt he has the ability, and we need to help harness it."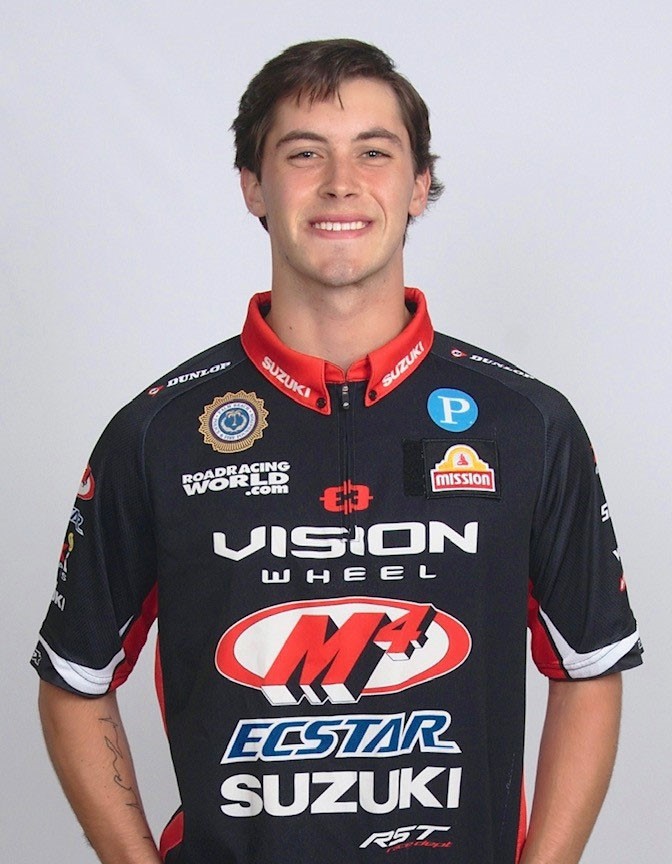 Supersport rookie Teag Hobbs is looking to make a leap into a new class after an exciting offseason.

Hobbs, age 20, will step up into Supersport duty aboard a Vision Wheel M4 ECSTAR Suzuki GSX-R750 following an impressive three-year tenure in the MotoAmerica Twins Cup Championship. During that span, Hobbs earned three consecutive top-10 championship rankings – including a fourth-place finish in 2021 – while compiling ten podium finishes highlighted by a pair of race wins.

A second-generation racer, Hobbs kicked off his racing career at 14 and earned his first MotoAmerica top-10 in final points at the age of 16, by finishing eighth in the 2018 Junior Cup.

In addition to his MotoAmerica accomplishments, the Manchester, New Hampshire native was part of the victorious WERA/N2 Lightweight Endurance race team at the 2022 WERA Grand National Finals and participated in an Aprilia Racing RS 660 Trofeo race at Autodromo Vallelunga in Campagnano di Roma, Italy.

"This will be my first season in Supersport and to go with Team Hammer and Suzuki is the opportunity of a lifetime," Hobbs said. "When the opportunity arose, I couldn't say no. Over the past couple of years, I had built a relationship with the team and loved riding their bikes. I really prefer the Suzuki and I am excited to see what we can do in one of the top MotoAmerica classes on a bigger bike. I am ready to learn and do my best."

"Teagg is new to the team but not new to us," said Chris Ulrich. "In the past, we supplied him with a Suzuki SV650, which he won races on. I know Teagg will benefit from a good team structure. Going into the season, the goal is for Teagg to be near the top five immediately and to be fighting for podiums by the end of the year."

For more racing news, results, and special team content please visit SuzukiCycles.com/Racing/Road-Racing.
ABOUT SUZUKI
Suzuki Motor USA, LLC. (SMO) distributes Motorcycles, ATVs, Scooters, Automotive Parts, Accessories, and ECSTAR Oils & Chemicals via an extensive dealer network throughout 49 states. Suzuki Motor Corporation (SMC), based in Hamamatsu, Japan, is a diversified worldwide manufacturer of Motorcycles, ATVs, Scooters, Automobiles, Outboard Motors, and related products. Founded in 1909 and incorporated in 1920, SMC has business relations with 201 countries/regions. For more information, visit www.suzuki.com.

ABOUT TEAM HAMMER
The 2023 season marks Team Hammer's 43rd consecutive year of operating as a professional road racing team. Race bikes built and fielded by Team Hammer have won 129 AMA Pro and MotoAmerica National races, have finished on AMA Pro and MotoAmerica National podiums 345 times, and have won 11 AMA Pro and MotoAmerica National Championships, as well as two FIM South American Championships (in Superbike and Supersport.) The team has also won 137 endurance races overall (including seven 24-hour races) and 13 Overall WERA National Endurance Championships with Suzuki motorcycles, and holds the U.S. record for mileage covered in a 24-hour race. The team also competed in the televised 1990s Formula USA National Championship, famously running "Methanol Monster" GSX-R1100 Superbikes fueled by methanol, and won four F-USA Championships.

ABOUT VISION WHEEL
Founded in 1976, Vision Wheel is one of the nation's leading providers of custom wheels for cars and trucks, and one of the first manufacturers of custom wheels and tires for ATVs, UTVs, and golf carts. Vision Wheel looks beyond the current trends and to the future in developing, manufacturing, and distributing its wheels. Vision's lines of street, race, off-road, American Muscle, and Milanni wheels are distributed nationally and internationally through a trusted network of distributors. Vision Wheel also produces the Vision It AR app to allow users to see how their wheel of choice will look on their vehicle before purchase and installation. For more information on Vision Wheel, visit www.visionwheel.com.