Brea, CA (November 8, 2022) – The 2023 GSX-8S is brand-new, engineered from the ground up to deliver streetfighter performance for a new generation that's sure to turn heads and Make a Statement. Powerful, agile, and ready to go, the 8S offers a strong appeal to a broad range of riders, regardless of their age or riding experience.

The GSX-8S joins the Suzuki line featuring trendsetting naked sportbike styling combined with real-world performance, user-friendly electronic rider aids, confident handling, and optimized comfort.

During the development of the new GSX-8S, Suzuki followed a strategic process aimed at creating superior performance and value by focusing on rider needs. Suzuki engineers aimed for the ideal combination of engine and suspension performance, ergonomics, and features. To reach this ideal combination in one bike, multiple optimization tests were conducted, with consumer feedback given to achieve an ideal balance. The new GSX-8S was refined through a strategic and constructive process, resulting in what we believe is the ideal middleweight street bike.

The new GSX-8S features Suzuki's brand-new parallel-twin 776cc DOHC engine mounted in a new frame design. Marking a new innovative path for future Suzuki products, the GSX-8S is a brand-new naked middleweight streetfighter with a robust engine, an agile chassis, a suite of electronic rider aids, plus stunning looks, and a smart price that's in line with the demands of a new generation of riders. Every aspect of the motorcycle is geared to deliver a satisfying experience to riders who desire more power than a 650-class motorcycle may deliver, and who desire a satisfying ride that is exciting and dependable.

Wrapped in Suzuki's new generation styling for the GSX line, the GSX-8S features an aggressive, mass-forward look that is slim, compact, well-balanced, and ready for action.

Key Features
The fully new GSX-8S is a thoroughly modern street fighter design that sets a trend for an exciting new generation of Suzuki motorcycles ready to carry the brand into the future.
All-new compact 776cc parallel-twin engine uses a 270-degree firing order for strong torque production and is equipped with Suzuki's exclusive Cross Balancer system for smooth operation.
The Suzuki Clutch Assist System (SCAS) smooths shifting and engine braking, while shifting has never been easier with the Bi-directional Quick Shift system.
High-quality KYB suspension delivers controlled handling while ABS-equipped** NISSIN radial-mounted 4-piston brake calipers with dual, floating brake rotors provide controlled stopping power.
The GSX-8S uses the Suzuki Intelligent Ride System (S.I.R.S.) with a three-mode Suzuki Drive Mode Selector and the four-mode Advanced Traction Control System* plus Suzuki's popular
Easy Start & Low RPM Assist systems.
Select from Suzuki's Pearl Cosmic Blue, Pearl Tech White, or Metallic Matte Black No. 2 / Glass Sparkle Black paint scheme – each featuring unique logos and graphics that help identify the sport's newest performance motorcycle.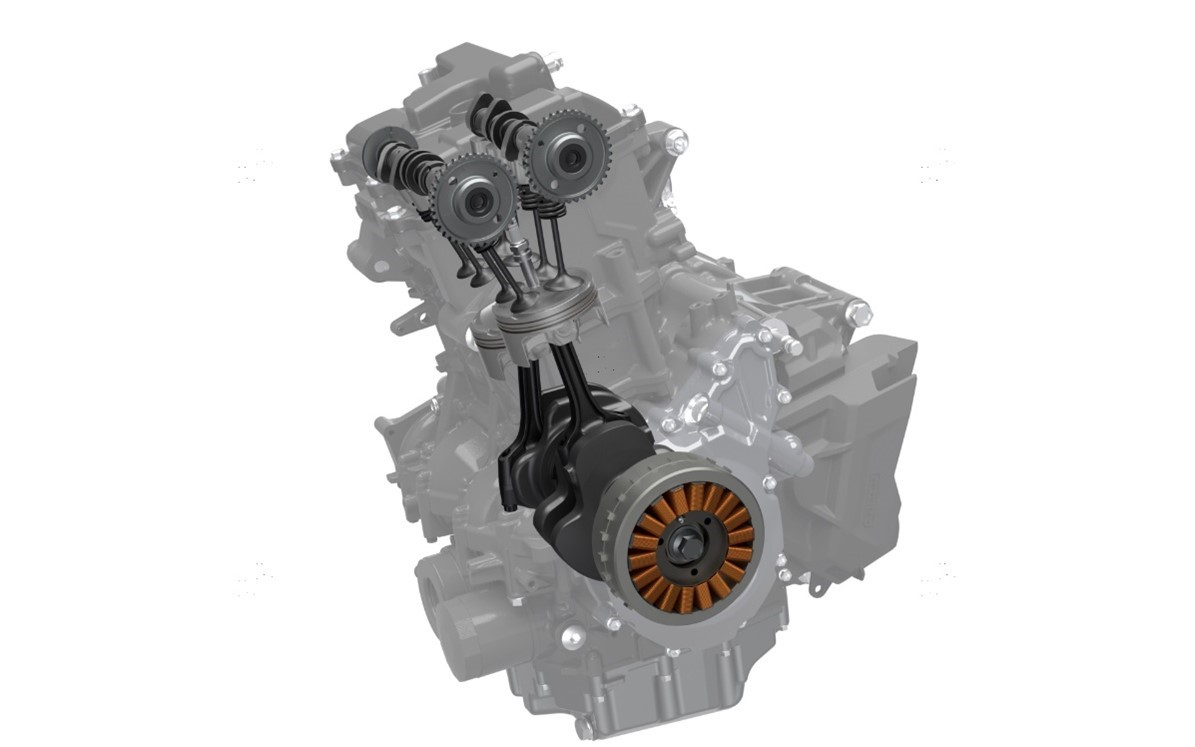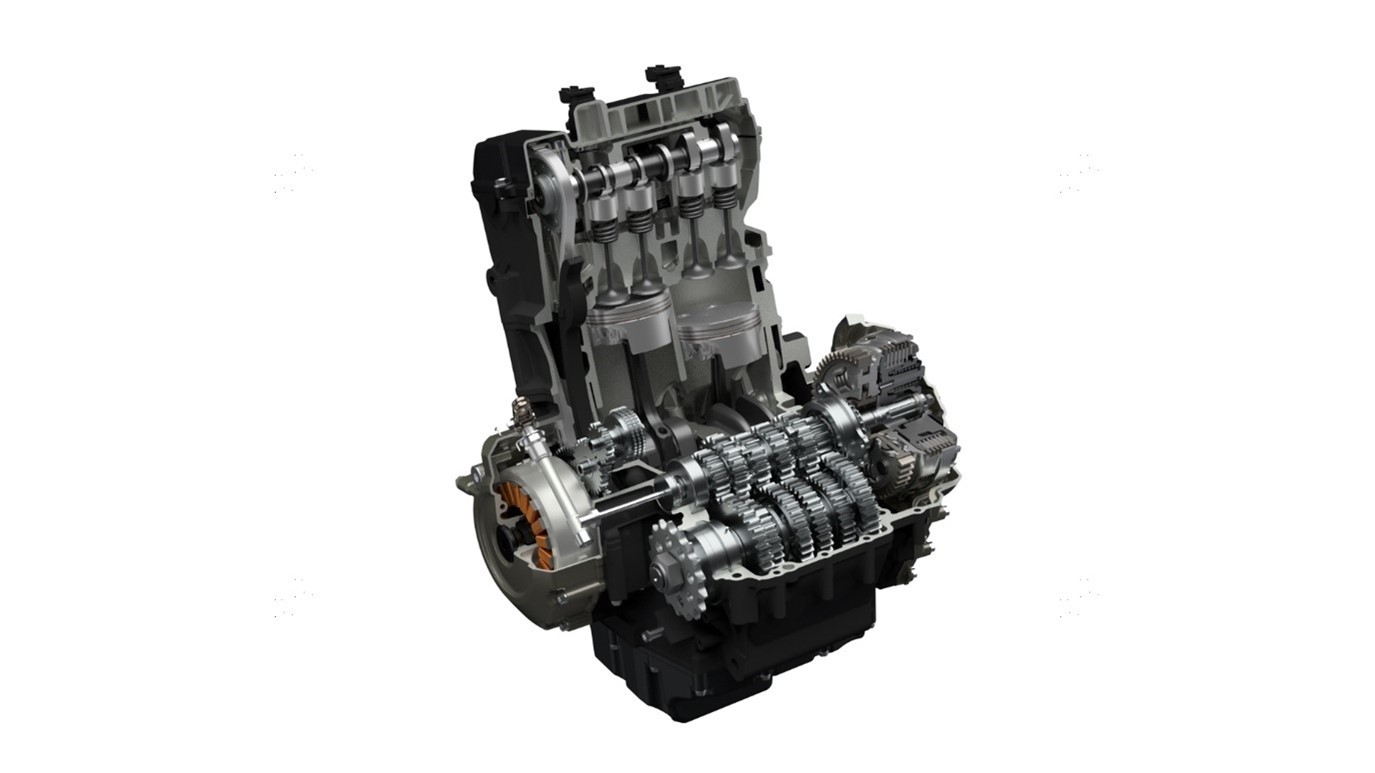 An all-new 776cc parallel-twin DOHC engine using a 270-degree crankshaft configuration delivers smooth, tractable performance.

GSX-8S New Parallel-Twin Engine:

The 270-degree crankshaft configuration provides a comparable, but more powerful experience as provided by the 90-degree V-twin engine used in the SV650 models.
The spaced nature of the engine's power pulses enhances traction and contributes to ample power output at extremely low speeds, making the GSX-8S easy to maneuver in slow traffic or through tight corners.
Suzuki Cross Balancer technology, used for the first time on a production motorcycle, helps create a compact, lightweight design that delivers smooth operation.
The pistons were developed using FEM (Infinite Element Method) analysis to maximize strength and minimize weight.
The 83mm cylinder bores inside the aluminum die-cast cylinders are plated using Suzuki's SCEM process. Originally developed for racing and proven on the track, the SCEM cylinder promotes better heat dissipation, reduces friction, and provides a consistent wear-resistant seal to the pistons' rings.
Dual, linked 42mm electronic throttle bodies use a newly configured Accelerator Position Sensor (APS) to provide an authentic response and feel to the rider's throttle operation.
The GSX-S8 has two ten-hole, long-nose, 49 PSI (343kpa) high-pressure-feed fuel injectors that maximize fuel atomization for better combustion efficiency and lower fuel consumption.
The 6.0L air cleaner box shape and intake pipe lengths were created using computer-aided design to help maximize peak power output plus strong torque production at low engine speed. Positioned under the seat, the air box size and shape contribute to the GSX-S8's slim chassis.
The GSX-8S has a new, distinctive short muffler design that produces an exciting and unique exhaust note. Most of the exhaust system is located under the chassis in an optimal, centralized location that benefits handling.
The stainless-steel 2-into-1 exhaust system uses a high-flow, dual-stage catalytic converter inside the mid-pipe that helps satisfy worldwide emissions standards.
From the mid-pipe, the exhaust flows into an under-chassis chamber that has a short new muffler design with an upswept end cap that slightly protrudes from the right side of the chassis.
The digital ignition fires iridium-type spark plugs that increase spark strength and combustion efficiency, contributing to higher power, more linear throttle response, easier engine start-up, and a more stable idle. These quality components also last longer than conventional spark plugs.
A large-capacity radiator effectively cools the parallel twin's power output. A thermostatically controlled cooling fan helps stabilize coolant temperatures when riding at low speed and constant stops.
The unique cooling system inlet control thermostat valve helps maintain consistent engine temperature and smooths the idle speed during warm-up. This helps stabilize combustion and contributes to reduced exhaust emissions.
Additional heat is removed from the engine via the use of a lightweight and compact liquid-cooled oil cooler (like those used on certain GSX-R models).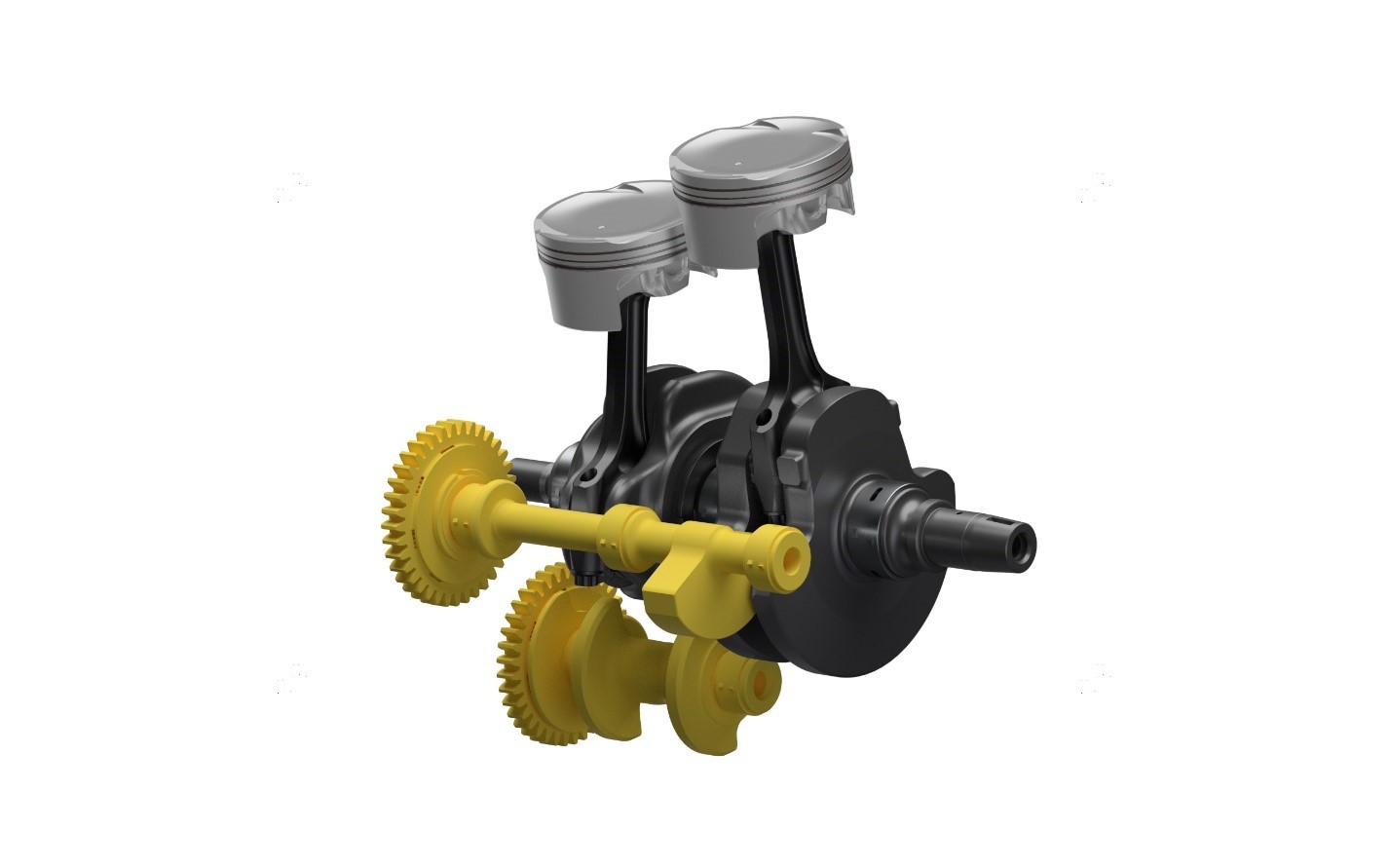 The GSX-8S's 270-degree crankshaft configuration helps deliver torquey performance while the Suzuki Cross Balancer, the first of its type on a production motorcycle, contributes to smooth operation and a compact, lightweight engine design.

SUZUKI Intelligent Ride System (S.I.R.S.) Features:

A Suzuki Drive Mode Selector (S-DMS) supports the rider in matching performance to the riding and road conditions, or the rider's preferred riding style.
There are three standard mode settings in the Suzuki Traction Control System (STCS) for the GSX-8S. The settings for each mode were custom-tuned and thoroughly evaluated to maximize the GSX-8S's capabilities as a top-performing streetfighter, with the flexibility to adapt well to changing weather, road, and riding conditions, and to make the overall riding experience exciting and enjoyable in these conditions.
Suzuki's ride-by-wire electronic throttle control system offers throttle action that responds faithfully to the rider's every input.
Suzuki's legendary Bi-directional Quick Shift System (with ON/OFF settings) provides quicker, smoother, more assured shifting, without operating the clutch while in motion.
The ABS system contributes to more stable braking by helping prevent the wheels from locking up, even under hard braking. The system is programmed to monitor wheel speed and match stopping power to the available traction. The ABS control unit features a compact, lightweight design that contributes to making the bike nimbler.
The Suzuki Easy Start System starts the engine with one quick press of the starter button.
Suzuki's Low RPM Assist function helps maintain engine idle speed for smoother and easier starts.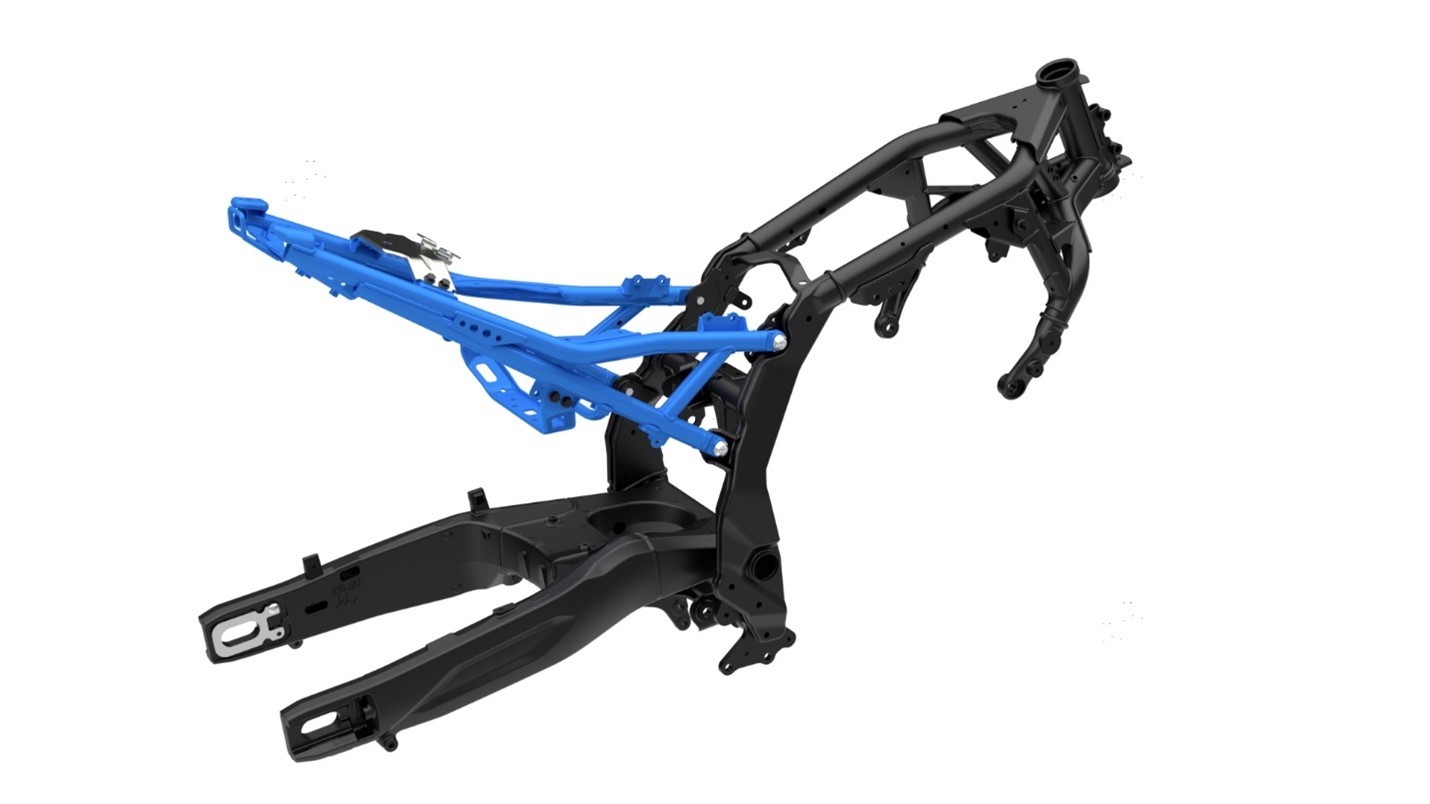 The GSX-8S chassis was designed around the new engine platform and made from rugged steel, and was engineered to provide excellent straight-line stability, contribute to nimble handling, and perform well in the city and at highway speeds.

GSX-8S Chassis:

A rugged new steel frame developed for the GSX-8S contributes to comfort, straight-line stability, and nimble handling.
The new exposed seat rails are engineered to support the rider well, and also to contribute to the GSX-8S' slim appearance and stripped-down look of functional beauty.
KYB inverted front forks with a 130mm stroke deliver a plush, controllable ride and feature stable damping characteristics that make them suitable for both sports riding and long-distance rides.
The dedicated link-type mono-shock KYB rear suspension is set up to contribute to straight-line stability and agility, even when carrying a passenger. The mechanical preload adjuster is particularly useful when heading out to ride tandem.
Radial mount front brake calipers mated with 310mm outer diameter floating-mount dual discs provide sure stopping power and controllable braking performance. The rear brake has a 240mm outer diameter disc and uses a single-piston pin-slide caliper.
The cast-aluminum wheels feature a unique new lightweight design that looks great and contributes to nimble handling and sporty performance.
The GSX-8S is shod with a new generation of Dunlop RoadSport 2 radial tires (120/70ZR17 at the front; 180/55ZR17 at the rear) designed to perform optimally and provide consistent grip in a variety of street riding conditions.
The GSX-8S uses a uniquely shaped, lightweight aluminum swingarm offering enhanced torsional rigidity to better support the increased suspension travel and contribute to straight-line riding stability.
The fuel tank features a 14L (3.69 gals) capacity that helps deliver the right balance between riding range and slim, compact looks that heighten the appeal of the GSX-8S' sporty styling.
The tapered aluminum handlebars provide a sporty yet comfortable upright riding position and feature a wide enough grip to contribute to positive control when steering the GSX-8S.
The rider's seat is built for comfortable sport riding. Delivering solid support for the rider toward its rear edge, the seat is shaped to offer freedom of movement and is covered in durable materials that offers a positive grip.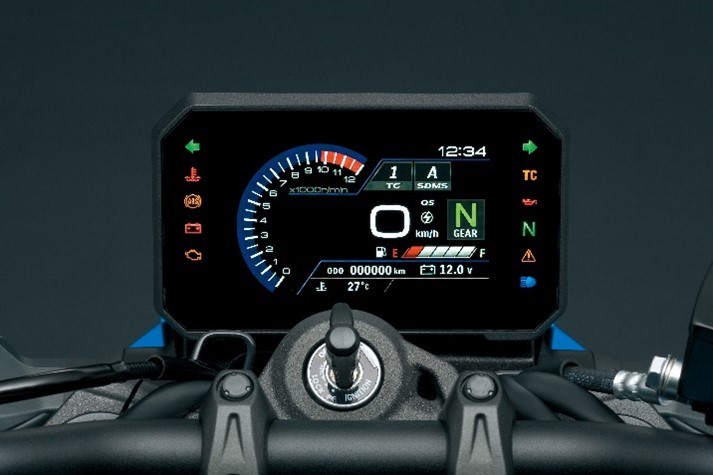 European model shown.

The GSX-8S features a 5-inch color TFT LCD multi-function instrument panel with a legible display offering a wide array of information to the rider in either day or night mode.

GSX-8S Electric Equipment:

A custom 5-inch color TFT LCD multi-function instrument panel features a legible display offering a wide array of information including:


Speedometer
Tachometer
Riding range
Odometer
Dual trip meter
Gear position
Water temperature
Ambient temperature
Freeze indicator
Engine rpm indicator
Average fuel consumption (1&2)
SDMS mode
Instant fuel consumption
Traction control mode
Quick Shift (ON/OFF)
Fuel gauge
12-hour clock
Voltmeter
Service reminder via Pop-Up Display


Vertically stacked LED headlights in hexagonal housings provide a clear view of the road ahead and are topped by an LED position light helping to create a bold presence.
Compact LED position lights flank the headlights as they trace forward and down along the front cowl. The angled design of these narrow slits adds to the unique "mask" of the front face.
Compact LED position lights, turn signals and a LED taillight help ensure clear visibility and practical durability.
Vertically stacked LED headlights in hexagonal housings are joined by a distinct LED position light continuing Suzuki's bold new styling direction.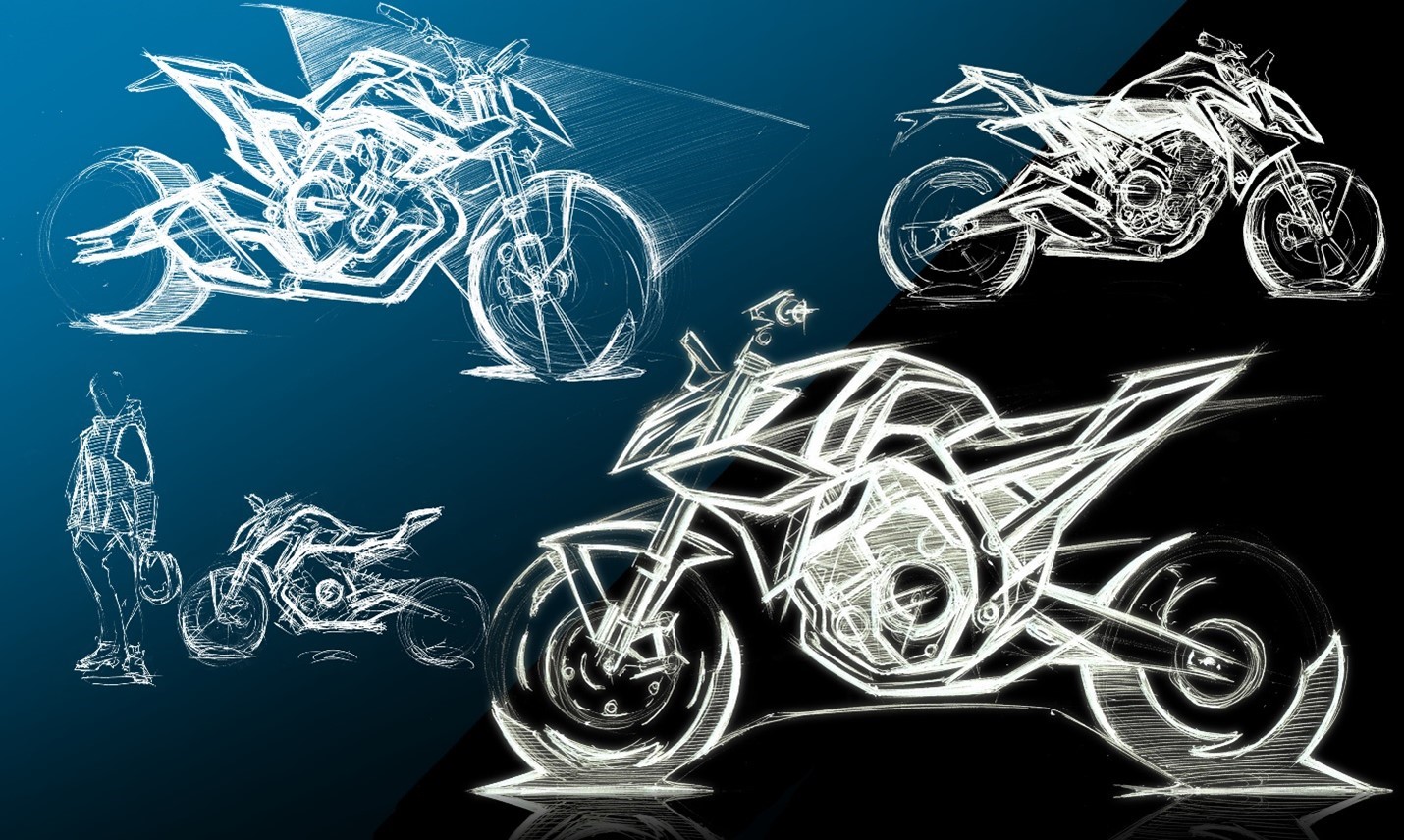 GSX-8S Styling:

In developing the styling for the new GSX-8S, Suzuki's design team set a goal based on the three keywords, "New Era", "Visual Structure", and "Icon".
"New Era" reflects the goal of creating a thoroughly modern design that sets a direction for an exciting new generation of motorcycles ready to carry Suzuki into the future. The 2022 model GSX-S1000 established the beginnings of a modern design language featuring sharp lines and an edgy futuristic look.
"Visual Structure" reflects the goal of exposing the bike's functional parts, painting them in the new body colors, and simplifying the bodywork and graphics to put a spotlight on the visceral appeal of its structural elements.
"Icon" seeks to create a unique silhouette with an iconic presence, instantly recognizable from a distance, and symbolizing the future of Suzuki design.
All combined, the styling creates an appealing new mass-forward, aggressive look that is slim, compact, well-balanced, and ready for action. The new GSX-8S is set to become the naked street fighter of choice for riders of all experience levels.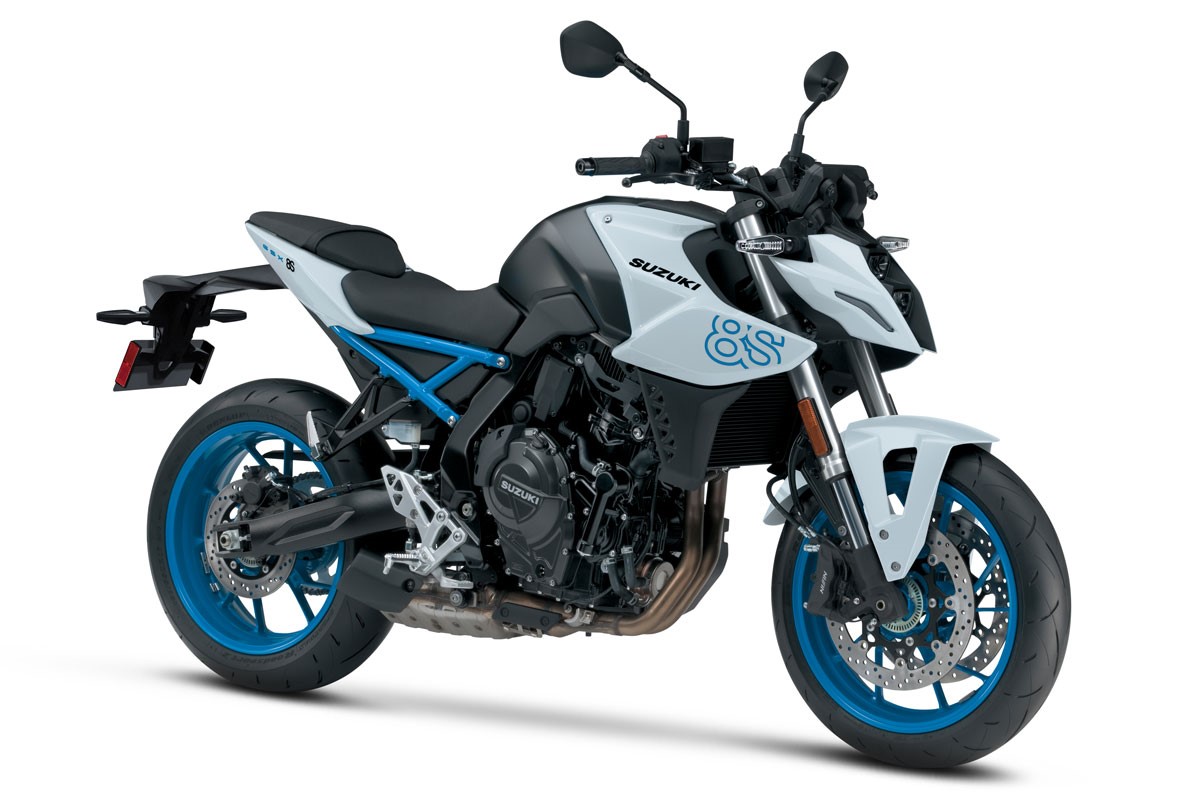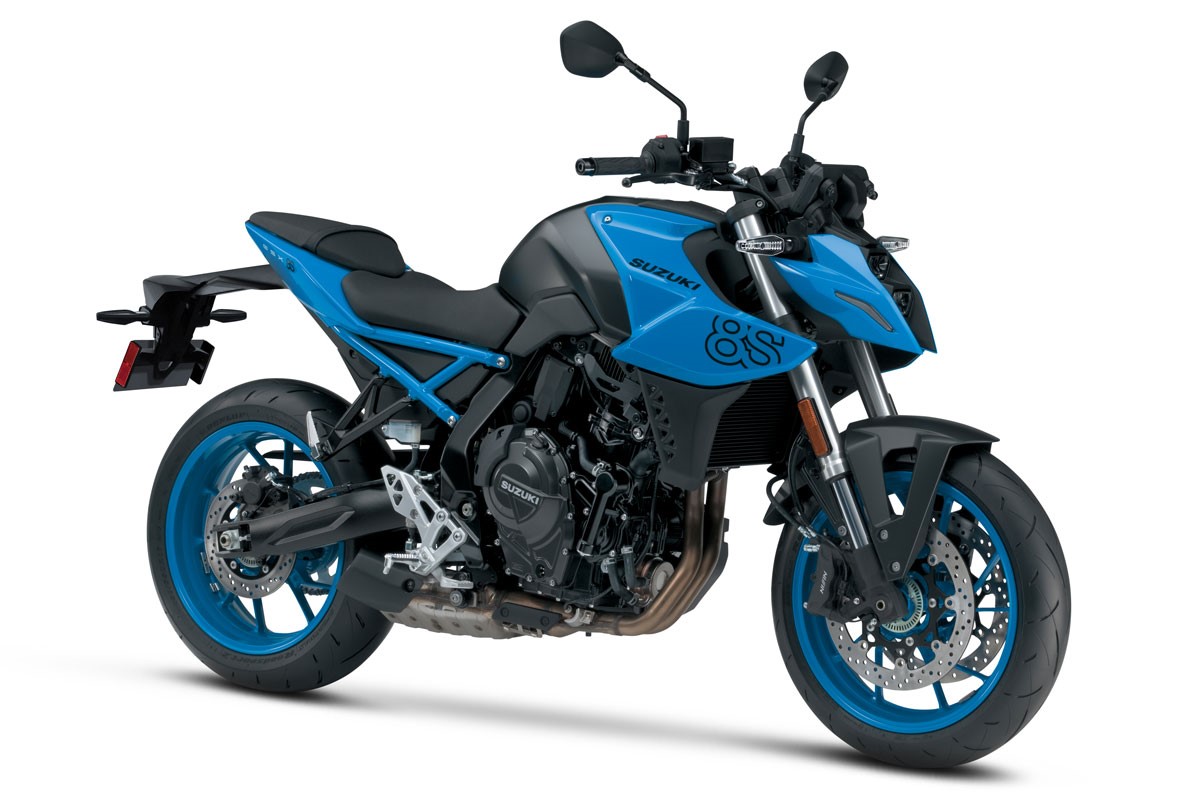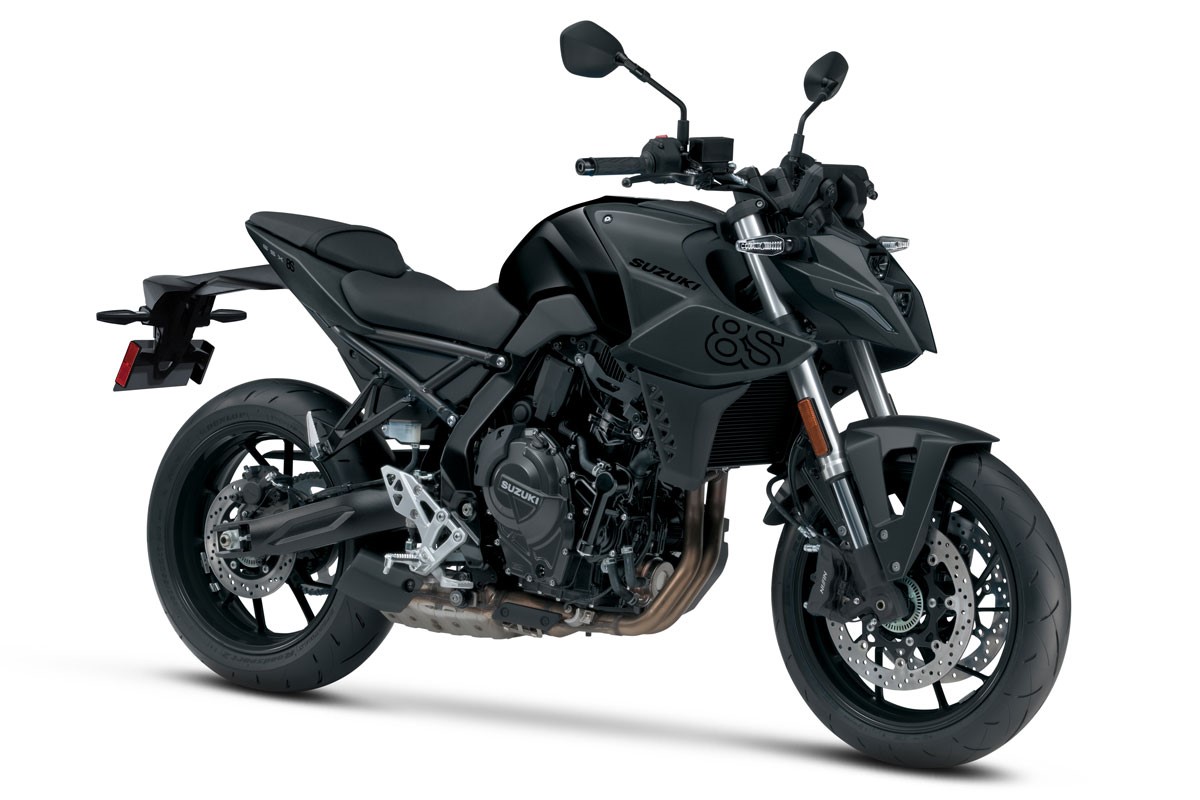 New 2023 Suzuki GSX-8S
MSRP TBA

The GSX-8S comes in three striking colors and introduces two brand-new body colors for Suzuki. Each are created to coordinate well with the styling concept. Suzuki set the color concept as "New Impact of Blue" and is an evolution of the blue color theme long used on Suzuki's street and sport bikes, but evolved for a new appeal to a new generation. The two new unique colors of Pearl Cosmic Blue (QU1) and Pearl Tech White (QU2) are introduced on the GSX-8S and rounded out with stealthy Metallic Matte Black No.2 with Glass Sparkle Black (KGL).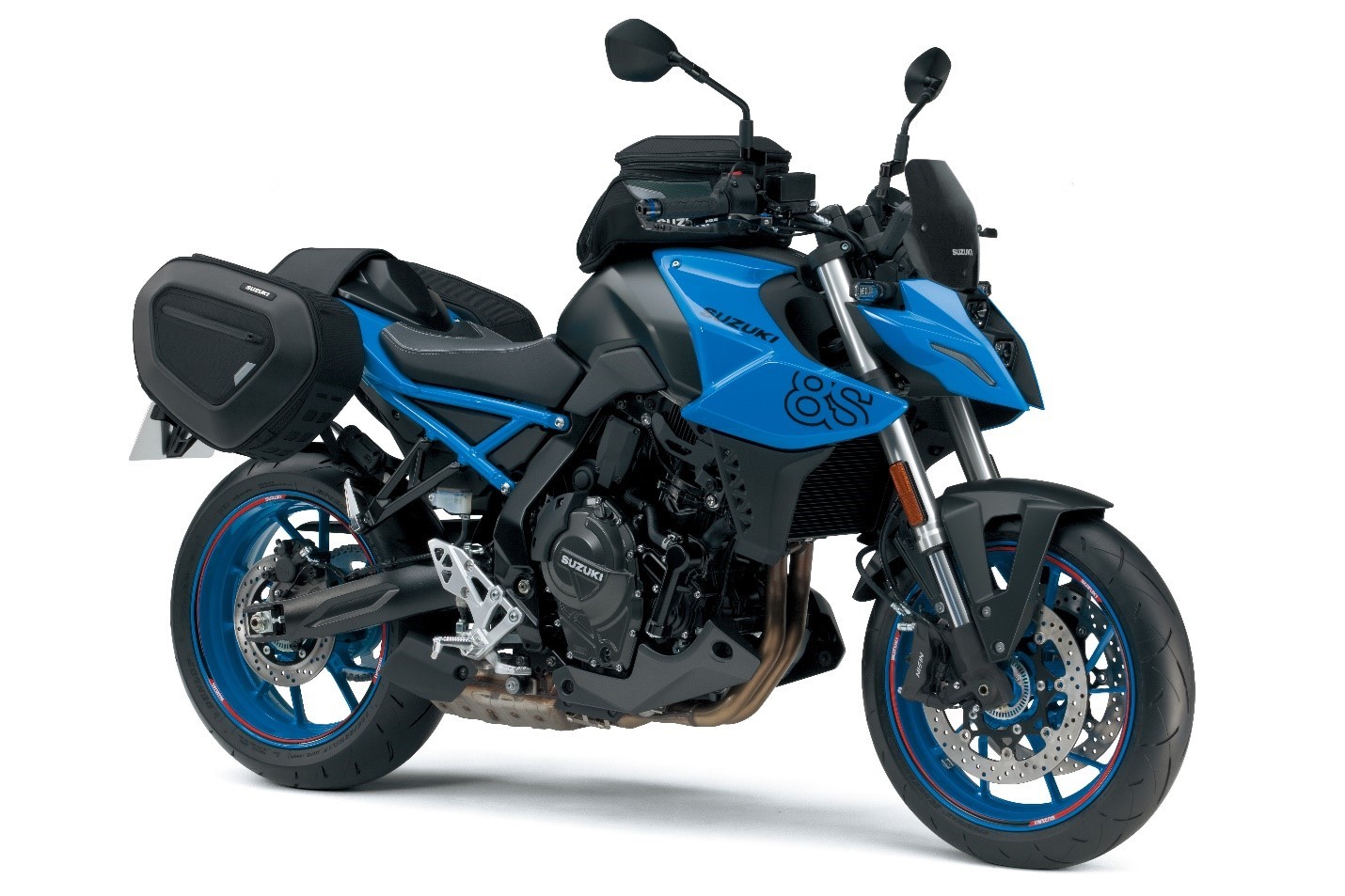 European model shown with optional accessories.

Genuine Suzuki GSX-8S Accessories:

Suzuki has a wide range of Genuine Suzuki Accessories specially developed so riders may personalize their GSX-8S to their style and riding needs by enhancing riding comfort, utility, protection, and appearance. This comprehensive list of Genuine Accessories includes:

Soft Side Case Set: Expandable side cases from 15L up to 20L per case, with the SUZUKI logo. A side case bracket set is required for installation. Maximum load per case: 3kg
Meter Visor: Provide a sporty look to the gauge panel and features the SUZUKI logo.
Single Seat Cowl: Made exclusively for the GSX-8S. It provides a unique, sporty look.
Grip Heaters: Heats the entire grip surface while offering three different heat level settings to help keep riders' hands warm on chilly weather rides.
Handlebar Balancer: Bar Ends: Made of iron and aluminum with the Suzuki "S" logo. May not be used with brake and clutch lever guards
Billet Brake and Clutch Levers: Machined from high-end billet aluminum and decorated with the SUZUKI logo. These black anodized levers provide a sportier look to the motorcycle
Brake and Clutch Lever Guard: Made of high-end billet aluminum and resistant plastic, help provide extra security around these levers. May not be used with Handlebar Balancer Bar Ends.
Frame Sliders: Helps reduce damage and provide an attractive look. Featuring a stylish design with the SUZUKI logo.
Under Cowl: Cowling for the underside of the motorcycle. It will give a unique, racier look to the GSX-8S.
Mirror Extensions: Aiding rear visibility, mirrors may be raised by 50 mm compared to stock, and adjustable up to 40 mm laterally.
Navigation Bracket: With a damping system installed at the center of the handlebar for installing additional electronics like GPS units.
USB Socket: To help charge electronic devices through a USB connection. With a cover to protect the socket from dust, sand, etc. USB Type-A with an output of 5V/2A.
Fuel Tank Bag (Large and Small): Durable nylon material with reflective piping, eleven liters expandable to fifteen liters (Large.) Volume 5 liters expandable to nine liters (Small.) Rain cover and shoulder belt included. Requires the mounting ring for installation.
Fuel Cap Protection Decal: Protects fuel caps from scratches. Black or carbon-fiber look decals are available.
Fuel Tank Protection Decals: Helps protect against fuel tank scratches in high-wear areas.
Fuel Tank Pad: Enhances fuel tank scratch protection, featuring the distinctive GSX logo.

Its trendsetting styling fully exposes a new era of functional streetfighter beauty. The controllability, satisfying performance, and optimized comfort let you ride with confidence. The GSX-8S is ready to change your world. Unlock its potential and enjoy the ride.
Note: SUZUKI MOTOR CORPORATION reserves the right to add any improvement to change the design or to discontinue any Suzuki Genuine Accessories at any time without notice. Some Suzuki Genuine Accessories might not be compatible with local standards or statutory requirements. Please check with your local AUTHORIZED SUZUKI DEALER for details at the time of ordering.

*The Traction Control System is not a substitute for the rider's throttle control. It cannot prevent loss of traction due to excessive speed when the rider enters a turn and/or applies the brakes. Neither can it prevent the front wheel from losing grip

**Depending on road surface conditions, such as wet, loose, or uneven roads, braking distance for an ABS-equipped vehicle may be longer than for a vehicle not equipped with ABS. ABS cannot prevent wheel skidding caused by braking while cornering. Please drive carefully and do not overly rely on ABS.