Back to News
Dealer News
Motorcycle Product
Suzuki Launches Returning 2023 V-Strom 650 Adventure Tourers and Burgman 400 Scooter
Brea, CA (September 14, 2022) – Continuing the release of the 2023 models are several highly versatile and stylish bikes in the Suzuki motorcycle product line.

The sophisticated and practical Burgman 400 scooter is perfect for everyday commuting with style, and the versatile V-Strom 650 makes for a well-equipped, intelligently-engineered adventure touring middleweight. Both the Burgman and the V-Strom 650 offer riders real-world performance, class-leading build quality and unmatched value.

Adventure
V-Strom 650 models - Suzuki's V-Strom 650 models attract riders demanding versatility combined with a rousing riding experience, who demand their motorcycles excel at touring, commuting, or augment a fun adventure when their ride demands it. These are touchstone middleweight motorcycles offering unprecedented balance with a natural riding position, comfortable ergonomics, and a flexible and vibrant engine signature producing stress-free riding during commutes around town or high-mile touring adventures.

V-Strom 650XT Adventure - Point the iconic Suzuki DR-BIG-inspired beak of the V-Strom at the horizon as the 37L quick-release aluminum panniers, rugged accessory bar, handlebar cross-brace, and mirror extensions are standard equipment. Finished with deep, Glass Sparkle Black paint, the 2023 V-Strom 650XT Adventure performs on tubeless-spoke wheels with blue-anodized rims conveying style, strength, and performance.

Loaded with intelligent features and ready for any adventure, the V-Strom 650XT Adventure continues the V-Strom legacy of offering a fun, agile, adventurous motorcycle providing unmatched versatility. The engine delivers stellar performance and great fuel economy while achieving worldwide emission standards. Suzuki's proven engineering delivers a bike with low weight and a trim chassis, creating a V-Strom 650XT Adventure that does so many things so well, this bike could be called the Swiss Army Knife of motorcycles.

Check out a 2023 V-Strom 650XT Adventure for your next ride and you'll see it checks off every box on a rider's exploration list.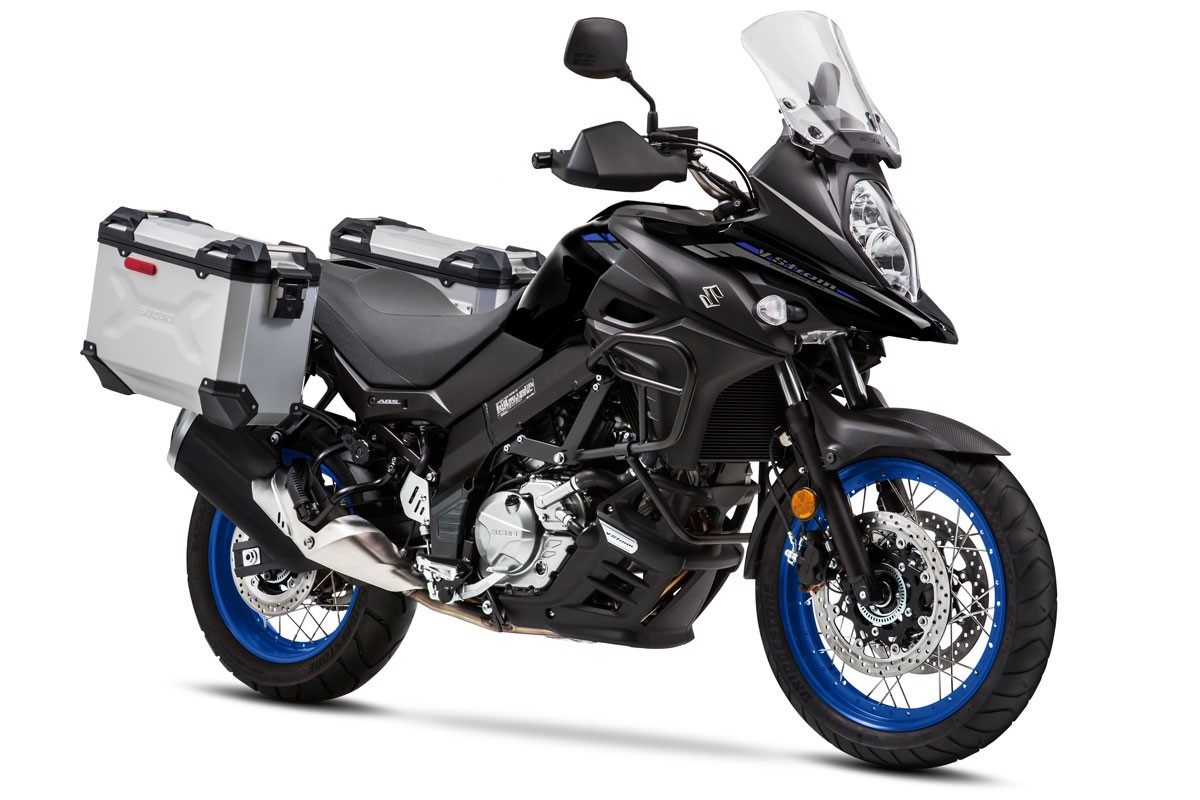 2023 V-Strom 650XT Adventure
MSRP $10,799

V-Strom 650XT - Riders love the Suzuki 2023 V-Strom 650XT for its unique merger of a lightweight chassis coupled with an exciting liquid-cooled, 90-degree, 650cc, V-twin engine. A merger that creates a perfectly balanced motorcycle capable of delivering excitement, comfort, and confidence on every ride.

Riders exploring the V-Strom 650XT see it delivering on motorcycling adventure while bringing a big dose of intelligence and versatility. The 2023 V-Strom 650XT comes in a Pearl Brilliant White livery and is complemented by hand guards, a lower engine cowl, as well as spoke-style gold-anodized wheels mounting tubeless radial dual-sport tires.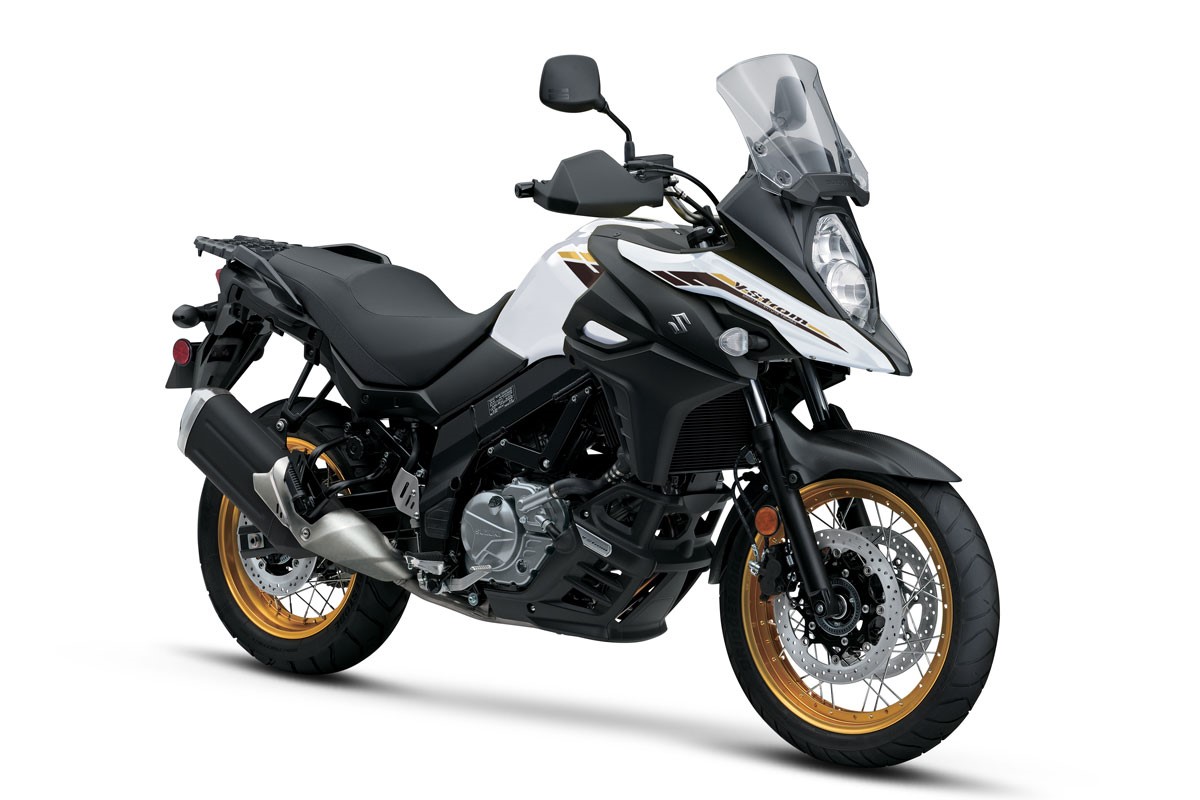 2023 V-Strom 650XT
MSRP $9,599

V-Strom 650 –The Suzuki V-Strom 650 is the perfect motorcycle for riders looking for versatility, real-world performance, and exceptional value. The 2023 V-Strom 650's perfect blend of V-twin performance in a strong, yet lightweight chassis that delivers thrilling rides and cost-effective fun like no other adventure tourer on the scene today.

The 2023 V-Strom 650 rocks Suzuki's beautiful Pearl Vigor Blue and Metallic Matte Sword Silver paint complemented with black accents giving this model runway-level attractiveness. The beak-style fairing, with vertically stacked headlights, augments the V-Strom 650's aerodynamic prowess while protecting the rider in style. Light and strong 10-spoke cast wheels shod with Adventure-spec Bridgestone Battlax 19-inch front and 17-inch rear tubeless radial tires are great for all-around performance.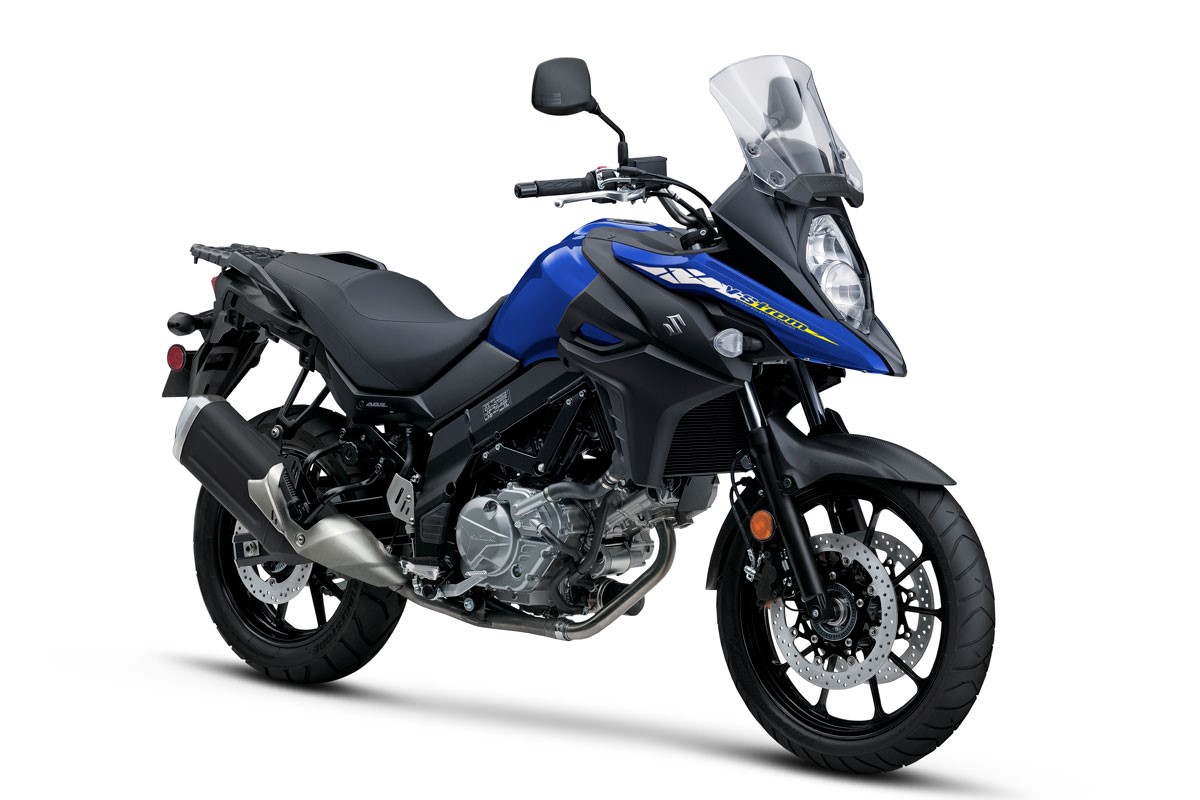 2023 V-Strom 650
MSRP $9,104

Scooter
Burgman 400 - Already the leader in its category, the 2023 Suzuki Burgman 400 continues with a host of styling, technical, and feature updates galvanizing its reputation as the Elegant Athlete of the scooter world. The Burgman 400's slim and sharp styling features a new Solid Iron Gray paint scheme combined with blue wheels and seat stitching that pay classy homage to Suzuki's on-road championship heritage.

The Burgman's nose and tail blend sophisticated styling with full LED function, as the dual headlights have integrated position lights, while the rear combination taillight elegantly blends with the smooth bodywork. Functional design is brought to the well-thought-out instrument panel. Riding range and real-time fuel consumption indicators also may help the rider conserve fuel.

The Burgman's strong and responsive 400cc engine has a revised camshaft profile and a dual-spark technology ignition system achieving worldwide emissions standards while offering impressive fuel economy and highway riding power.

Similar to systems used on Suzuki's V-Strom 650 adventure tourer and GSX-S750 street bikes, the Burgman features a rider-selectable Traction Control* system offering the rider peace of mind and excellent road-holding ability in a variety of road conditions. Suzuki's Easy Start System is a standard Burgman feature, so a simple, momentary press of the starter button starts the engine, while the fuel injection maintains a steady, smooth idle under all conditions.

The large-diameter 15-inch cast front wheel helps increase stability while enhancing the Burgman 400's visual appearance and carries a pair of 260mm disc brake rotors. The 13-inch rear wheel has a 210mm hydraulic disc brake for reliable stopping control. The Anti-lock Brake System (ABS)** monitors wheel speeds and hydraulic pressure hundreds of times per second to help provide stopping power that matches the available traction.

Blending styling, engineering, and chassis performance, along with confidence-inspiring rider aids, the Suzuki Burgman 400 remains the premium scooter of choice for riders of all experience levels seeking a scooter that makes a statement of intelligence and bravado.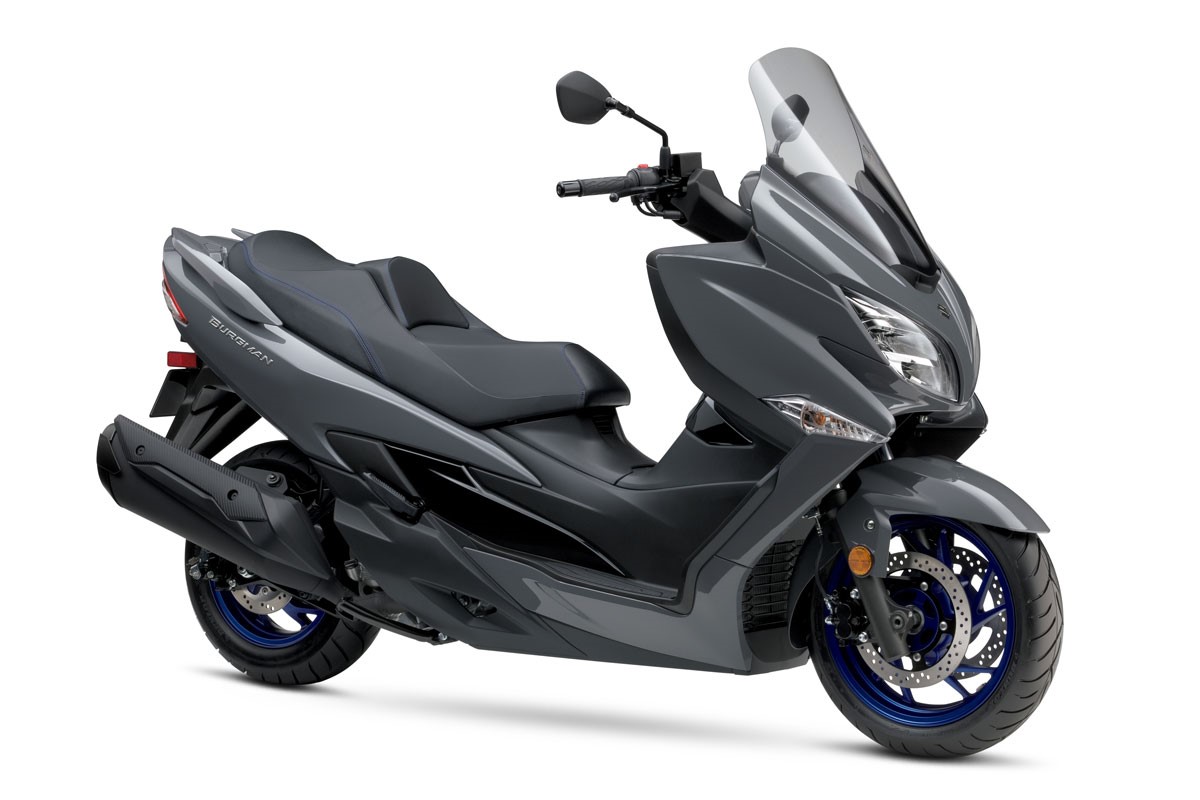 2023 Burgman 400
MSRP $8,599
*The Traction Control System is not a substitute for the rider's throttle control. It cannot prevent loss of traction due to excessive speed when the rider enters a turn and/or applies the brakes. Neither can it prevent the front wheel from losing grip
**Depending on road surface conditions, such as wet, loose, or uneven roads, braking distance for an ABS-equipped vehicle may be longer than for a vehicle not equipped with ABS. ABS cannot prevent wheel skidding caused by braking while cornering. Please drive carefully and do not overly rely on ABS.