Suzuki Racers Make a Splash at Round 10 of the AMA Pro Motocross National

BREA, Calif., August 22, 2022 — The BarX/Chaparral Suzuki team brought home championship points in every moto at round 10 of the 2022 AMA Pro Motocross Series in Mechanicsville, Maryland. Carson Mumford was blazing fast aboard his Suzuki RM-Z250 on the Budds Creek MX track that was challenging with deep ruts and off-camber turns. Preston Kilroy delivered another top result with his BarX/Chaparral Suzuki RM-Z250 race bike. Dilan Schwartz pushed his Suzuki RM-Z250 into the top five for much of the racing. And Derek Drake used his BarX/Chaparral Suzuki to match his season-best moto finish. Twisted Tea Suzuki Presented by Progressive Insurance's sole racer for the weekend, Marshal Weltin, tangled and crashed early in the day and was unable to continue his streak of strong finishes.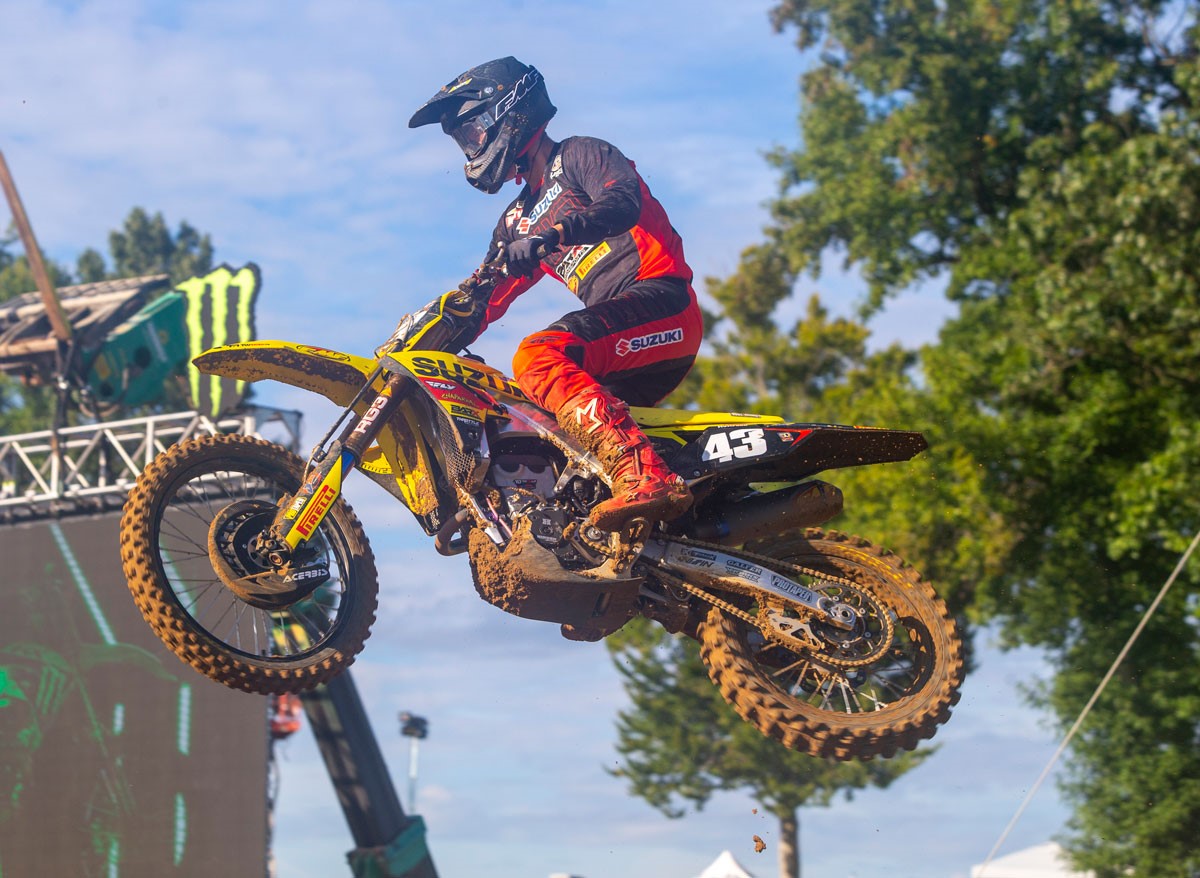 Carson Mumford (43) put in two blazing fast moto performances to deliver another top ten moto and overall finish on his BarX/Chaparral Suzuki RM-Z250.

The story of the day was Carson Mumford's rebound from a first moto starting gate mishap that saw him stuck in the gate as the 40-rider pack took off. Mumford had the speed and determination to pass 25 riders in that moto. He put his BarX/Chaparral Suzuki RM-Z250 horsepower to good use in the second moto, putting himself inside the top ten early. The weather was hot, but Mumford held strong throughout the race to land a top ten moto finish. For his efforts, Mumford earned his second top ten overall finish of 2022 and jumped four places in the championship point standings.

"It was a decent day but could have been a lot better. An issue at the start of the first moto caused me to hit the gate, then I ran into rear brake issues on the second lap. I also took a rock to one of my bottom teeth and broke my tooth. I was only able to catch up to 14th in that moto," Mumford said after the dust had settled. "In the second moto, I was only able to salvage a 10th. That isn't bad, but I for sure had the speed to be near the top five."

Preston Kilroy (68) used speed and consistency to notch his fourth straight top 15 overall finish.

Preston Kilroy battled just outside the top ten in Moto 1 at Budds Creek. The sophomore pro racer ran consistently to rack up a strong overall result aboard his BarX/Chaparral Suzuki RM-Z250.

"It was a decent weekend at Budds Creek," Kilroy summarized. "I didn't get the greatest of starts in either moto but was able to get through the pack in the first few turns in both! I was riding a little tight all day. In the second moto, I, unfortunately, had a bike issue that cost me. We're taking the positives from this weekend into next weekend at Ironman!"

Dilan Schwartz (40) battled into the top five in the first moto. He was smooth and fast with his Suzuki RM-Z250.

Dilan Schwartz showed he has the speed to run up front. Even after missing the first seven rounds, Schwartz and his BarX/Chaparral Suzuki RM-Z250 ran at the front runners' pace. He earned points in both motos and moved his Suzuki up one spot in the season's championship point standings.

"This was a better weekend for sure," stated Schwartz after the race. "I was upfront in Moto 1 but had two tip-overs that cost me a better result. In Moto 2 I didn't get that great of a start, but still salvaged 14th. Onto next weekend!"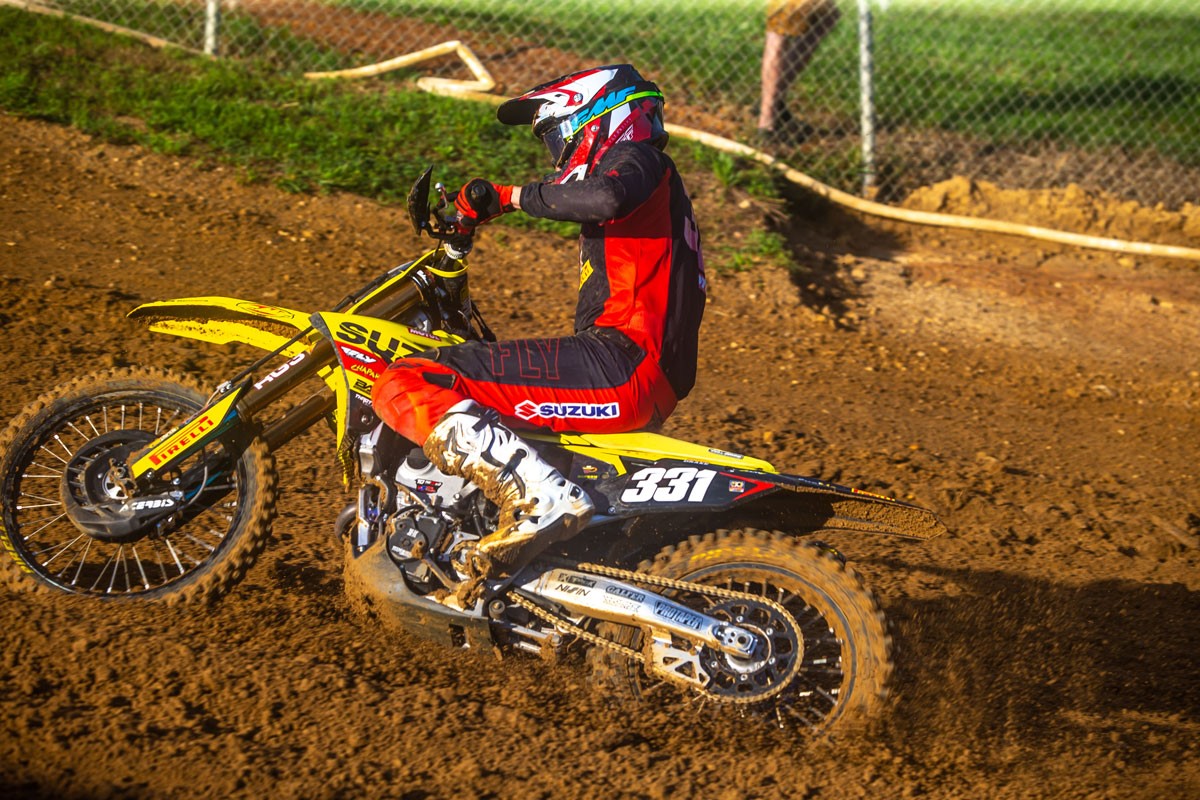 Derek Drake (331) followed a strong ride in Moto 1 with an incredible charge through the pack in Moto 2.

Derek Drake spent the 30-minute plus two lap race duration of Moto 1 just shy of a top ten finish. Trouble early in the second moto saw Drake fighting from the tail end of the 40-rider field. He flew past competitors and was able to put his BarX/Chaparral Suzuki RM-Z250 into a points-paying finish by the end of the moto.

"Budds Creek was a step in the right direction, but just doesn't look that way on paper," Drake said. "My fitness is improving, so I'm happy about that. The motos were tough. I got two bad starts and in the second moto, I crashed on the first lap, which put me in dead last at the beginning of the moto. I'm definitely looking forward to next weekend."

Marshal Weltin (285) looked good on his Twisted Tea Suzuki RM-Z450, but a crash early in Moto 1 ended his race day early.

Marshal Weltin showed great speed aboard his Suzuki RM-Z450. Unfortunately, contact with another rider took the young racer out of the event early. It was a tough setback for Weltin, who so quickly adapted to his Suzuki RM-Z450 as a mid-season addition to the team as teammate Brandon Hartranft was unable to compete due to injury.

"We just had a tough go at it today," Weltin said in an understatement. "I was comfortable and I'm really happy with the bike overall. Unfortunately, I had a pretty bad crash in turn one of Moto 1. I got caught up in another rider's rear wheel going down the straightaway and slammed really hard. I was not able to finish out the day. I feel like I'm okay, I just have a lot of really bad bruises. I'm going to come back next week and be ready."

"Tough week at the office, but sometimes that is how things go," philosophized Twisted Tea/H.E.P. Motorsports/Suzuki Presented by Progressive Insurance's Team Manager Dustin Pipes. "With Brandon again out this past weekend, Marshal tried his best to hold down the fort for the team. Unfortunately, a first corner crash ended his day early. We will regroup for next weekend."

This week the Suzuki athletes and teams travel to Ironman Raceway in Crawfordsville, Indiana for the penultimate round of the 2022 AMA Motocross series. The Suzuki racers and teams are eager to gain more points and positions in the championship standings.

For more team updates and the latest news and insights, visit SuzukiCycles.com/Racing/Motocross and HEPMotorsports.com.

Photos by BrownDogWilson Photography