Back to News
Eddie Krawiec Charges Vance & Hines/Mission Suzuki to Season Best Finish at NHRA Sonoma
Teammate Angelle Sampey Catapults to Lead in Pro Stock Motorcycle Championship with Career Best E.T. and Top Speed


BREA, CA – July 25, 2022 —Eddie Krawiec raced his Vance & Hines/Mission Suzuki Hayabusa to his first final round appearance of the season at the DENSO NHRA Sonoma Nationals Sunday, narrowly missing out on his 50th career Pro Stock Motorcycle victory, while his teammate Angelle Sampey jumped to the top of the class points standings.

It was a weekend of strong performances for the Vance & Hines/Mission Suzuki team, with Sampey qualifying in the number one position for the 56th time in her career with a track-record elapsed time of 6.700-seconds at 200.95 mph on Saturday and posting the fastest-ever Suzuki top speed of 202.88 mph in the semi-finals.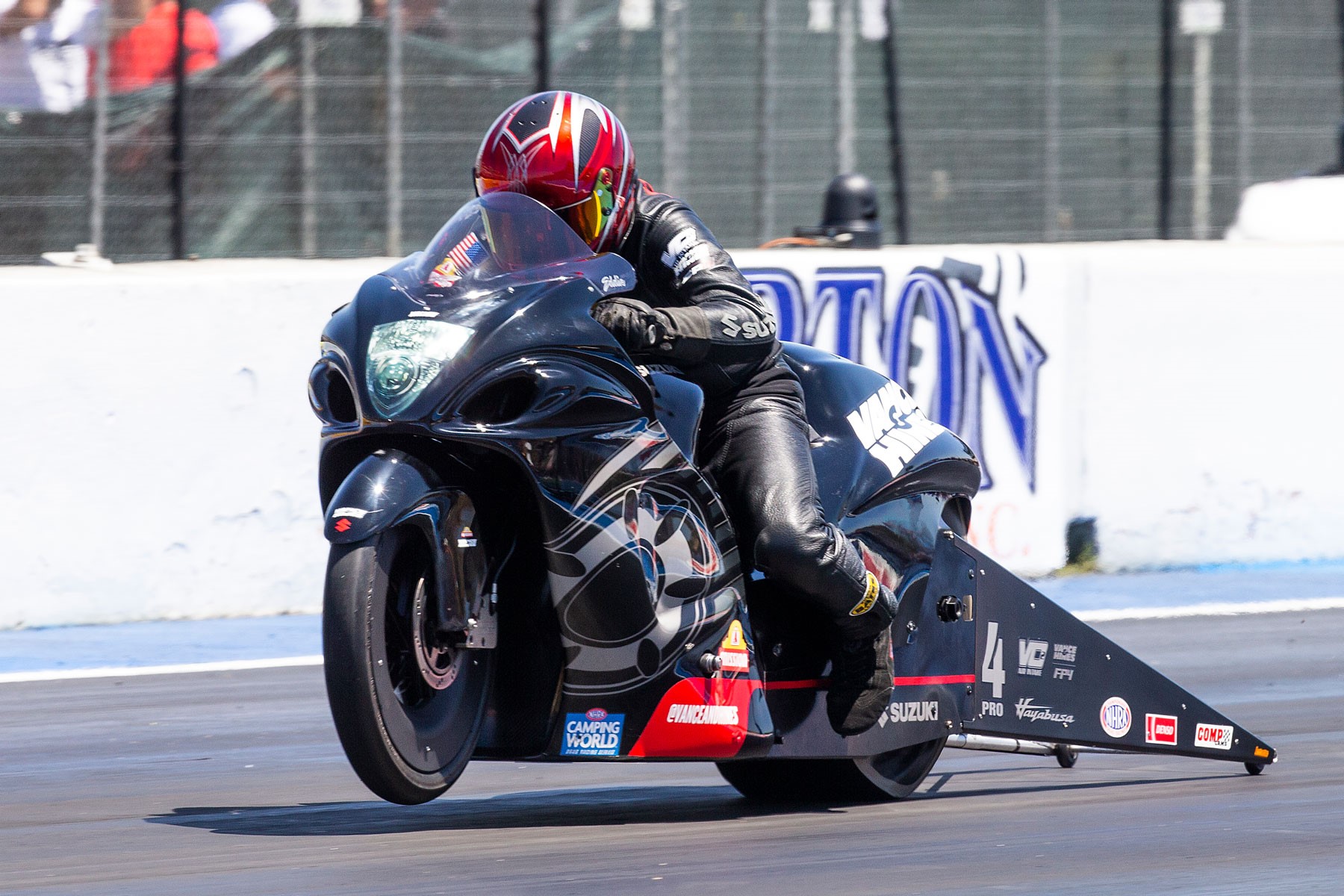 Eddie Krawiec (4) puts the Vance & Hines/Mission Suzuki Hayabusa into his first final round this season.

Krawiec qualified in fifth place with a 6.761-second/200.44 mph run and advanced to his 90th career final round appearance, his first as a Suzuki rider, with wins over Kelly Clontz (6.77 seconds/200.56 mph vs 6.847 seconds/196.36 mph) in the first round, Matt Smith in round two, and Sampey in the semi-finals.

His 6.750-second/200.41 mph holeshot victory over Smith's 6.748-second/201.46 mph run in round two was a near dead heat, with a margin of victory of just 0.0001-second separating the two motorcycles at the finish line.

In the final round, Krawiec's 6.758-second/199.67 mph pass came up just short of Gladstone's 6.759-second/200.68 mph holeshot victory. It was an emotional first career win for Gladstone, who also races a Vance & Hines-powered Suzuki Hayabusa, in his third final-round appearance of the season.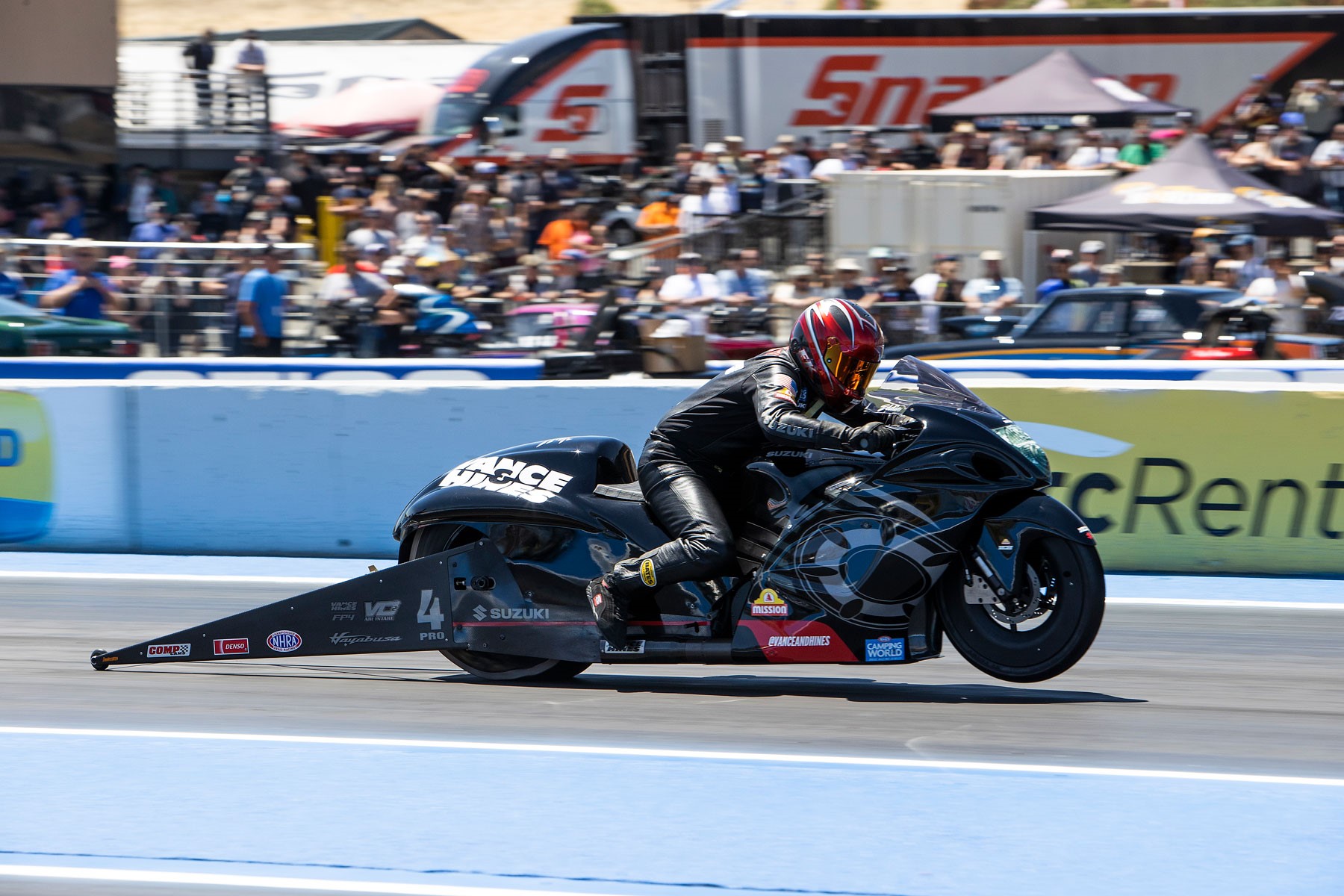 The final round wasn't meant to be for Eddie Krawiec (4) coming one thousandth a second short of a victory.

"I'm looking at it as a good building block race. I had a consistent motorcycle, which is key to going rounds," Krawiec said. "All weekend I was battling my bike blowing the tire away, overpowering the track, so it was nice to go 6.75-second consistently every round. I've just got to get the bike's numbers in the first part of the track a little bit better."

With two races in Topeka and Indianapolis left before the five-race Countdown to the Championship playoffs begin, Krawiec was happy to jump up a couple of spots in the Championship points standings heading into the second half of the season.

"Had I not gotten by Matt that round, I would have stayed seventh. Now I'm coming out of here in fifth and I closed the gap between Matt and myself by 40 points. I made up ground on the front people today and as well as moved up two positions. If I can be in the top four or five going into the Countdown, that's a good start."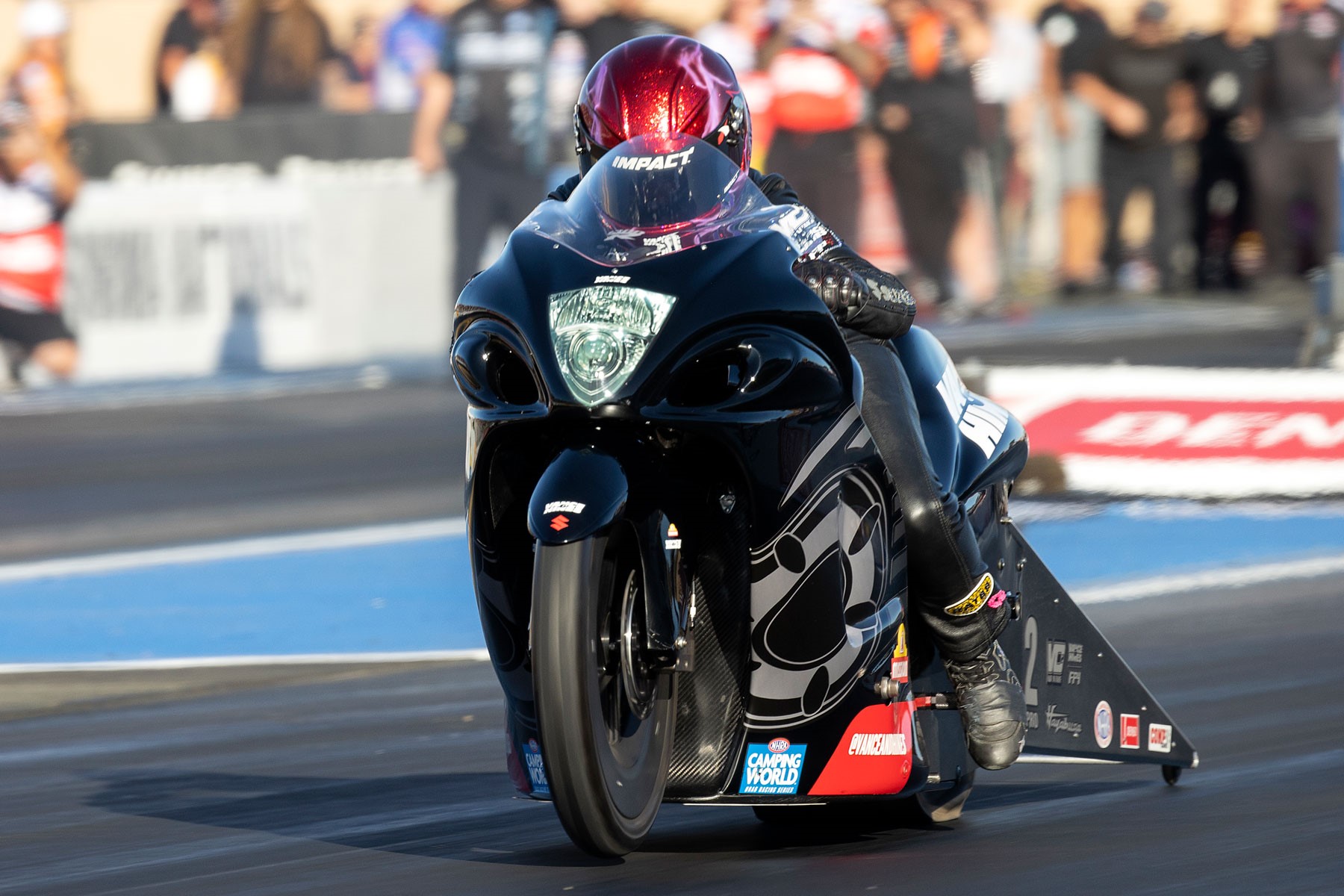 Angelle Sampey (2) sets the track elapsed time records twice in Sonoma.

Sampey was consistently the quickest motorcycle in Sonoma, twice re-setting the track's elapsed time record during the weekend thanks to cool weather conditions and ace tuning adjustments from crew chief Andrew Hines. She advanced to the semi-finals with a 6.752-second/201.19 mph win over Lance Bonham in the first round and a bye run in round two, setting up the first head-to-head matchup of the season between the Vance & Hines/Mission Suzuki teammates. Despite posting a 6.696-second/202.88 mph run, her quickest and fastest ever, a redlight foul at the starting line gifted the round win to Krawiec, who ran 6.758 seconds at 200.29 mph.

As a small consolation for the loss, she leaves Sonoma sitting atop the class points standings for the first time this year, setting herself up for a strong championship run entering the second half of the season.

"I was too comfortable racing against my teammate and I did exactly what I wasn't supposed to do in the round against Eddie," Sampey said. "I needed to keep my focus in my lane on three simple steps: the starting light I want to cut, riding the bike straight down the track, and hitting my shifts on time. It's simple, that's all I need to do. Instead of really staying focused on myself, I thought about him on the other lane and too much about everything that I shouldn't have been thinking about and made a huge mistake. It's great that I took over the points lead, but my focus needs to be on winning the rounds that I need to win races, and it will all come together."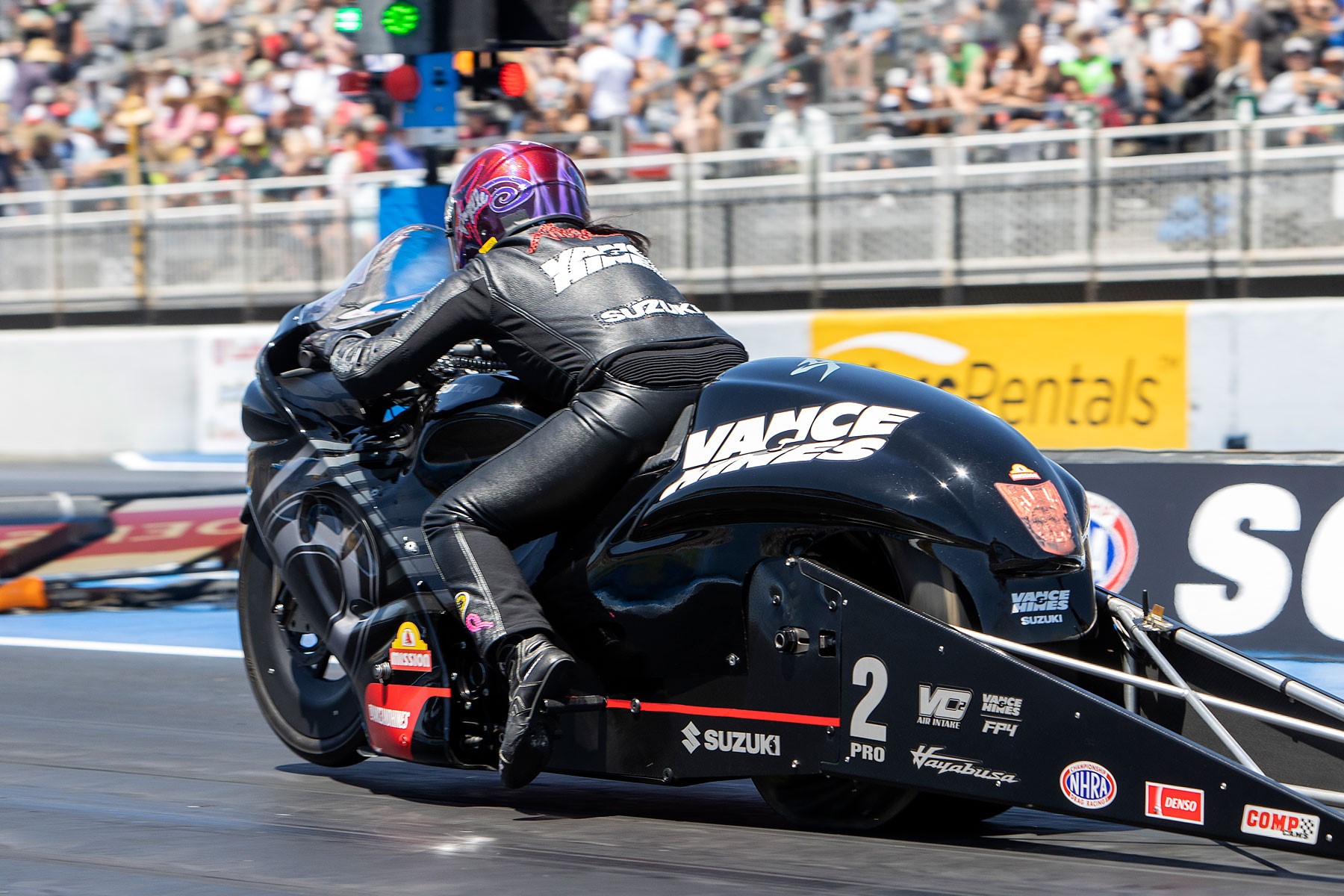 After falling short of making the finals, Angelle Sampey (2) is now the points leader of the NHRA Pro Stock Motorcycle class leaving Sonoma.

Although the team missed taking its second win of the season, crew chief Andrew Hines was happy with the performance of both bikes, especially the 202.88 mph top speed Sampey posted in her loss to Krawiec, which is the fastest-ever top speed run by a Suzuki motorcycle in the Pro Stock Motorcycle class.

"I feel like it was a win for me. I finally got to see one of our bikes go 6.60-something. Number one qualifier is always good and gives the team confidence and a little pep in our steps. I'm always looking for what could have been, and that 6.70 in the third round of qualifying showed it should have gone a 6.68. That's another run that got away, but it's nice to come back today and get it. Even though Angelle went red against Eddie, I was telling myself as she was going down the track, don't lift, don't lift. I wanted to see what it would run. We also made the fastest Suzuki speed run ever. It's nice to have that for our team."

Looking ahead to the next two races, Hines is focused on maintaining the team's momentum in Topeka and heading into the Countdown in a strong position. "We're going to come out swinging in Indy, we want to win the US. Nationals."

After eight of 15 rounds, Sampey and Krawiec currently sit first and fifth in the Pro Stock Motorcycle Championship standings with 599 and 530 points, respectively. The Vance & Hines/Mission Suzuki Pro Stock Motorcycle team will be back in action August 12-14 at the Menards NHRA Nationals at Heartland Motorsports Park in Topeka, KS.

For the latest Suzuki team news, race reports, and information visit SuzukiCycles.com/Racing/Drag-Racing.
About Suzuki
Suzuki Motor USA, LLC. (SMO) distributes Motorcycles, ATVs, Scooters, Automotive Parts, Accessories, and ECSTAR Oils & Chemicals via an extensive dealer network throughout 49 states. Suzuki Motor Corporation (SMC), based in Hamamatsu, Japan, is a diversified worldwide manufacturer of Motorcycles, ATVs, Scooters, Automobiles, Outboard Motors, and related products. Founded in 1909 and incorporated in 1920, SMC has business relations with 201 countries/regions. For more information, visit www.suzukicycles.com.

About Vance & Hines
The Vance & Hines brand has always been about enhancing the exhilaration of the motorcycle ride. It started over 40 years ago, when Terry Vance and Byron Hines were two young enthusiasts in the fledgling Southern California motorcycle drag race scene. Terry always wanted to go faster and Byron knew how to make that happen. In short order, their on-track success and innovation drew the attention of other racers, riders and motorcycle manufacturers, which ultimately translated to commercial demand for their products and services. Today, the Company's mission and activity is the same; make bikes go faster on the racetrack and take those learnings to make impactful products for riders around the world. Since the Company's inception in 1979, it has run factory race programs in partnership with Suzuki, Yamaha, Ducati and Harley-Davidson in drag racing, road racing and flat track. Vance & Hines is based in Santa Fe Springs CA and has its Racing Development Center in Brownsburg IN. Learn more about the company's history and products at www.vanceandhines.com.