Steady, Season-Long Progress Wrap Series on High Note

Brea, CA (September 13, 2021) – Suzuki riders matched or bested their top results at the final race of the 12-round 2021 AMA Pro Motocross Series in Rancho Cordova, California at the Hangtown Motocross Classic. 450-class rookie Brandon Hartranft had his season-best performance with a fifth-place overall finish aboard his Twisted Tea/H.E.P. Motorsports/Suzuki RM-Z450. Hartranft's Twisted Tea/H.E.P. Motorsports/Suzuki teammate Max Anstie finished just one position back on his Suzuki RM-Z450. 250-class rookie Dilan Schwartz matched his season-best overall finish with another top ten result with his BarX/Chaparral/ECSTAR Suzuki RM-Z250. Schwartz's Bar X/Chaparral/ECSTAR Suzuki teammates Preston Kilroy and Derek Drake both put in strong charges on the storied track aboard their Suzuki RM-Z250s.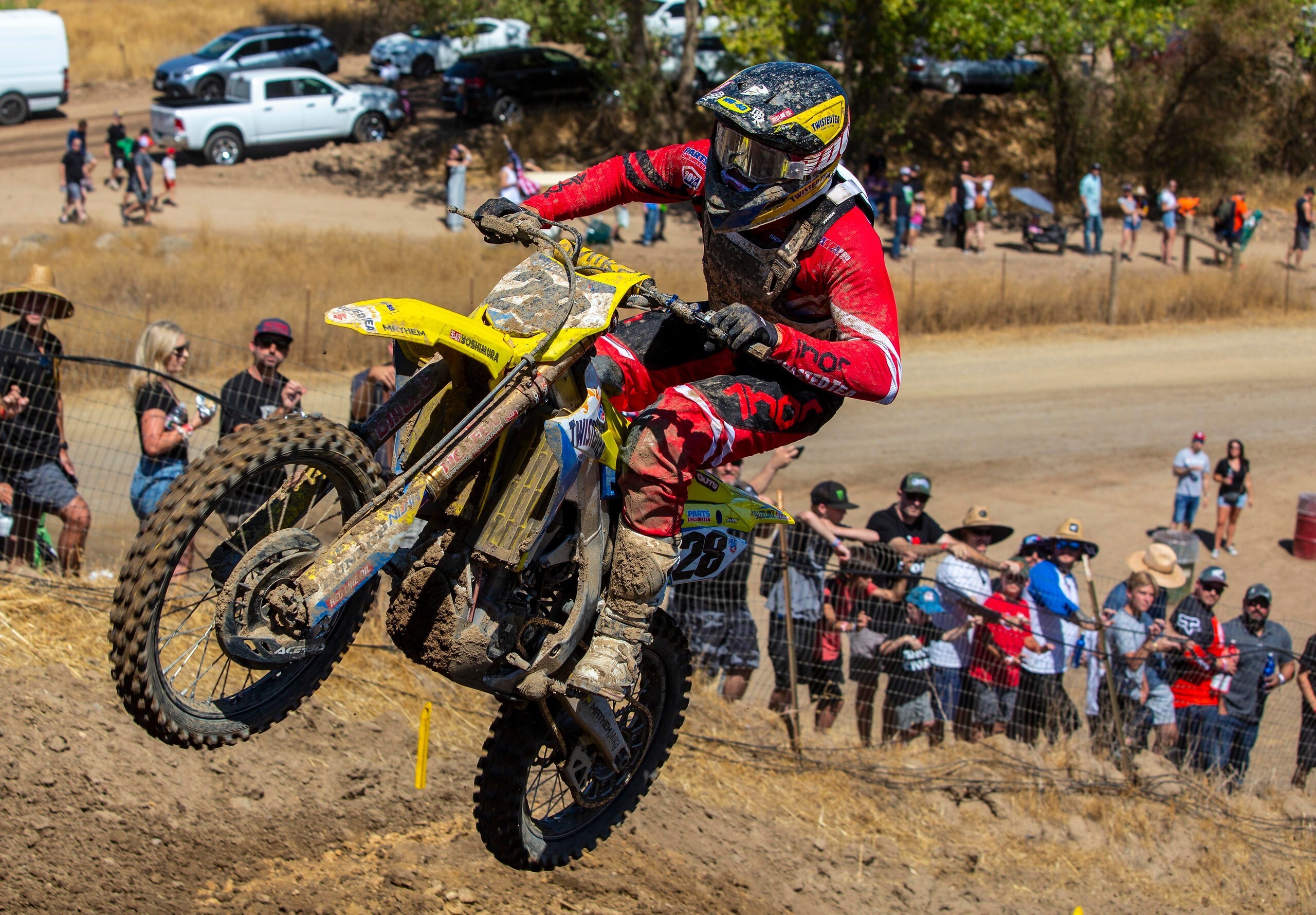 Brandon Hartranft (28) finished the season strong with a fifth-place overall finish on his RM-Z450.

Brandon Hartranft ended his freshman 450 class season on a high note, using his speed and comfort on the more powerful 450cc Suzuki RM-Z to earn top ten results in qualifying, at each moto's holeshot stripe, past each moto's checkered flag, and on the event's results board with a fifth-place overall finish.

"The first moto went great; I had a battle from literally start to finish with another rider and ended up seventh. I feel like I rode really well," said Hartranft. "In the second moto I started around fourth or fifth and then maintained it for most of the race. Halfway through the moto I dropped back to sixth, but P-5 on the day - it was an awesome day. I couldn't be more proud of our effort, and it was a great way to end the season."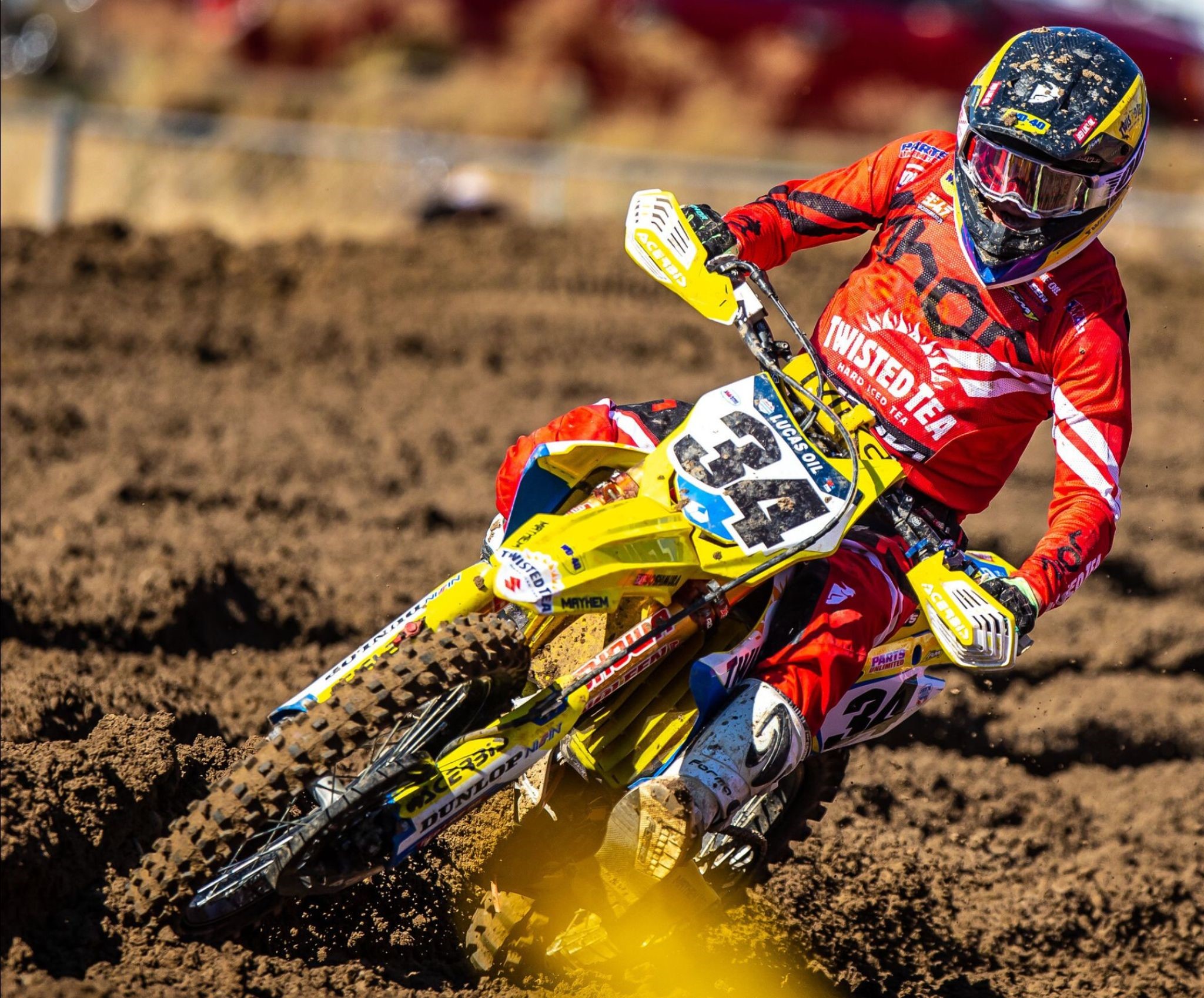 Max Anstie (34) earned an impressive sixth-place overall finish in the last race of the 2021 season.

Max Anstie and his Suzuki RM-Z450 race bike followed up his strong performance at the previous round with another top five moto score. The Englishman was fast on the hardpack Northern California dirt and delivered a sixth-place overall finish to match his season best result.

"In the first moto I was unlucky on the start. I got squirrely and almost hit another rider; I ended up coming out on the first lap near last, so I had a lot of work to do. I climbed my way back to ninth, which I was happy with." Anstie went on to report, "My second moto was solid. I got out of the gate in third and I pushed as hard as I could, and I ended up fifth. So, thanks to everyone; the whole team has done a great job this year."

"It was a great final weekend for the team," summed up Dustin Pipes, the Team Manager for Twisted Tea/H.E.P. Motorsports/Suzuki. "Both guys performed the best they have all season, resulting in season bests for both athletes. The bikes performed well all day and the team worked in unison. This was a great way to put our best foot forward as we enter the off-season."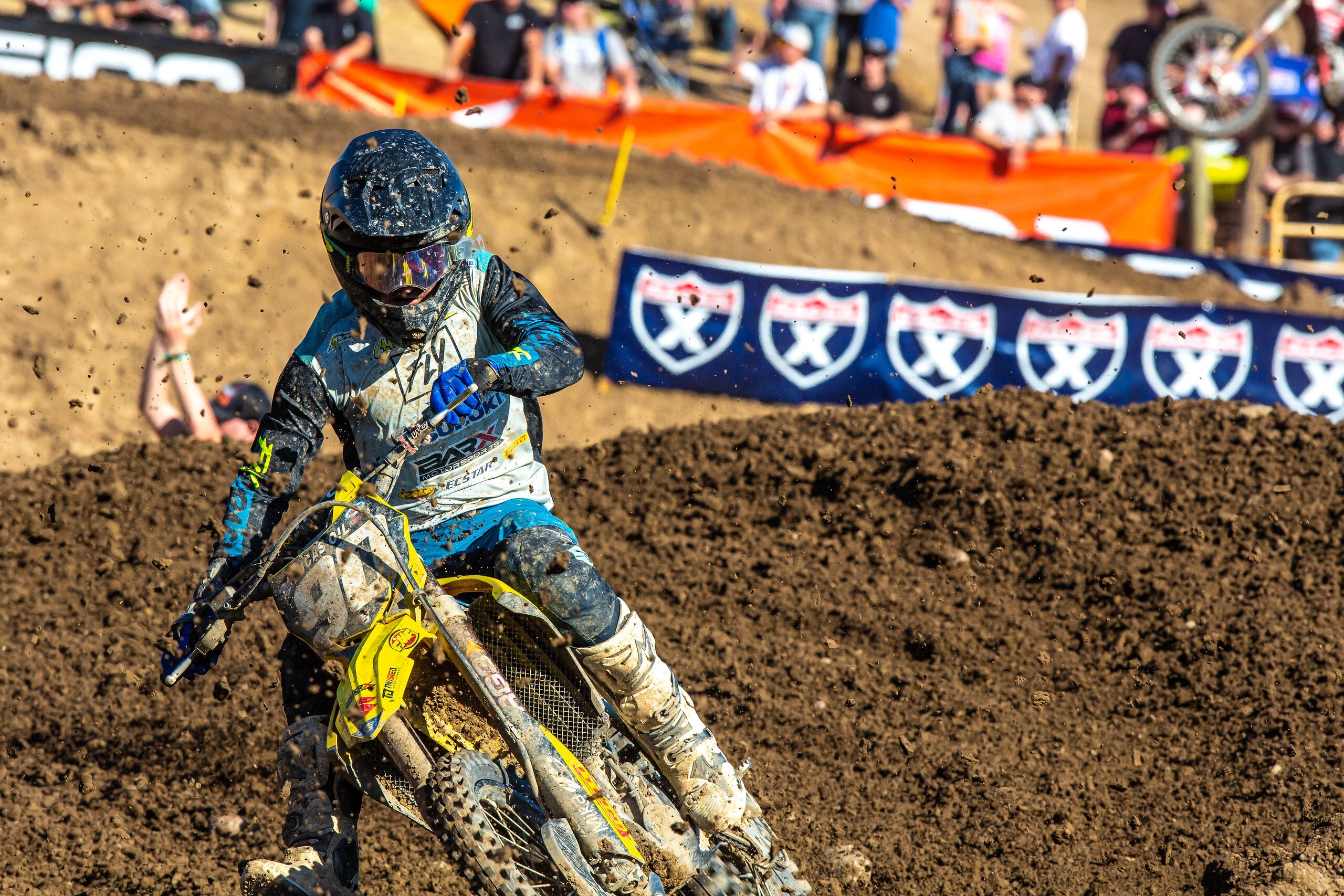 Dilan Schwartz (90) ran his Suzuki RM-Z250 near the front and delivered a seventh-place overall finish.

In 250-class racing, Dilan Schwartz had an exciting first moto, running his Suzuki RM-Z250 in a podium position until past the halfway mark of the race. A tangle with another rider while battling for position dropped him out of the top three. The rookie's two top-ten moto results brought home a seventh place overall to match his previous season-best and earn him his seventh top ten finish of the year. The points from Hangtown moved Schwartz into the top ten in the final 2021 championship points standings.

"Hangtown was another step in the right direction," Schwartz told after the dust had settled on the 2021 season. "In the first moto I got a decent start and made a few passes into third. I ran there for most of the moto, but unfortunately got together with another rider which cost me about seven spots. My second moto was decent as well; I got up into fourth for a few laps but ended up seventh. I'm happy with how the season went - getting tenth overall in points and walking away healthy ready to keep improving!"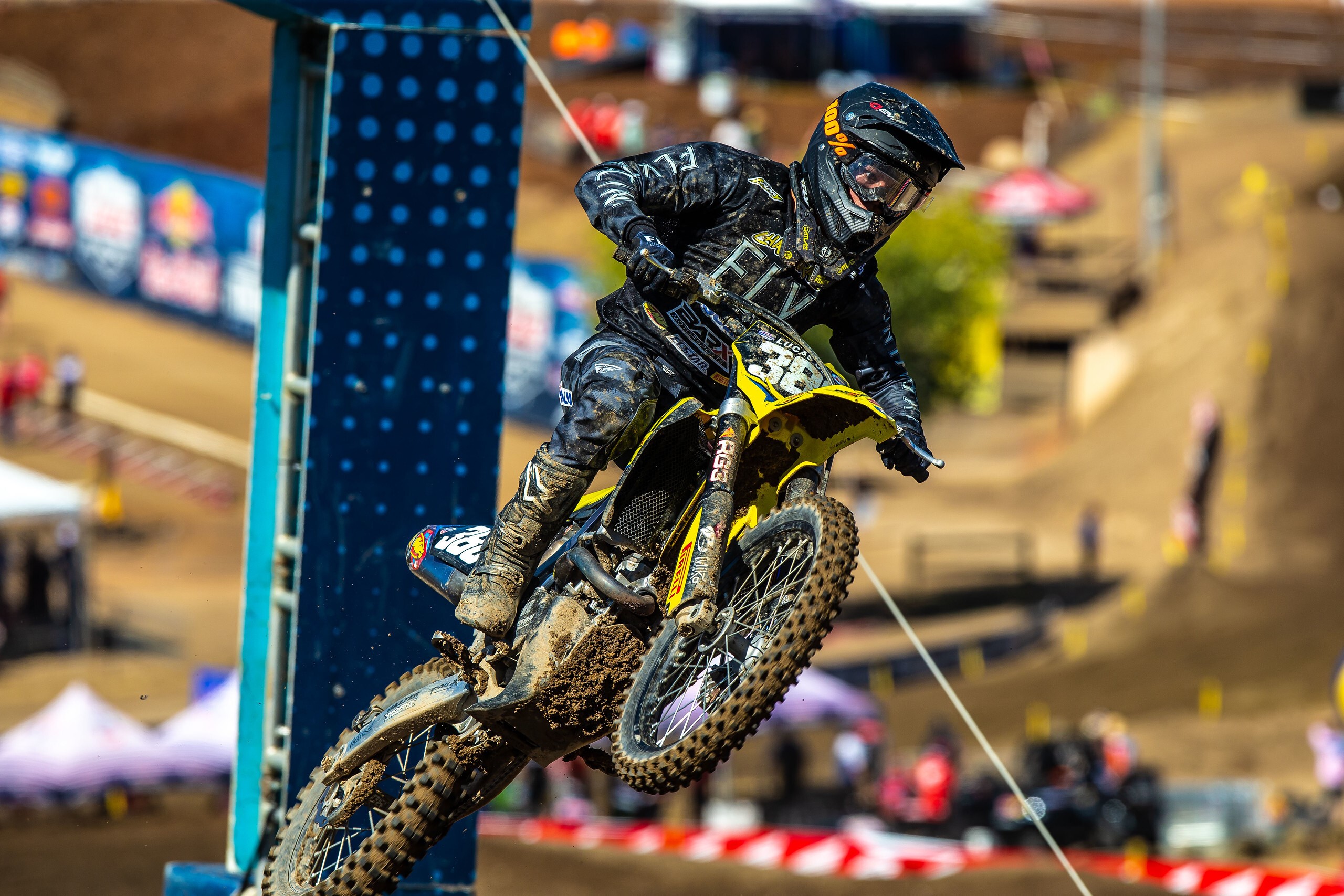 Preston Kilroy (380) completed his rookie 2021 season with a gritty performance on his RM-Z250.

Finishing up his five-race 2021 pro season after landing on the podium in his final amateur championship earlier this summer, Preston Kilroy showed consistency on the track that alternated between slick-wet and slick-dry.

"The last race of the season was pretty crazy," said Kilroy after the final round. "The track was chewed up and it was pretty hot again. I was struggling to feel comfortable with the track at the beginning of the day, but in Moto 2 I felt a lot better with my riding! I'm pretty happy with the speed I showed these last five rounds. I learned a lot and I know what I need to work on for next year!"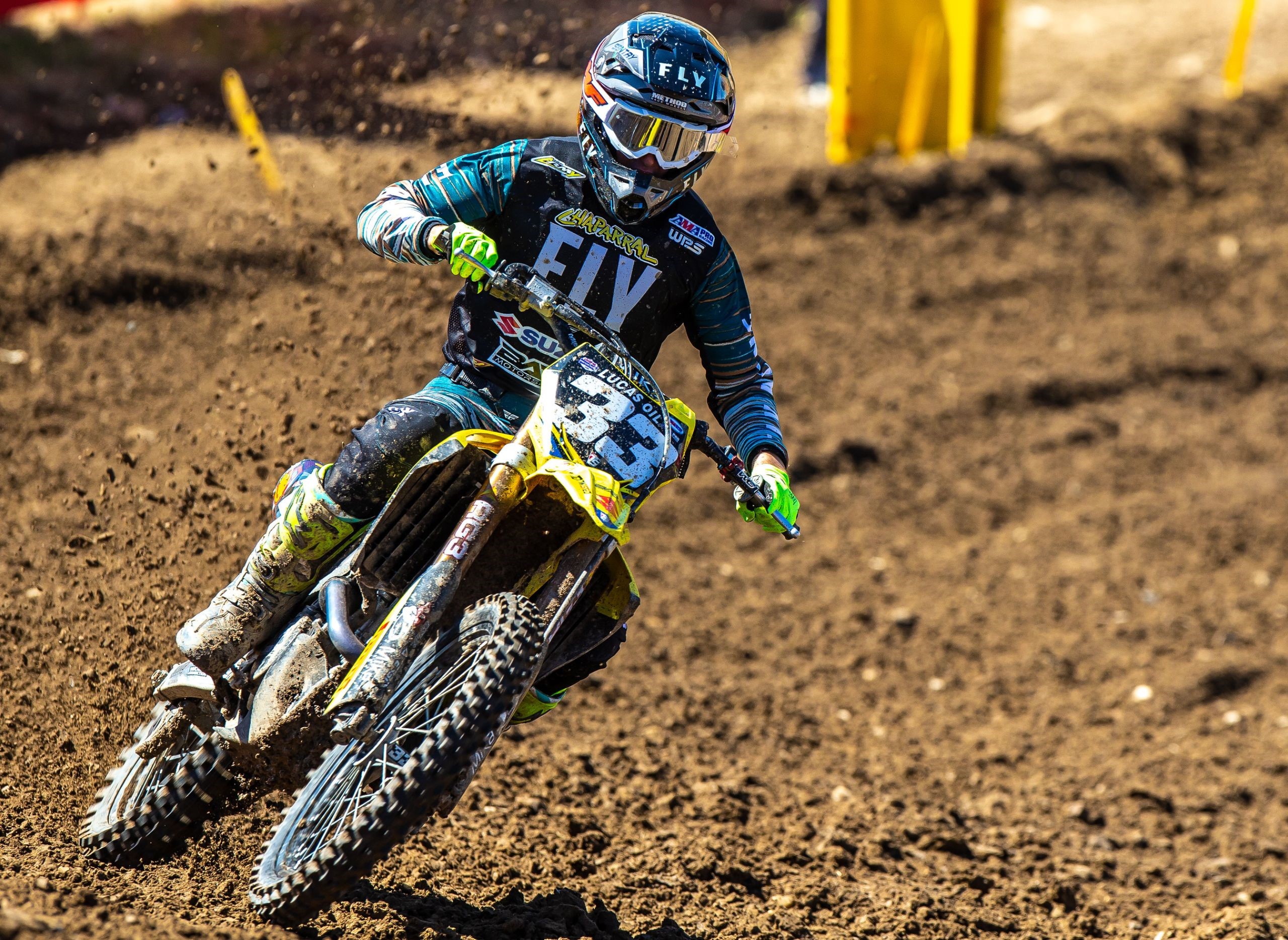 Derek Drake (33) continued to improve at the Hangtown Motocross Classic on his Suzuki RM-Z250.

BarX/Chaparral/ECSTAR Suzuki's Derek Drake was back for both motos after a medical condition discovered earlier in the season kept him out of most of the summer race series. Drake put in hard charges in both motos with his ECSTAR Genuine Oil and Chemicals- protected Suzuki RM-Z250.

"Hangtown was rough. I'm still struggling with my body to get it right," Drake said. "I have a team of doctors behind me trying to figure it. I'm looking forward to the off-season to get everything straightened out for supercross!"

Both teams had solid seasons and are proud of their racers, sponsors, and team members. Each program expanded this year through the support and dedication of everyone. The race groups and the entire staff at Suzuki are thrilled the series allowed live fan attendance at every round for an exciting and successful summer of motocross racing.

For more information on the teams, please go to SuzukiCycles.com/Racing and HEPMotorsports.com.

Photos by BrownDogWilson