Chris Ulrich (center) poses with a group of passengers after giving rides on the Dunlop ECSTAR Two-Seat Superbike. ECSTAR is co-title sponsor of the program in 2021.

ECSTAR Oil & Chemicals has signed as a title sponsor of Team Hammer's Dunlop ECSTAR Two-Seat Superbike program, which is in its 21st season of providing members of the media, VIPs, and fans an up-close-and-personal experience with the genuinely awe-inspiring sport of MotoAmerica Superbike racing.

Elite-level road racing makes for a spectacular show, whether from the couch at home or the fences at the racetrack. But the only way for reporters, VIPs and fans to experience a Superbike's incredible acceleration, dizzying corner speed, preternatural precision, and gravity-defying lean angles is to climb aboard the Dunlop ECSTAR Two-Seat Superbike piloted in front of the MotoAmerica crowd by former professional Superbike racer Chris Ulrich.

Journalists, fans, and VIPs may sign up to ride on a passenger seat fitted to a Suzuki GSX-R1000R Superbike at each event on the MotoAmerica AMA/FIM North American Road Racing Championship, thanks to the Dunlop ECSTAR Two-Seat Superbike program.

The hugely successful program has effectively communicated the adrenaline-fueled thrills of MotoAmerica to legions of fans, both first-hand and through the further reporting by participating broadcasters and other members of the media. And the program is now going from strength to strength with the announcement that ECSTAR Oil & Chemicals has joined Dunlop as co-title sponsor for 2021.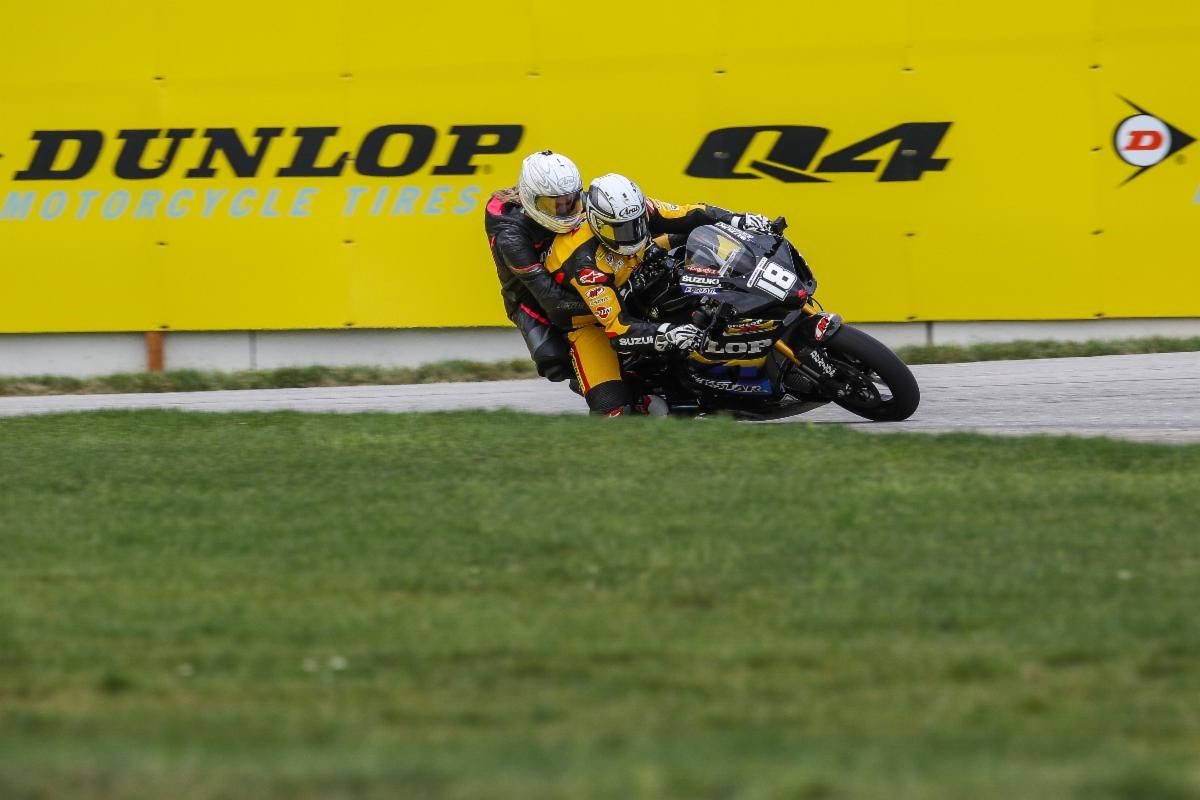 Chris Ulrich pilots the Dunlop ECSTAR Suzuki Two-seat Superbike during the MotoAmerica season opener at Road Atlanta. Photo by Brian J Nelson.

"It's great to see ECSTAR get involved as title co-sponsor of the two-seat Superbike program," MotoAmerica partner Chuck Aksland said. "Chris Ulrich and the crew do a great job with the program and they've put a lot of smiles on the faces of those who have been fortunate enough to get a few laps on the Superbike. The Dunlop ECSTAR Two-Seat Superbike really opens some eyes and gives people a true E-ticket ride on a real MotoAmerica Superbike, and the feedback we get from those who give it a go is always very positive."

"For 2021, we continue to work to expand our promotional effort to grow the sport of motorcycle racing," said Two-Seat Superbike pilot Chris Ulrich, "through this unique experience for fans, VIPs, and journalists. Additionally, the money raised from donations helps make racing safer through the Roadracing World Action Fund (RWAF), a not-for-profit 501(c)(3) corporation that funds deployment of soft barriers (made by Airfence and Alpina). The RWAF has raised over $2 million to buy and deploy soft barriers with organizations across the country, including well over $60,000 through the Two-Seat Superbike program. It wouldn't have been possible without great partners like Dunlop, ECSTAR Oil & Chemicals and MotoAmerica."

"We're excited to expand our partnership with Team Hammer and join the Two-Seat Superbike program in 2021," said Neal Wallbaum, Parts & Accessories Sales Manager, Suzuki Motor USA, LLC. "The team has been a great partner in promoting the benefits of ECSTAR Genuine Oil & Chemicals since our U.S. launch in 2017. Chris (Ulrich) has created an exciting way for fans and media to experience the thrill of road racing, all while supporting a great cause for our sport."

Once again, fan, journalist and VIP rides will be available on Friday, Saturday and Sunday of each MotoAmerica race weekend. Two-seat rides can also be reserved as part of a $500 MotoAmerica fan package, which includes a three-day general admission ticket, weekend parking pass, and a $350 donation to the Roadracing World Action Fund (RWAF), a 501(c)(3) non-profit focusing on improving racetrack safety through the deployment of soft barriers. Tickets may be purchased online at MotoAmerica.com/tickets/ prior to each event.